Last remaining WWII Medal of Honor recipient, Hershel 'Woody' Williams, dies at 98
By
Stars and Stripes
June 29, 2022
---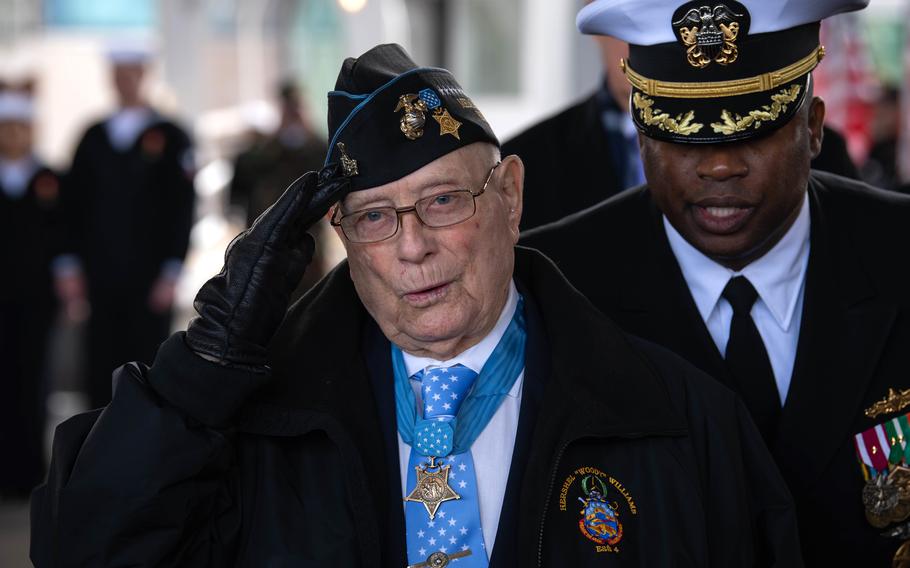 WASHINGTON — The last remaining Medal of Honor recipient from World War II, Hershel 'Woody' Williams, died Wednesday at the age of 98, according to a statement by the National Medal of Honor Museum Foundation.
Williams was a 21-year-old corporal during the Battle of Iwo Jima when his "conspicuous gallantry and intrepidity" on Feb. 23, 1945, earned him the nation's highest award for valor in combat, according to his Medal of Honor citation.
At the time, he was the last demolition sergeant standing from his unit. With four riflemen covering him, he singlehandedly used a flamethrower to destroy seven enemy pillboxes from which Japanese troops were firing machine guns, according to the Pentagon.
"On one occasion, he daringly mounted a pillbox to insert the nozzle of his flamethrower through the air vent, killing the occupants and silencing the gun," his medal citation reads. "On another, he grimly charged enemy riflemen who attempted to stop him with bayonets and destroyed them with a burst of flame from his weapon."
His efforts helped to neutralize what was considered "one of the most fanatically defended Japanese strong points encountered by his regiment," according to the citation. President Harry S. Truman presented him with the Medal of Honor on Oct. 5, 1945.
The death of Williams marks the loss of "an important link to our nation's fight against tyranny in the Second World War," Defense Secretary Lloyd Austin said in a statement.
"I hope every American will pause to reflect on his service and that of an entire generation that sacrificed so much to defend the cause of freedom and democracy," he said.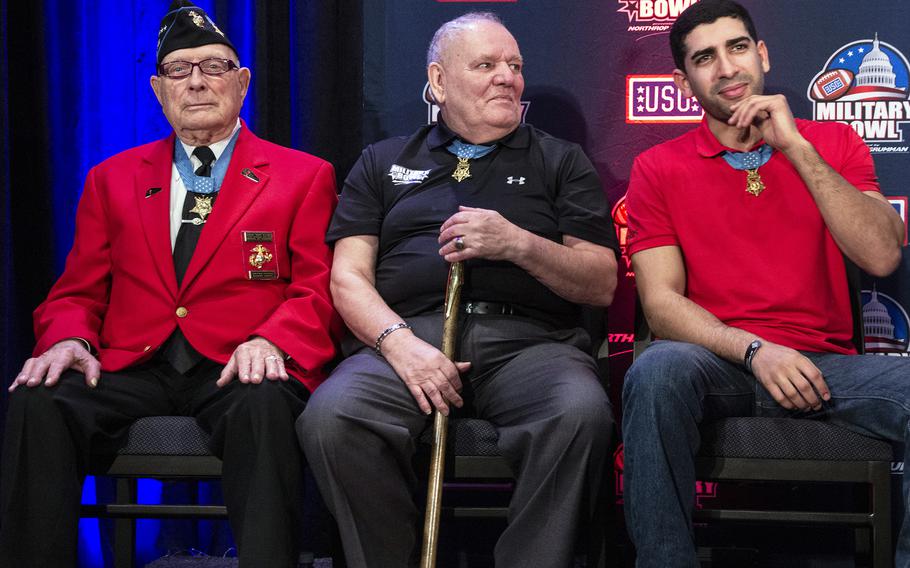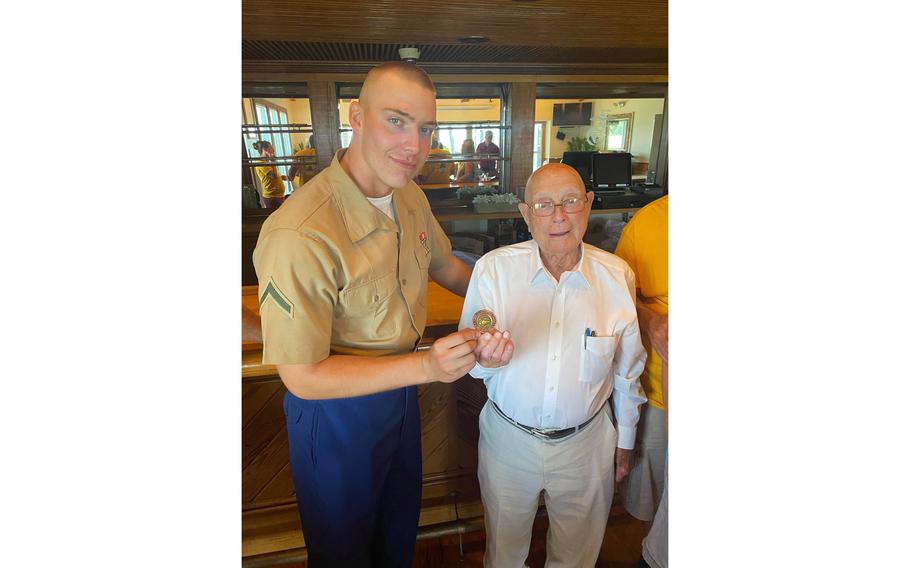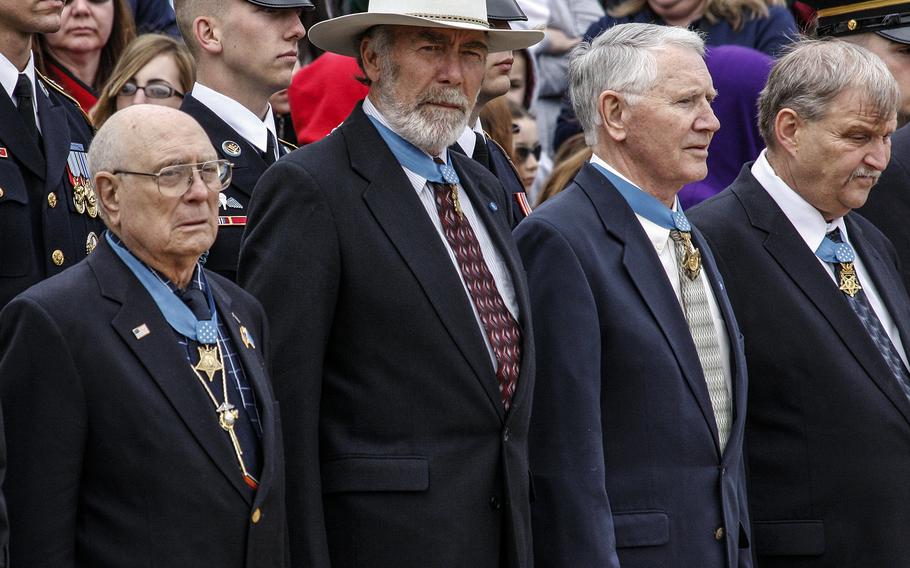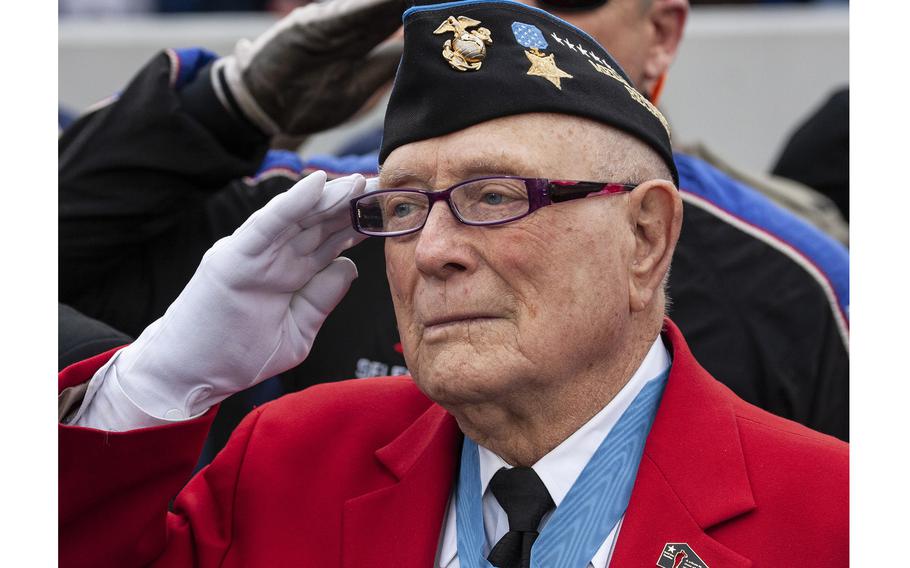 Williams was discharged in 1945 but stayed in the Marine Corps Reserve until retiring with 20 years of service, according to the Pentagon. He spent more than three decades working as a veterans' service representative at the Department of Veterans Affairs.
He also worked to honor the families of the fallen through his Woody Williams Foundation, which hosts outreach programs, awards scholarships and has helped construct 103 monuments honoring Gold Star families across all 50 states, according to the foundation website.
"An American treasure and an extraordinary man both on and off the fields of battle, he left an enduring legacy of service to his country with his many initiatives on behalf of veterans and Gold Star families," the museum foundation said. "Woody was truly one of the greatest of the greats."
On March 7, 2020, the Navy honored Williams by commissioning the USS Hershel Woody Williams, an expeditionary sea base, in his honor.
With his death, there are now 63 living Medal of Honor recipients, according to the museum foundation. However, the number of recipients will grow to 66 when President Joe Biden awards Army Spc. 5 Dwight W. Birdwell, Army Spc. 5 Dennis M. Fujii and Army Maj. John J. Duffy with Medals of Honor on Tuesday.
Army Staff Sgt. Edward N. Kaneshiro will also be awarded a Medal of Honor posthumously at the ceremony next week.
---
---
---
---