USS Hershel 'Woody' Williams first major Navy ship to be based in Greece in decades
By
Stars and Stripes
October 2, 2020
---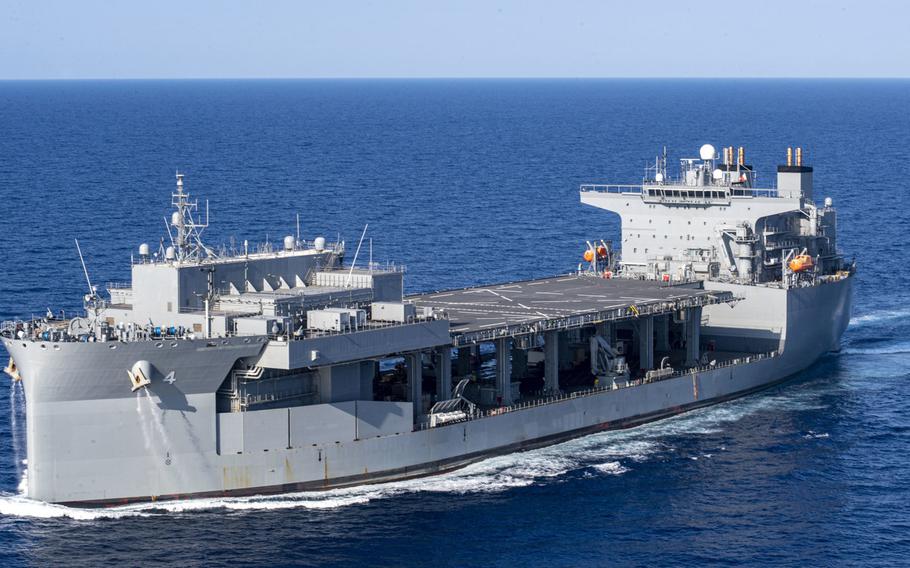 STUTTGART, Germany — The U.S. Navy muscled up in the eastern Mediterranean Sea this week, announcing that it will homeport a major vessel at Souda Bay in Greece for the first time in at least 40 years.
The USS Hershel "Woody" Williams "provides a new capability in the theater," U.S. 6th Fleet commander, Vice Adm. Gene Black, said in a statement Friday.
The ship, an expeditionary sea base designed to carry Marines and special operations troops to hot spots or train with partners, is assigned to U.S. Africa Command but will also be available to support other commands.
The move, which took effect Thursday, comes at a time when U.S. defense officials are worried about a Russian military buildup in the Mediterranean. Moscow has a base in Syria and an expanding influence in Libya, where Russia has deployed hundreds of state-backed mercenaries, fighter planes and other weaponry.
Recently retired Adm. James Foggo, who commanded U.S. Naval Forces Europe-Africa for three years, said in June that Russia was turning the eastern Mediterranean into "one of the most kinetic areas in the world."
Souda Bay has served as a Navy logistics hub since 1969. Positioned on the Greek island of Crete, the base also has an airfield, port facility and new pier that can support an aircraft carrier.
The decision to base the ship in the country was announced Tuesday by Secretary of State Mike Pompeo during a visit to Greece, where the U.S. has deepened military ties during the past year with an updated security cooperation agreement that calls for more troop rotations at various bases.
Pompeo's visit also came as tensions run high between Greece and neighboring Turkey, both NATO members but longtime adversaries who are at odds over energy rights in the eastern Mediterranean.
Some security analysts have speculated that the U.S. expansion in Greece could be a prelude to a bigger adjustment, with Souda Bay to eventually become an alternative to Turkey's Incirlik Air Base used by the Air Force. But in a statement to Turkish media this week, the Pentagon gave no indication that such a plan is in the works.
"The continuing presence of the U.S. in Incirlik demonstrates the strong relations between the U.S. and our NATO ally Turkey," the Pentagon statement said.
From Souda Bay, the USS Hershel 'Woody' Williams will conduct missions in the Mediterranean as well as east, south and western Africa to coordinate with regional partners, the Navy said.
Due to the ship's extended overseas assignment, Military Sealift Command will conduct routine maintenance at Souda Bay and other overseas ports, the Navy said.
The 784-foot-long ship features a 52,000 square-foot, four-spot flight deck that helicopters can land on. There also is living space for the crew, which has a complement of about 250.
The ship has a "Blue Crew" and a "Gold Crew," which will turn over periodically to allow the vessel to remain forward-based at Souda Bay. Personnel will rotate to Souda Bay on roughly six-month assignments from their home base in Norfolk, Va., 6th Fleet said.
---
---
---
---