New agreement will help identify missing Americans who served in North Africa during WWII
By
Stars and Stripes
May 30, 2022
---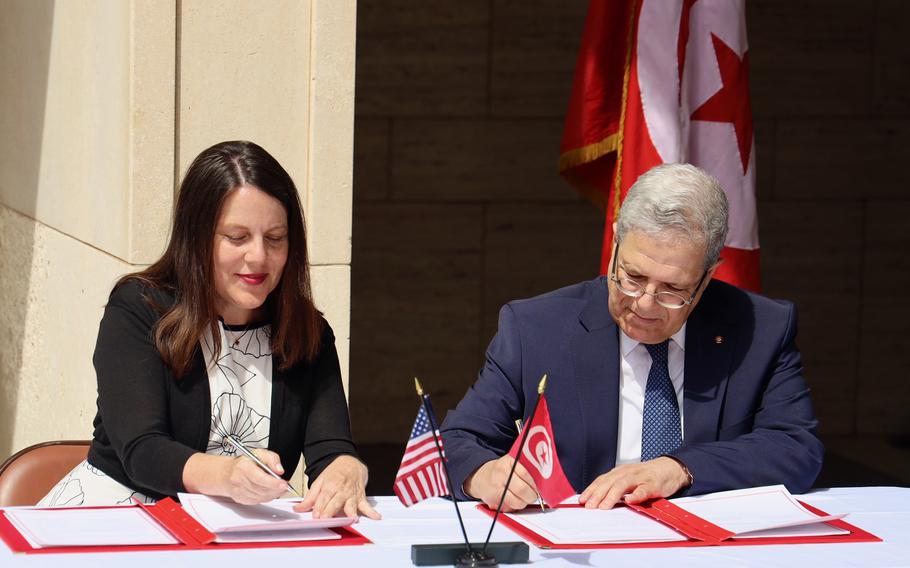 The remains of unknown U.S. troops who died fighting in North Africa during World War II will be repatriated for identification under an agreement signed Monday in Tunisia.
Natasha Franceschi, U.S. Embassy Tunisia chargée d'affaires, signed a deal with Tunisian Foreign Minister Othman Jerandi during a Memorial Day ceremony at the North Africa American Cemetery in Carthage. The memorandum of understanding paves the way for the disinterment of the remains of unidentified American service members who gave their lives in the North Africa campaign, the embassy said.
"The agreement will allow the repatriation of 'unknown' American soldiers for identification and reunification with family, bringing long-awaited closure to loving families after more than half a century," the embassy said in a statement.
The North Africa American Cemetery was founded in 1960 and serves as the final resting place for 2,841 American soldiers and 3,724 other missing Americans, whose names are engraved on the Wall of the Missing at the 27-acre cemetery.
It is the only American cemetery in Africa. In Europe, there are numerous American cemeteries in areas where U.S. soldiers fought their way across the western part of the Continent during World War II. The Tunisia cemetery is part of the American Battle Monuments Commission that involves 26 permanent overseas American military cemeteries and 32 federal memorials, monuments and markers across 17 countries.
On Memorial Day, ceremonies honoring the fallen are carried out at the various sites around the world.
The work of identifying the fallen U.S. troops in Tunisia will be carried out by the Defense POW/MIA Accounting Agency, which researches unknown case files to repatriate remains to U.S. for possible identification at forensic laboratories.
"We owe our fallen heroes and their families a profound debt of gratitude. Today's historic agreement will ensure American service men and women who gave their lives to defend our freedom are recognized and honored for the ultimate sacrifice they gave to our country," Franceshi said in a statement.
Correction
A photo featuring a Marine that previously appeared with this story said it was taken on Memorial Day in 2022. It was taken on a different date.
---
---
---
---