VA's coronavirus cases reach all-time high
by
Nikki Wentling
Stars and Stripes
December 29, 2021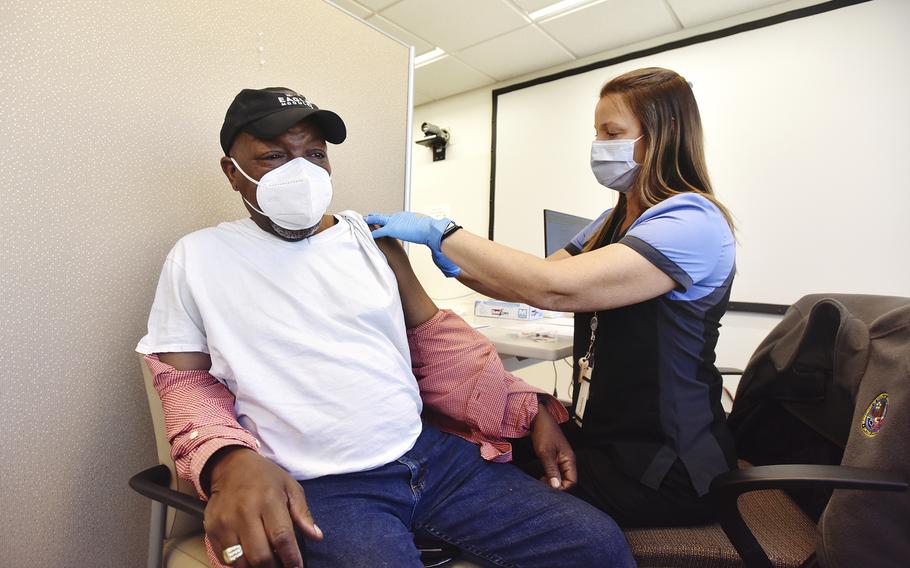 WASHINGTON — The Department of Veterans Affairs reported nearly 23,000 active cases of the coronavirus Wednesday — more than at any other point during the pandemic.
The active case count reached 22,911 Wednesday, surpassing a high set in January. The record-breaking number of cases among VA patients reflects trends nationwide. The United States hit an all-time high this week of more than 265,000 new coronavirus cases per day on average, according to data from Johns Hopkins University.
Experts blame the rapid spread on the newest coronavirus variant, Omicron, which scientists say is the most contagious strain yet. Dr. Anthony Fauci, the chief medical adviser to the president, warned Tuesday that the surge is expected to continue well into January.
"We're certainly going to continue to see a surge for a while," Fauci said on CNN.
Hospitals across the country have reported increases this week in patients admitted with coronavirus infections. As of Wednesday, 1,218 veterans had been hospitalized with the virus — an increase of 347 veterans, or 40%, in the last five days.
Active cases in the VA system have more than doubled since mid-December and increased more than 80% in the past week.
The Cleveland VA hospital in Ohio reported the most active cases Wednesday, with 1,406 veterans testing positive for the virus. The Houston VA hospital had the second-most cases with 733, and Washington, D.C., had the third highest number, with 732.
Of the 139 VA hospitals included in the department's database, 80 of them reported at least 100 active cases.
In total, the VA has reported more than 405,000 positive cases of the coronavirus since the pandemic began. During that time, 17,693 VA patients have died, as well as 237 agency employees.
Nearly 4 million veterans — about 64.5% of all VA patients — are vaccinated, according to VA data. Less than half of vaccinated veterans, about 1.2 million, have received a booster shot. Public health officials have recommended the booster shots as the best protection against the omicron variant.
"The bottom-line message here is that boosters bring back up that degree of protection," Fauci said Wednesday during a news briefing. "Boosters are critical."
---
---
---
---