VA secretary warns veterans care could suffer with continued stop-gap funding measures
by
Nikki Wentling
Stars and Stripes
November 18, 2021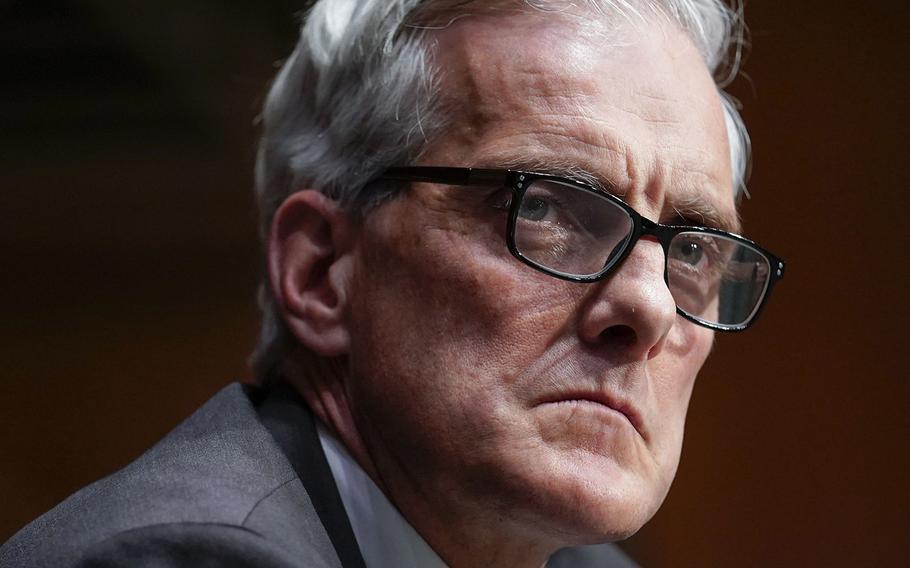 WASHINGTON — Department of Veterans Affairs Secretary Denis McDonough warned Thursday against a scheme by some Republicans to avoid approving a new federal budget and instead pass a stop-gap measure that freezes funding at last year's amounts for the next 10 months.
McDonough argued the action would have negative effects on veterans' health care.
"It would have very serious ramifications for community care, very serious ramifications for direct care — meaning very serious ramifications for care for our veterans," he said during his monthly news conference from VA headquarters.
Congress failed to approve a new federal budget by the start of the new fiscal year on Oct. 1. Instead, it passed a measure that funded the government at last year's amounts until Dec. 3. Congress must act before Dec. 3 to avoid a government shutdown.
Democrats are considering a bill that would fund the government for an extra couple of weeks, meaning Congress would have to act again to pass another bill days before Christmas. According to Politico, Democrats are hoping the idea will prompt Republicans to instead discuss a new, sweeping federal budget deal.
Republicans, however, are considering a long-term continuing resolution, or CR, that would drag out last year's spending levels until the beginning of October 2022, Politico reported. The action would freeze the government budget at levels enacted under former President Donald Trump.
Sen. Jon Tester, D-Mont., the chairman of the Senate Veterans' Affairs Committee, went to the Senate floor on Thursday afternoon, urging the chamber to pass a new funding bill.
"Let's not play irresponsible political games with our military and with our veterans and with everybody else that lives in this country," he said. "I'm ready to roll up my sleeves and help in any way that I possibly can to make sure these bills get through this body and to the president's desk so we can fund our veterans — and fund the needs that they have."
Democrats are seeking a 10% funding increase for the VA in fiscal 2022, bringing its total budget to nearly $270 billion. Forcing a 10-month continuing resolution would keep the VA at last year's budget of $243 billion — an amount last negotiated under Trump's administration.
"Let me underscore — I'm very concerned about a full-year CR," McDonough said.
The legislation introduced in the summer includes a $7.5 billion increase in medical care from 2021, with more money going toward rural health care, the veteran caregiver program, women's health, mental health and homelessness prevention.
Under the plan, more money would go toward private-sector care for veterans as a result of the VA Mission Act. The Mission Act is a bipartisan measure approved in 2018 that expanded veterans' access to private doctors. The bill went into effect in 2019.
The legislation also allots more money for the VA to hire more processors to handle veterans' claims for benefits. The agency has been tackling a large backlog of claims that accumulated during the coronavirus pandemic. McDonough announced last month his intent to hire 2,000 new processors. The hiring process has already begun, he said Thursday.
---
---
---