Air Force veteran honored for pulling driver from Ohio truck wreck before explosion
by
Chad Garland
Stars and Stripes
July 10, 2021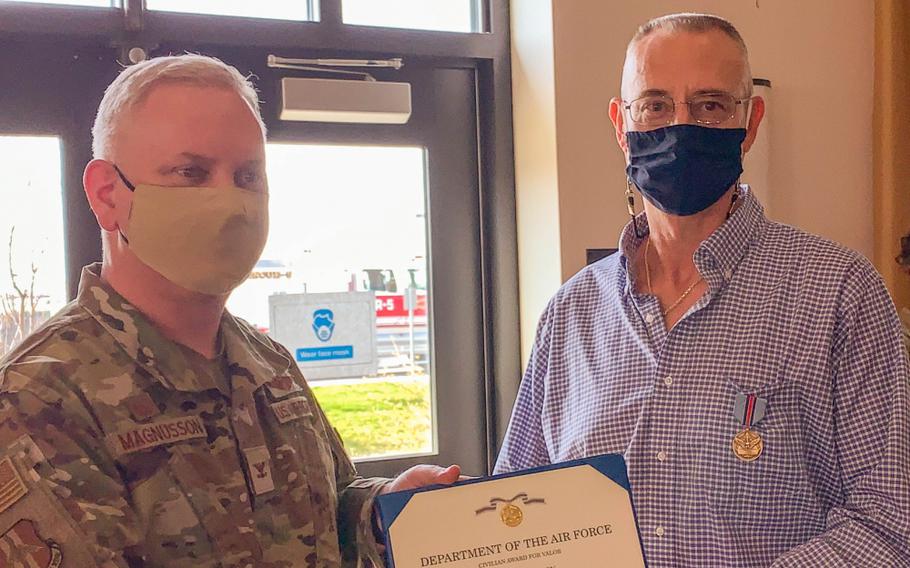 Air Force veteran and civilian employee Randy Wilson pulled a driver from a burning truck before it blew up, an act of courage the service has recognized with a valor medal, the military said this week.
Wilson and his wife were traveling on the Ohio Turnpike outside Sandusky one August morning three years ago, when one semitruck ahead of them crashed into another one parked on the right shoulder, sending a debris field into the roadway and toppling one of the trucks.
"It seemed like we were in a 3D movie with tires and gas tanks rolling down the highway toward our vehicle," Wilson said in a statement. "I came to a stop on the far left shoulder. My wife immediately got out her rosary and started praying for all involved. I got out and started running to the semi that had flipped over several times and was on fire."
Wilson, the chief of plans and programs for the security forces squadron at New York's Niagara Falls Air Reserve Station, was the first and only one on the scene for 10 to 15 minutes, the 914th Air Refueling Wing said in a statement this week.
As he ran up, he saw that the driver of the other semi and a third truck seemed to be OK, Wilson said. When he reached the overturned rig, which was on its side, that driver was going in and out of consciousness and asking for help.
"At first, I tried to pull him out by lifting him under his armpits, but he was stuck by his seat belt and belt loop," said Wilson, who had over 36 years of security forces experience. "I asked God to give me one more minute." 
It all seemed to be happening in slow-motion to him as he kept praying for one more minute, he said, likening the feeling of stretching time to the beach-storming scene early in the film "Saving Private Ryan."
"After the incident, I asked my wife if I was moving slowly and she said quite the opposite, moving extremely fast," the retired master sergeant said in the statement.
He eventually got the driver out and to a safe distance "within minutes of the truck exploding," he said.
"The thought of being killed never crossed my mind," he said.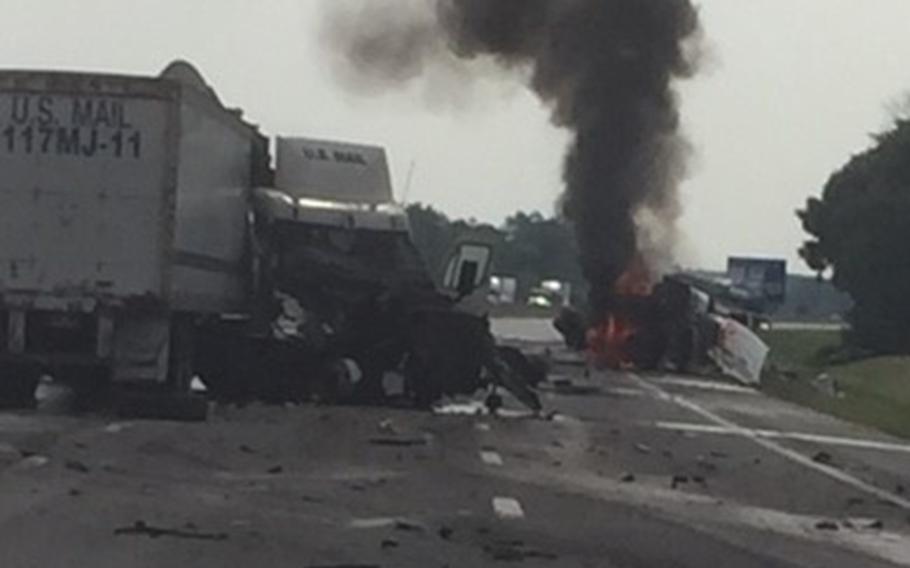 A bystander who was a nurse arrived at some point, and when paramedics began treating the driver, Wilson and his wife continued home to Getzville, N.Y.
Earlier this year, wing commander Col. Carl Magnusson presented Wilson with the Air Force Civilian Award for Valor for his actions rescuing the trapped driver. The medal recognizes acts of heroism "with voluntary risk of personal safety in the face of danger, either on or off the job," a regulation states.
Wilson exemplifies the words of Winston Churchill, who called reservists "twice the citizen," Magnusson said at an April ceremony.
"Randy lives his dual lifetime commitments to his community and to the defense of our great nation every single day," he said.