Navy Corpsman receives Purple Heart over a decade after being wounded with Marines in Afghanistan
by
Chad Garland
Stars and Stripes
July 3, 2021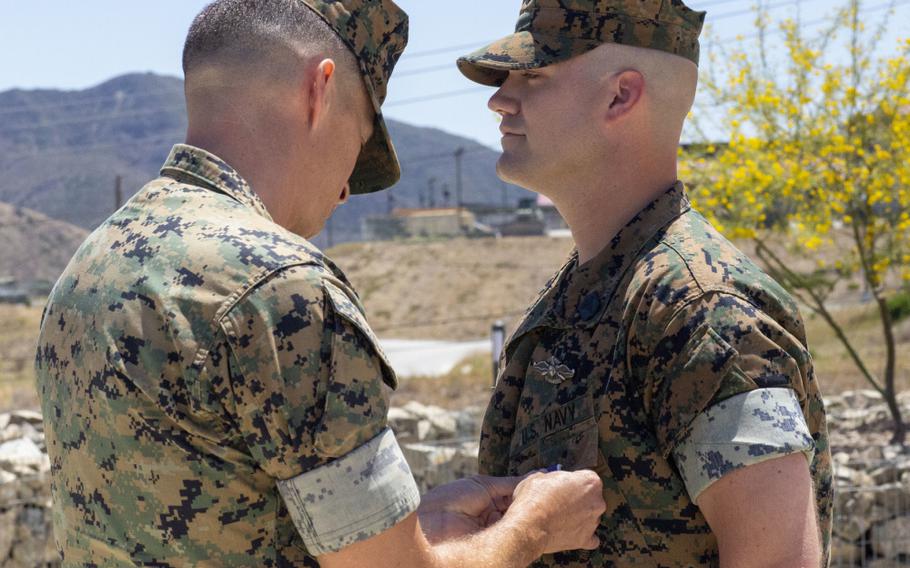 A Navy corpsman injured during a firefight in Afghanistan's Helmand province in 2010 downplayed his wounds to stay with his unit in the 1st Battalion, 6th Marines.
For years, Petty Officer 2nd Class Joseph Hardebeck didn't believe his injuries merited a Purple Heart. But on Thursday, 11 years after the fact, the medal was pinned on his chest at a ceremony at Camp Pendleton, Calif.
Hardebeck was advancing on Marjah in February 2010 when he was wounded, the 1st Marine Division said in a statement on Facebook.
Launched on Feb. 13 of that year, the battle of Marjah was a major offensive to retake the last Taliban stronghold in Helmand province. Hardebeck was wounded on the eighth day of the campaign, according to a brief video of Thursday's ceremony.
The video also shows Lt. Col. Matthew T. Ritchie, the commanding officer of 1st Battalion, 11th Marines, calling Hardebeck's actions "about as selfless an act as anybody can give." The video only contains snippets of remarks Hardebeck and Ritchie made.
Hardebeck credits the support of his fellow Marines and sailors from Operation Enduring Freedom with changing his thinking about his injuries and encouraging him to submit for the award retroactively, the 1st Marine Division's Facebook post said.
He received the medal as the U.S. was withdrawing the last of its forces and equipment from Bagram Airfield, signaling the final stages of the two-decade war in Afghanistan, which transitioned from Operation Enduring Freedom to Operation Freedom's Sentinel some 6 ½ years ago.
"As the presence in Afghanistan comes to a close, we are reminded of the sacrifice and commitment to duty our OEF veterans demonstrated," the division said on Facebook. "These veterans remain in our communities and continue to impact our Corps."