New missiles, drones part of biggest-ever US military aid package to Ukraine
By
Stars and Stripes
August 24, 2022
---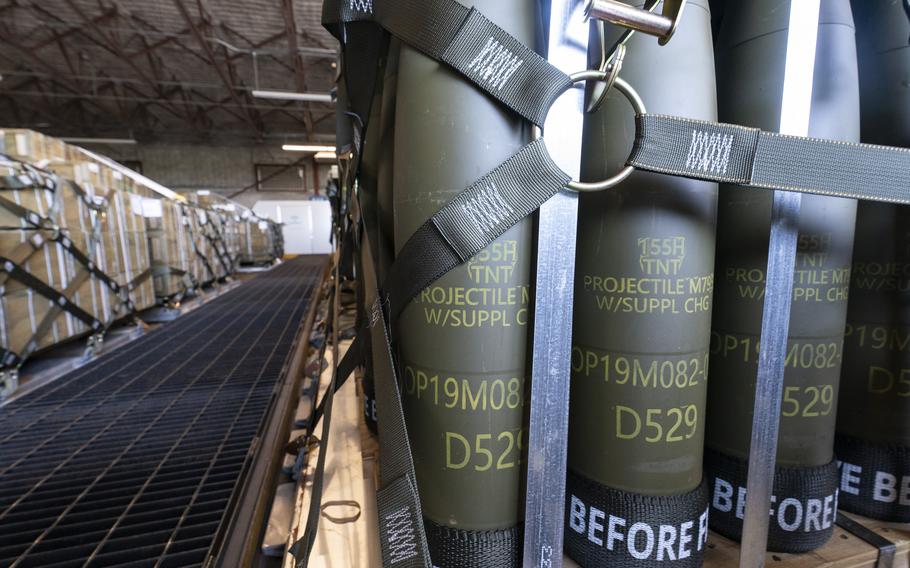 WASHINGTON — The United States on Wednesday unveiled its largest military aid package yet for Ukraine, including six additional National Advanced Surface-to-Air Missiles, signaling a long-term commitment to the Kyiv government six months to the day after Russia launched its invasion of the former Soviet republic. 
The new $2.98 billion package, which President Joe Biden announced on the anniversary of Ukraine's declaration of independence from the Soviet Union, will allow the U.S. to supply Ukraine with air defense systems, artillery systems and munitions, counter-unmanned aerial systems and radars.
"Over the past six months, Ukrainians have inspired the world with their extraordinary courage and dedication to freedom," Biden said in a statement. "They have stood resolute and strong in the face of Russia's full-scale invasion of Ukraine."
Biden said the package would ensure that Ukraine can "continue to defend itself over the long term."
Included with the six NASAMS are additional hand-launched Puma drones and equipment to support Scan Eagle drones, laser-guided rocket systems and up to 245,000 rounds of 155mm artillery ammunition, 65,000 rounds of 120mm mortar ammunition and 24 counter-artillery radars.
For the first time, the package will include British Vampire drone systems, which can be launched off ships. It will also use some of the funding to support "training, maintenance and sustainment," according to the Pentagon.
"The Vampire system itself is a counter-[drone] system," Undersecretary of Defense for Policy Colin Kahl said Wednesday. "It is a kinetic system; it uses small missiles essentially to shoot [drones] out of the sky." 
The NASAMS come after the U.S. previously pledged to Ukraine two of the systems that the DOD uses to protect the White House. Its air-defense capabilities are expected to help ensure Russia does not achieve air superiority over Ukraine, senior U.S. defense officials have said.
This package will come from the Ukraine Security Assistance Initiative, a Defense Department-led funding program that allows the U.S. to purchase weapons for Ukraine rather than sending them from U.S. stocks. That means the weapons will take a longer time to reach Ukraine as they must be purchased and built first, according to the statement.
"This announcement represents the beginning of a contracting process to provide additional priority capabilities to Ukraine in the mid- and long-term to ensure Ukraine can continue to defend itself as an independent, sovereign and prosperous state," the Pentagon said in its statement.
Some of the capabilities announced in the package will take months to contract and may not be delivered to Ukraine for another 1 to 3 years, Kahl told reporters at the Pentagon.
"Packages like this signal we're not just providing assistance to Ukraine right now, but it's going to be a steady stream of assistance that will stretch out over many months and years," Kahl said. "[It] is precisely challenging [Russian President Vladimir Putin's miscalculation that he can just grind it out and wait it out — it is supposed to impact his calculus."
Whether or not the war lasts throughout the time it takes to deliver the package does not affect its necessity, Kahl said.
"This type of package does not presume any particular outcome of the conflict," Kahl said. "If the war continues for years, [it's] relevant. If there's a ceasefire or a peace settlement, [it's] still relevant because Ukraine needs the ability to defend itself and deter future aggression."
The focus on air-defense, artillery and military drones continues a consistent theme of providing long-range systems since the war shifted to the Donbas region of eastern Ukraine in March. Before then, the U.S. sent more shoulder-mounted weapons such as Javelins to help fight off Russians approaching the Ukrainian capital of Kyiv.
When the war shifted to the Donbas, Pentagon officials said long-range systems were most needed because of the region's flat, rolling plains. Now, as the war has begun to shift south, that need continues, senior U.S. defense officials have said.
The latest announcement follows a $775 million military aid package unveiled Friday, bringing the total amount of U.S. military assistance to the country to about $13.5 billion since the war began.
"I know this Independence Day is bittersweet for many Ukrainians as thousands have been killed or wounded, millions have been displaced from their homes and so many others have fallen victim to Russian atrocities and attacks," Biden said. "But six months of relentless attacks have only strengthened Ukrainians' pride in themselves, in their country, and in their thirty-one years of independence."
That package also included artillery systems and associated munitions, drones and radars, as well as Mine-Resistant Ambush Protected (MRAP) vehicles, anti-tank missile systems, anti-armor ammunition for Carl Gustaf rifles and additional ammunition for High Mobility Artillery Rocket Systems, or HIMARS.
As the war continues, Russian President Vladimir Putin "repeatedly attempts to delegitimize Ukraine as a nation and state in the eyes of the Ukrainian and Russian publics, and international community," the State Department said in a statement Wednesday.
In a separate statement, Secretary of State Antony Blinken said the U.S. has demonstrated it will support Ukraine "for as long as it takes" through its repeated approval of military aid packages this year.
"What should be a celebration of Ukraine's independence is marred by Russia's ongoing war of aggression," Blinken said. "The United States has stood with the Ukrainian people for 31 years, and we will continue to firmly stand with them as they defend their freedom. Our support for Ukraine is unwavering."
---
---
---
---