US announces $775M in additional military aid for Ukraine ahead of country's independence day
By
Stars and Stripes
August 19, 2022
---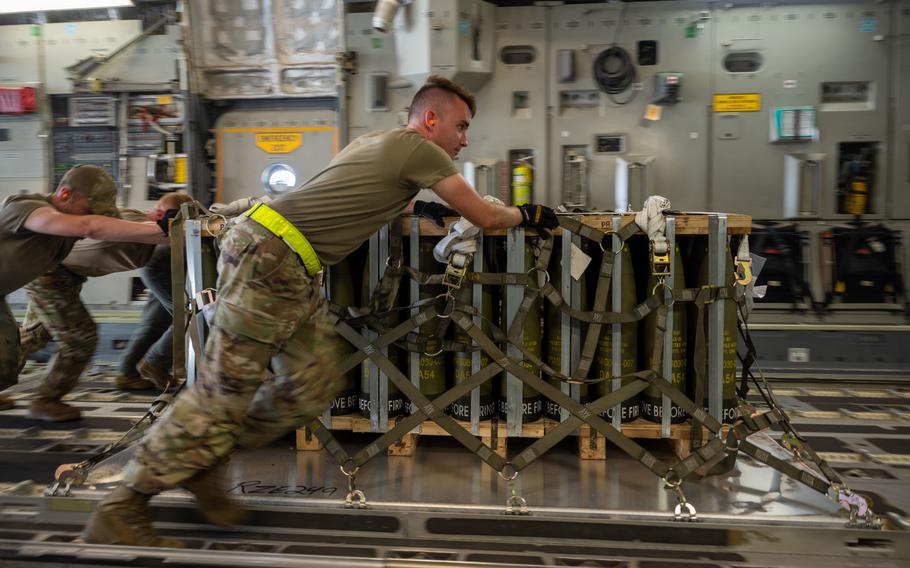 WASHINGTON — The United States is sending Ukraine another $775 million in military aid, including new drones and other equipment from U.S. weapons stockpiles to replenish Ukrainian forces battling Russia's monthslong invasion, the Defense Department announced Friday.
The aid contains Scan Eagle drones capable of long-endurance surveillance as well as more ammunition for High Mobility Artillery Rocket Systems, or HIMARS, which have become a critical tool for beating back Russian advances in the grinding artillery war in the eastern part of Ukraine.
"We have been seeing Ukraine employing HIMARS masterfully on the battlefield," a senior defense official told reporters on Friday. "This long-range fire capability has changed, really changed the dynamic on the battlefield, so we want to make sure that Ukraine has a steady stream of ammunition to meet its needs."
The entire aid package includes 16 howitzers and 36,000 accompanying artillery rounds, 15 Scan Eagle drones, 40 mine-resistant vehicles, high-speed missiles to find and destroy Russian radars, 1,500 anti-tank missiles and 2,000 anti-armor rounds, according to the Pentagon.
It also includes mine-clearing equipment, demolition and secure communications systems, night vision devices and 1,000 additional Javelin missiles, the anti-tank weapon that Ukrainians heavily relied on to repel Russia's attempted capture of Ukraine's capital city of Kyiv early in the war.
The new aid follows a record-setting $1 billion tranche of security assistance sent earlier this month and brings total U.S. commitment to arming Ukraine to more than $10 billion since Russia launched a full-scale attack on the country in late February.
Weapons shipments have shifted to more long-range rockets and missile systems in recent months as the fight concentrated in the eastern Donbas region and the south. The senior defense official said Russian territorial gains have slowed as its military scrambles to protect assets from Ukrainian bombardment.
"You are seeing a complete and total lack of progress by the Russians on the battlefield," said the official who spoke on condition of anonymity. "You're seeing the Russians still paying a high price with Ukrainian attacks…They are incurring these costs and not able to advance."
Ukrainian officials have publicly signaled intentions to launch a counteroffensive to retake Russian-held territory in the south and explosions in recent days have rocked Crimea, the peninsula Moscow annexed in 2014.
The latest aid comes ahead of Ukraine's Independence Day on Aug. 24, the day in 1991 when the former Soviet republic proclaimed it was breaking free from the crumbling Soviet Union. This year marks the 31st anniversary of Ukraine's independence.
International efforts to bring the bloodshed to an end continued in Kyiv this week as Ukrainian President Volodymyr Zelenskyy met with Turkish President Recep Tayyip Erdogan and U.N. Secretary-General Antonio Guterres. One of the main topics of discussion was the Zaporizhzhia nuclear power plant in southern Ukraine, where constant shelling is stoking fears of a potential catastrophe.
Zelenskyy has asked U.N. atomic energy experts to secure the plant — Europe's largest — and Guterres on Friday called for the area around it to be "demilitarized."
The senior U.S. defense official said Friday that the U.S. was watching military activity around the plant "very, very closely" and urged fighters to operate "with extreme caution." Ukraine is home to the Chernobyl plant, the site of a 1986 nuclear disaster that spewed radiation across large swaths of Europe.
Ukraine and Russia have accused each other of shelling the Zaporizhzhia facility, which has been under Russian control since March but continues to be operated by Ukrainian staff.
Both countries are also warning of a likely attack on the plant that would be carried out with the intention of blaming the other side for it. The Ukrainian Defense Ministry said Russia could be planning a "large-scale terrorist attack" on the plant with plans to blame Kyiv while Russia said the U.S. and Ukraine are aiming to trigger an accident at the facility.
Russia has shown a willingness to fire on a nuclear power plant in the past, the senior defense official said. Moscow's forces have also repeatedly demonstrated a complete disregard for the security of Ukraine's nuclear power facilities, the official said.
"We see Russia's current actions in and around this plant as really the height of irresponsibility, especially when you consider the responsibilities that come with being a nuclear power," the official said. "We have been very clear with Russia that we expect [them] to return full control [to Ukraine]."
Stars and Stripes reporter Caitlin Doornbos contributed to this report.
---
---
---
---