Monkeypox is the latest global health emergency; here's what to know
By
Rachel Pannett, Fenit Nirappil, Meryl Kornfield, Timothy Bella and Lindsey Bever
The Washington Post
July 24, 2022
---
The World Health Organization has declared monkeypox a global health emergency, as the once-rare virus spreads rapidly in Europe and other parts of the globe.
More than 16,800 cases of monkeypox have been reported in 74 countries this year. Many of those are in places that have never reported monkeypox infections before. In the United States, at least 2,890 cases have been identified, according to the Centers for Disease Control and Prevention.
Although the WHO has said the global risk of monkeypox is moderate, the virus is concerning health officials because it is transmitting in new ways about which they say they have little understanding. Where previous cases, including a 2003 U.S. outbreak, spread through human contact with animals such as rodents or primates, the current outbreak is concentrated among men who have sex with men.
The decision to place monkeypox on the highest alert level means the world is now confronting two viral diseases that have crossed that threshold. The coronavirus, which causes COVID-19, was given the same label in January 2020. Monkeypox is far less transmissible, however, and global health officials are hopeful the current outbreak can be brought under control.
What is monkeypox?
Monkeypox is named for the animals in which it was discovered, but the WHO intends to rename it after scientists deemed the current name "discriminatory and stigmatizing." The disease cropped up in 1958 among monkeys kept for research, according to the CDC — more than a decade before a human case was identified in the Democratic Republic of Congo.
Mass vaccination against smallpox "presumably" curbed monkeypox infections for a time among humans, researchers wrote in a 2005 article. But cases resurged, partly because of a lack of immunity in later generations, they say.
Monkeypox infections typically last two to four weeks, the CDC says, and begin with flu-like symptoms and swelling of the lymph nodes. Eventually, fluid-filled bumps — or "pox" — spread across the skin. Health officials have noted that the latest monkeypox cases often involve genital rashes that can be confused with syphilis or herpes.
The disease can spread through contact with animals, infected people and materials used by infected people, health authorities say. Examples listed by the CDC include contact with bodily fluids, contact with monkeypox sores and infection through "respiratory droplets" in a "close setting," such as a shared household. CDC officials say lesions are the most significant source of spread, such as skin-to-skin contact with a person with rashes, or sharing bedding or clothing exposed to lesions, and that respiratory spread happens during prolonged face-to-face contact when a person has lesions in the mouth or throat.
Monkeypox can be deadly, but two major strains of the virus pose different risks. About 1 in 10 people infected with a Congo Basin strain have been found to die, according to the WHO, while a West African strain appeared to be fatal for about 1 in 100 infected people.
That milder strain is the one infecting people who were hospitalized in Britain, health authorities said.
Five people have died in the current outbreak, according to the WHO, all of them in Africa.
What happens now that monkeypox has been declared a global emergency?
The WHO labeled monkeypox a Public Health Emergency of International Concern on July 23, in a move expected to marshal new funding and spur governments into action. The global health agency's announcement included recommendations to intensify surveillance, accelerate research into vaccines and therapeutics, and strengthen infection control in hospitals.
WHO Director General Tedros Adhanom Ghebreyesus told reporters that because the outbreak is concentrated at the moment among men who have sex with men, health officials believe it "can be stopped with the right strategies in the right groups." He stressed that any containment measures should respect the "human rights and dignity" of gay and bisexual men, saying: "Stigma and discrimination can be as dangerous as any virus."
How does monkeypox compare with the coronavirus?
Experts stress that monkeypox is different from the coronavirus that has infected millions.
Monkeypox is highly visible, making contact tracing and isolation easier. An existing smallpox vaccine could help protect the public if needed, said Aris Katzourakis, a professor of evolution and genomics at the University of Oxford. And "we don't have the potential for something spreading through the globe at anything like the kind of rate that we saw with COVID," he said, because monkeypox transmits less easily between humans.
Still, the latest spate of cases stands out, Katzourakis said. The longer it continues, the more chance the virus has to mutate and improve its transmissibility.
"It's either a lot of bad luck or something quite unusual happening here," Katzourakis said.
"We don't really have the sense yet of what's driving it. . . . There isn't a travel link that's identified that brings these cases all together," said Tom Inglesby, director of the Johns Hopkins Center for Health Security.
Monkeypox is known to spread through human contact with animals such as rodents or primates, but the virus has spread further this year through human-to-human transmission than previously reported. The risk to the public remains low, authorities say.
Is the smallpox vaccine effective against monkeypox?
Data suggests that the smallpox vaccine is about 85% effective against monkeypox, according to the CDC.
Although the smallpox vaccine stopped being administered to the U.S. general public in the 1970s — years after the disease was eliminated in North America — a supply was kept on hand. A new vaccine, ACAM2000, replaced the old one in the mid-2000s. In 2019, Jynneos was approved to prevent smallpox and monkeypox in high-risk adults 18 and older.
To control the spreading virus, the United States bought doses of the Jynneos vaccine, the only one specifically approved by the Food and Drug Administration to prevent monkeypox, to allocate based on the number of people at risk for monkeypox who also have preexisting conditions, such as HIV. But officials in New York and D.C. have said they do not have enough supply to meet the demand.
People in the general population who have been exposed to monkeypox should get one of the vaccines, said Ruth Karron, a professor and director of the Johns Hopkins Vaccine Initiative at the Bloomberg School of Public Health. And, she said, because the incubation period for monkeypox is long — up to two weeks — some data suggests that people who get vaccinated after exposure or infection may be able to avoid illness or experience a milder case.
The CDC recommends that people get vaccinated within four days of exposure to prevent infection, but there may still be benefits up to 14 days. People in this situation should contact their doctor for guidance.
As for people who received the smallpox vaccine decades ago, health experts say they may still have some protection against monkeypox, but probably not enough. According to the CDC, those who have not had a smallpox vaccine within the past three years should consider getting one if they are exposed to monkeypox.
"We should also bear in mind that we are still trying to figure out what's going on with monkeypox because this pattern of infection is not one we've seen before," Karron told The Washington Post. "But still, we have very, very, very few cases, and I don't think we are going to see a large outbreak."
The WHO is discouraging mass vaccination for the virus, which can be treated with antiviral medicines and vaccines stockpiled in the event of a smallpox outbreak, because there is limited clinical data and an insufficient global supply. The U.N. health agency is developing a plan to make vaccines and treatments more accessible.
Has monkeypox made it to the United States before?
Monkeypox made its way to the United States for the first time in 2003, researchers say. That outbreak was the first time that human monkeypox was reported outside of Africa, according to the CDC.
At the time, dozens of cases were reported in the Midwest, mostly among people who were exposed to prairie dogs apparently infected by rodents from Ghana, according to the CDC. Two children fell seriously ill and recovered, the CDC said.
An infection reported May 18 in Massachusetts was the first case of monkeypox identified in the United States this year, health officials said.
The Washington Post's Hannah Knowles, Ana Herrero and Seung Min Kim contributed to this report.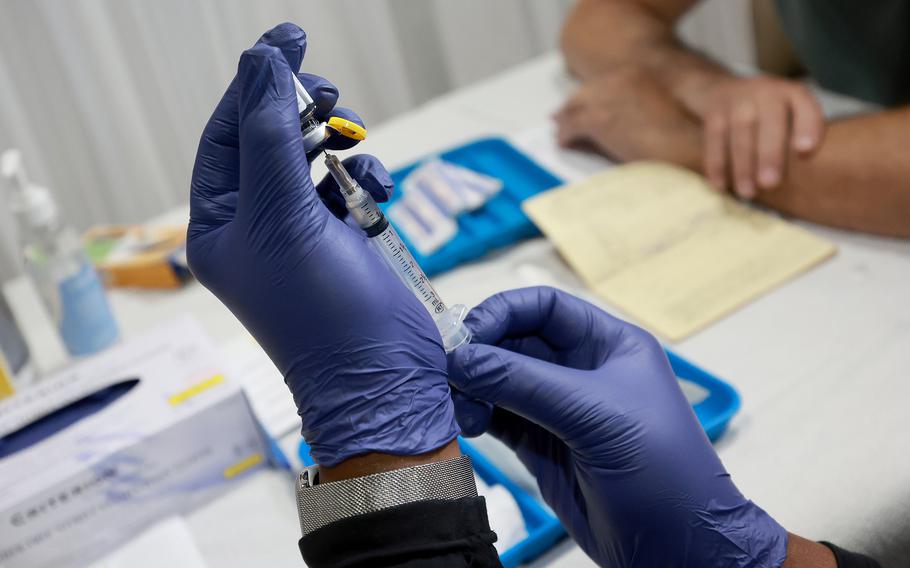 ---
---
---
---