Iwo Jima hero Hershel 'Woody' Williams honored with ultimate tribute in the US Capitol
By
Stars and Stripes
July 14, 2022
---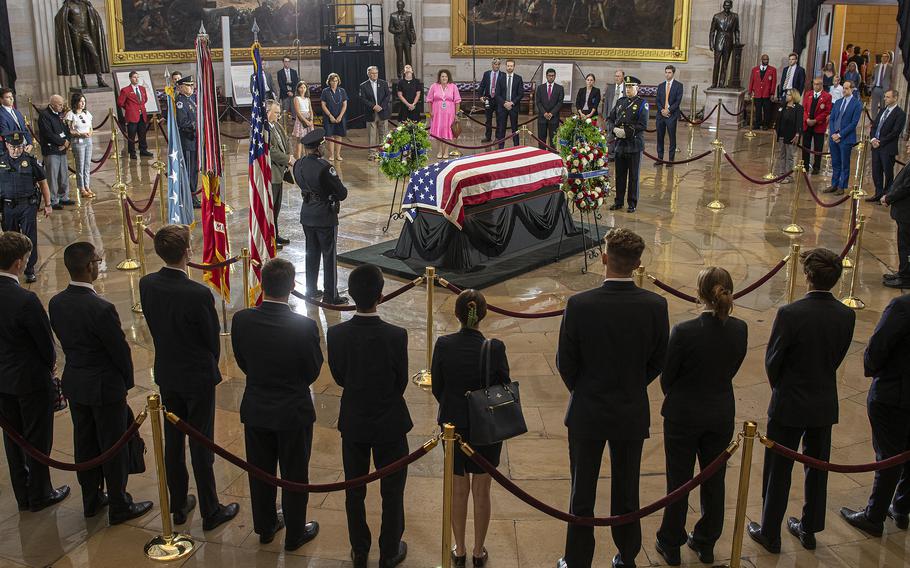 WASHINGTON — As Mike Turner stepped up to pay his respects to former Marine Hershel "Woody" Williams on Thursday, he closed his eyes and prayed.
"I said, 'God, you've got to give us the courage and the integrity and the commitment that [Williams] had to get us through these times,'" Turner said, choking up. "That's really, really important."
A retired Air Force colonel, Turner said he despaired about the "tough times in this country" and he saw Williams and his heroism in the battle for Iwo Jima as the embodiment of the best that America has to offer.
"I kind of feel like all of us that ever wore a uniform owe Woody this day," he said.
Turner was among the throngs of lawmakers, military officials and members of the public who gathered at the U.S. Capitol on Thursday to remember and thank Williams as he lay in honor in the Capitol Rotunda, a tribute reserved for the most distinguished Americans and previously afforded to just six others.
Williams was the last survivor of the 472 servicemen from World War II who earned the Medal of Honor, the nation's highest military award. He died June 29 in Huntington, W.Va., at 98 years old.
Uniformed pallbearers carried Williams' casket Thursday in a solemn procession up the steps of the Capitol as onlookers bowed their heads. The casket, draped in an American flag, came to rest in the center of the Rotunda, atop a black catafalque constructed in 1865 for Abraham Lincoln.
"With Woody's passing, we have lost a deeply selfless American and a vital link to our nation's greatest generation," said House Speaker Nancy Pelosi, D-Calif. "His story echoes the service of so many Americans who faced the horrors of war so that liberty might triumph over fascism."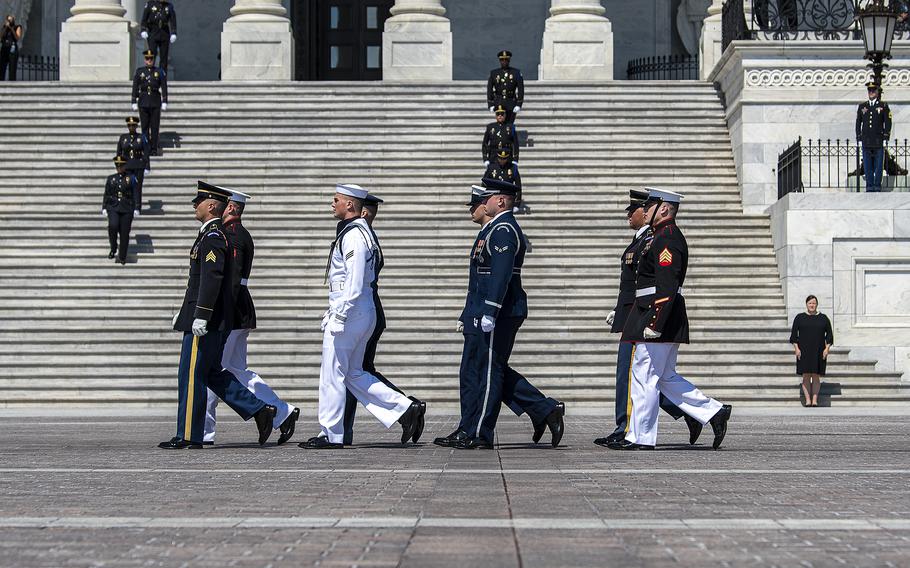 John Digilio, Jr., a retired Army general, said he and his group, State Funeral for World War II Veterans, lobbied for Williams to lie in honor as a final salute to the 16 million men and women who served in the U.S. armed forces between 1941 and 1945.
Standing in front of Williams' casket on Thursday was emotional, he said.
"The courage, the tenacity, his heroism was truly outstanding," Digilio said. "He saved lives and that's perhaps the most important part."
The 36-day fight to capture Iwo Jima and its two critical airfields was already underway when the 21-year-old Cpl. Williams landed on the Japanese island on Feb. 21, 1945 with the 21st Marines of the Third Marine Division. Two days later, he was startled out of a slumber by the sounds of jubilation.
"Suddenly, the Marines around me started jumping up and down, firing their weapons in the air," Williams recalled years later to the Marine Corps History Division. "My head was buried in the sand. Then I looked up and saw Old Glory on top of Mount Suribachi."
The flag-raising, famously captured by Associated Press photographer Joe Rosenthal and immortalized in bronze at the Marine Corps War Memorial, became inspirational fuel for the battle soon to come.
That afternoon, Williams volunteered to clear a path for Marine tanks and personnel carriers through an enemy network of "pillbox" bunkers and mines buried in black volcanic sands. He went forward alone, armed with a flamethrower.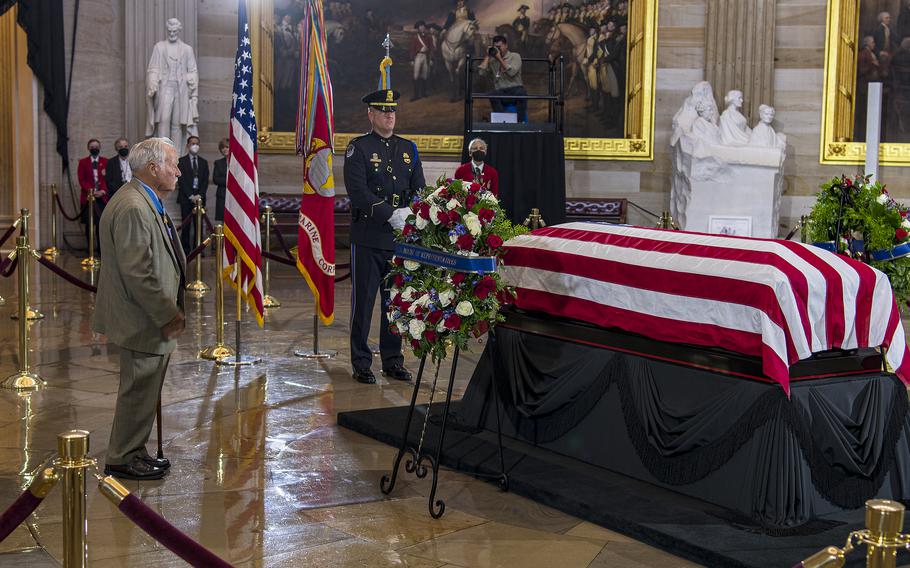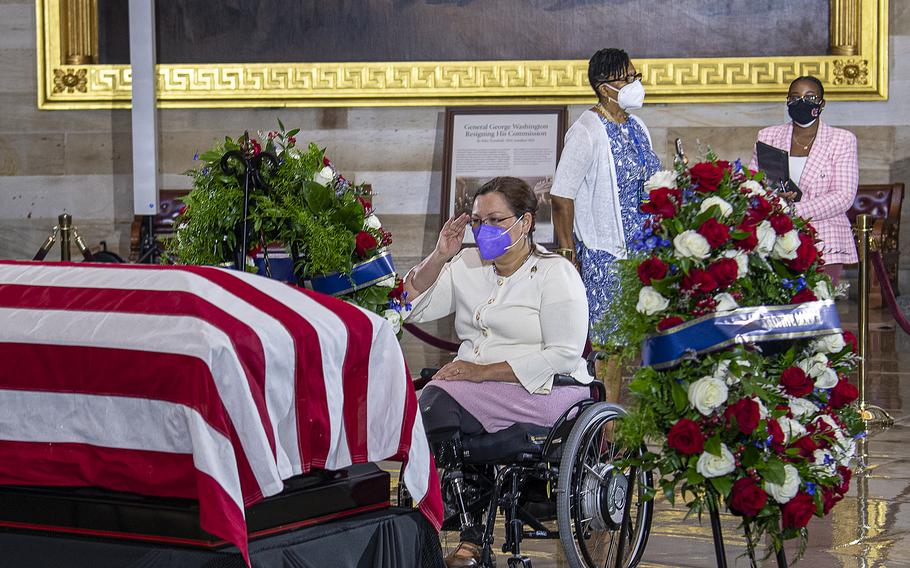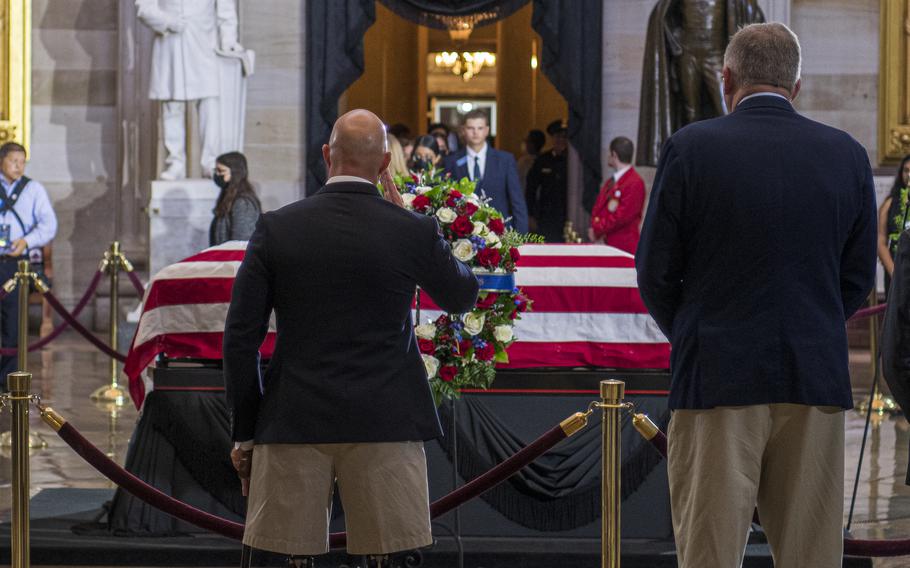 For four hours, Williams dodged Japanese machine-gun fire to wipe out one pillbox after another, at one point mounting a pillbox to insert the nozzle of his flamethrower through an air vent. The resulting inferno incinerated the Japanese soldiers inside and silenced their guns.
In another moment, Williams charged into a group of enemy soldiers brandishing bayonets and killed them with a burst of flame. Williams destroyed seven pillboxes in total and returned to headquarters five times to replenish his weapons when his supply of diesel fuel and high-octane gasoline ran out.
"His unyielding determination and extraordinary heroism in the face of ruthless enemy resistance were directly instrumental in neutralizing one of the most fanatically defended Japanese strong points encountered by his regiment," read Williams' Medal of Honor citation.
Two of the four riflemen who covered Williams during the mission were killed — early casualties of what would become the bloodiest battle in the history of the Marine Corps, with nearly 7,000 dead. Of the 20,000 Japanese defenders, only about 1,000 survived, according to the Naval History and Heritage Command.
Williams fought through the remainder of the campaign on Iwo Jima though he was wounded in the leg by shrapnel on March 6, 1945. He returned to the U.S. in September after Japan's surrender marked the end of World War II and he was presented the Medal of Honor by President Harry Truman the next month.
Years later, Williams said he could never satisfactorily answer a frequently posed question: Where did his bravery come from?
"Everybody has some instinct of bravery," he said in a 2020 interview with the Defense Department. "And, as long as they can control the fear, you can be brave."
Williams also attributed his fortitude to a hardscrabble upbringing in Quiet Dell, W.Va., where he was born Oct. 2, 1923, as the youngest of 11 children. Several of his siblings died during the 1918-19 flu pandemic.
"We were taught in the [Great] Depression years, if you didn't have it, you had to make it," he said. "And the only way you could make it was to work at it. Our upbringing gave us the confidence that developed into bravery."
Williams helped his parents run their small dairy farm and after his father died of a heart attack when Williams was 11, he took on odd jobs to support the family. He quit high school to join the Civilian Conservation Corps and later drove a taxi, sometimes delivering telegrams to the families of fallen soldiers.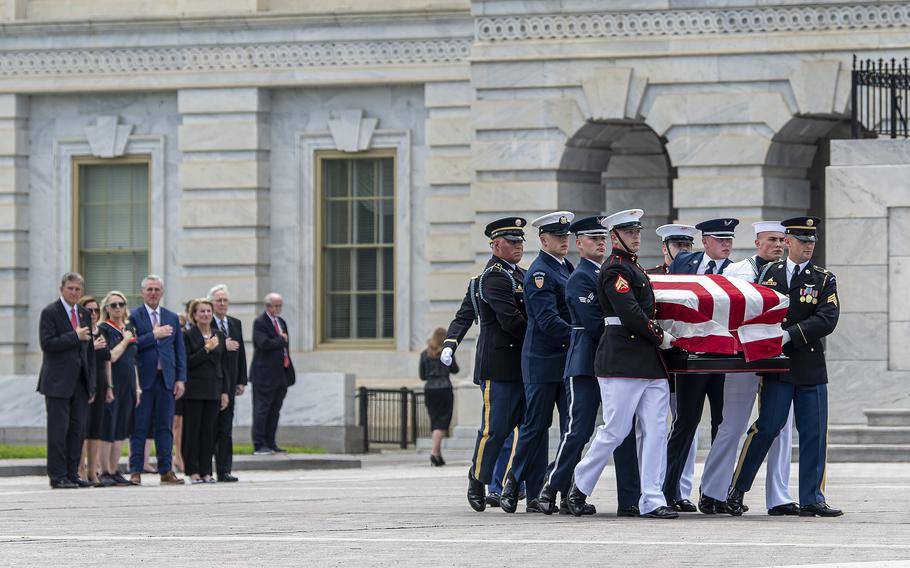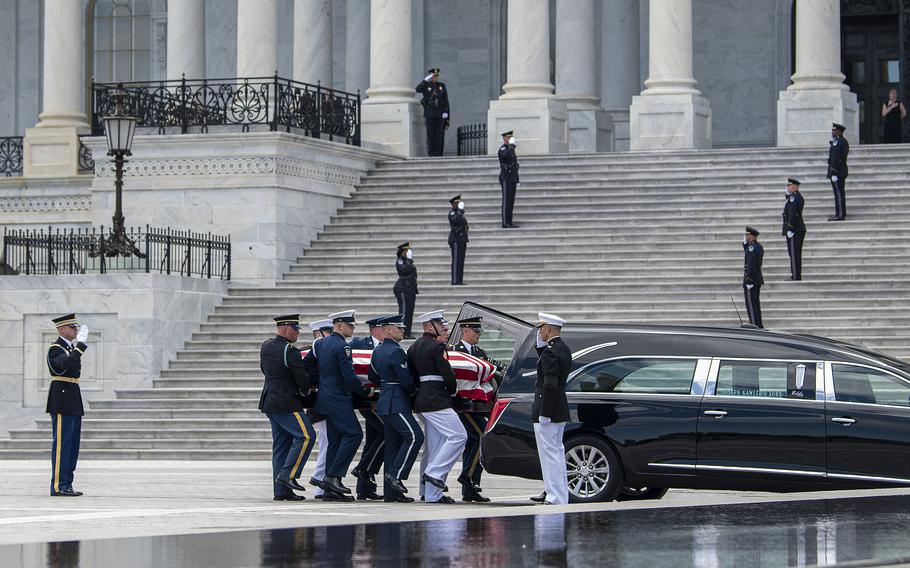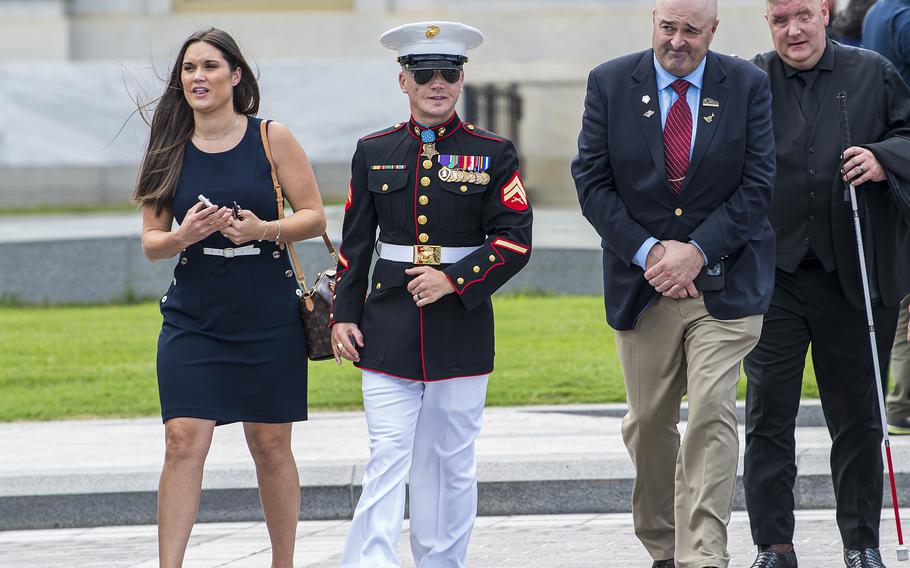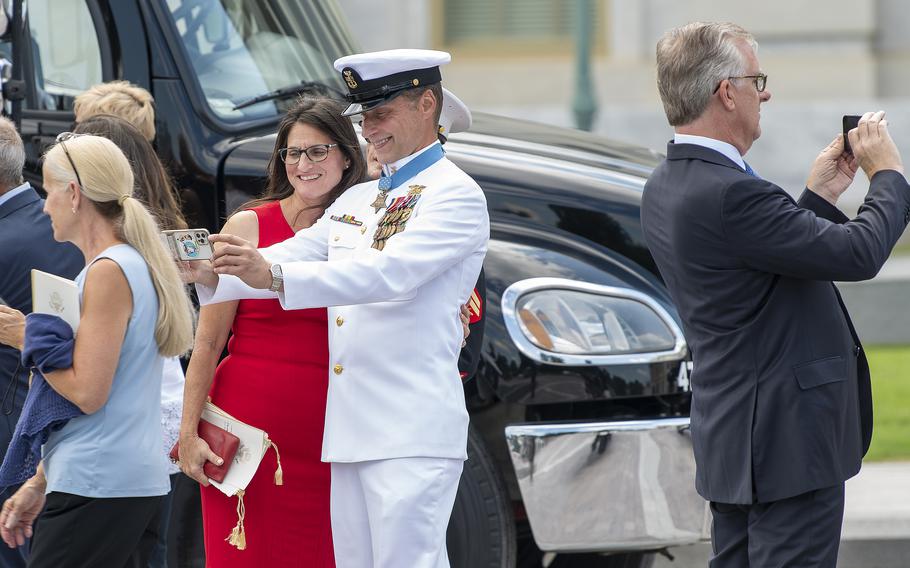 Born weighing just 3 1/2 pounds, Williams grew to stand just 5 feet 6 inches tall. That was initially too short to enlist in the Marine Corps but became the service's minimum height requirement in 1943, allowing Williams to finally become a Marine.
He was adamant about joining the branch after the attack on Pearl Harbor in 1941. Two of his brothers served in the Army but Williams intensely disliked their wool brown uniforms, calling the outfit "the ugliest thing in town."
"I decided I did not want to be in that thing," he told The Washington Post in 2020. "I want to be in those dress blues."
Despite his small stature, Williams became a "force of nature" in the military, said Senate Minority Leader Mitch McConnell, R-Ky.
Williams remained in the Marine Corps as a reservist, retiring as chief warrant officer in 1969. He worked as a counselor for the Veterans Administration and created the Woody Williams Foundation to serve Gold Star military families.
"The thing that drew a farm boy from West Virginia to a lifetime of patriotic service could best be described as gravitational pull," McConnell said. "Even his improbable safe return from dangerous combat couldn't convince him that he'd actually done enough."
Michelle Jenks, a member of a Texan Iwo Jima reunion committee, met Williams in 2007 and she said his dedication to his fellow veterans extended well into his twilight years. He would go to the reunion every year, with a grandson in tow, and regularly kept in touch with Jenks and her family, she said.
Williams and his late wife, Ruby, had two daughters, Tavie Jane and Tracie Jean, as well as multiple grandchildren and great-grandchildren.
"He was just an amazing, amazing man," Jenks said. "His grandsons are just as amazing as he is, and they will carry on his legacy very well."
---
---
---
---