Leaked Air Force and Space Force policies ease tattoo restrictions for some recruits
By
Stars and Stripes
May 23, 2022
---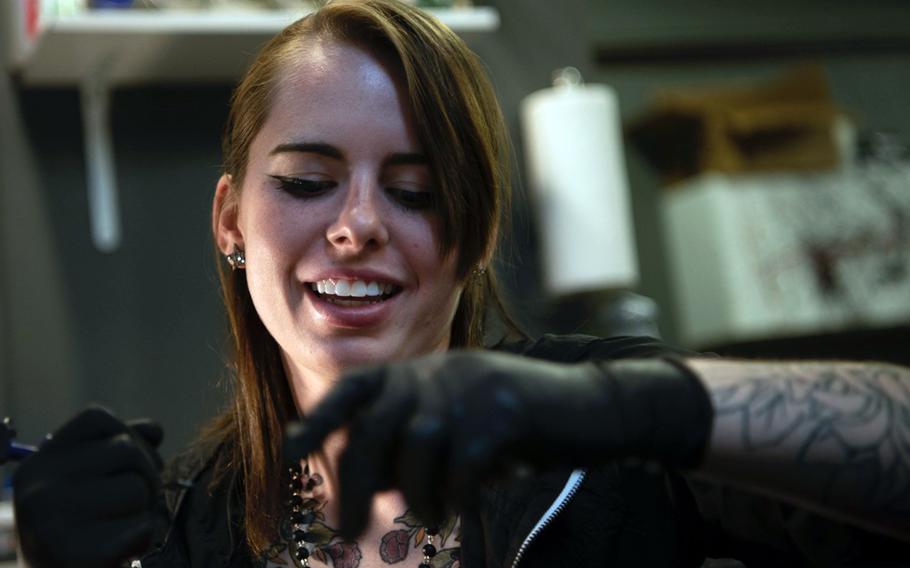 The Space Force is going one step beyond the Air Force with a neck tattoo policy that gives some young recruits another reason to look to the stars.
The Space Force will permit small neck tattoos, and the Air Force is waiving some size limits on hand tattoos, according to an Air Force Recruiting Service memo leaked recently on the popular Air Force amn/nco/snco Facebook page.
"The tattoo policy has not changed," Air Force Recruiting Service spokeswoman Chrissy Cuttita told Stars and Stripes by email Friday. "New as of May 13, 2022, an Air Force Recruiting Service memo informed recruiters that the two-star AFRS commander may waiver qualified applicants who have small, discreet hand tattoos under specific circumstances."
The waiver allows commanders to ensure the Air Force does not lose quality recruits, she said.
The revised tattoo policies are small concessions. Hand tattoos may not cover more than 25% of an Air Force recruit's hand. The Space Force limits neck tattoos to one inch in length in any direction and they may be located only on the back of the neck.
Space Force guardians with neck tattoos cannot qualify to dual track with the Air Force and may only apply for eligible Space Force jobs.
The Air Force has been struggling to meet its recruitment numbers this fiscal year.
The goal is 27,452 new airmen by Sept. 30. Halfway into the fiscal year, 9,920 new recruits are in uniform and 5,314 have signed contracts, according to Air Force data reported on March 25.
A growing obesity problem in the United States automatically disqualifies roughly 75% of young Americans from Air Force service, Air Force Recruiting Service commander Maj. Gen. Ed Thomas said on March 24.
Each Air Force enlisted recruiting squadron has a dedicated Space Force recruiter for a total of 24 in the Air Force Recruiting Service.
The goal for recruiting guardians this fiscal year is 521 enlisted and about 70 officers, according to the Space Force website.
---
---
---
---