Pentagon spokesman, deputy defense secretary are among US defense officials targeted in latest Russian sanctions
By
Stars and Stripes
April 21, 2022
---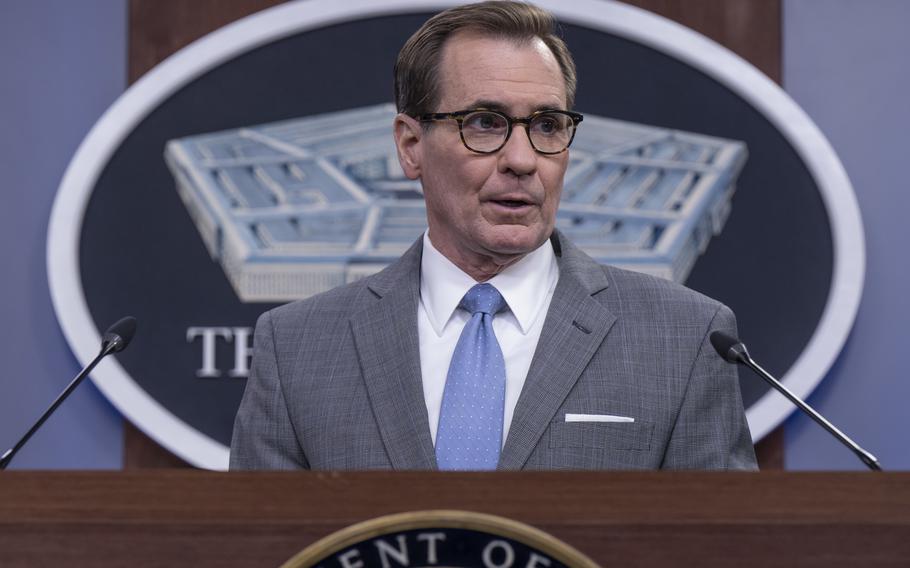 WASHINGTON — Chief Pentagon spokesman John Kirby said he was taken aback Thursday when he learned he was included on Russia's newest list of U.S. defense officials, politicians and journalists banned from traveling to the country.
"Nobody called me from the Kremlin to advise me that I was being sanctioned or why, but I have to assume that the effort both by the United States government — certainly the Department of Defense — as well as you and your colleagues in covering this war unsettles [Russian President Vladimir Putin]," Kirby told reporters at the Pentagon.
The spokesman, who's been providing near-daily updates since Russia invaded Ukraine on Feb. 24, was one of 29 Americans who the Russian Foreign Ministry said it targeted "in response to the constantly expanding anti-Russian sanctions."
Deputy Defense Secretary Kathleen Hicks and Adm. Christopher Grady, vice chair of the Joint Chiefs of Staff, are also among the Pentagon officials who made the list. Vice President Kamala Harris and her husband, Doug Emhoff, and White House Chief of Staff Ronald Klain are on the list too, according to the ministry.
Russia, which has banned most western news outlets and social media platforms, also targeted journalists David Ignatius of The Washington Post and George Stephanopoulos of ABC News, as well as Facebook founder Mark Zuckerberg.
Kirby said the inclusion of American journalists in the sanctions says "a bit about the fear of fact — fear of the truth — that Mr. Putin continues to demonstrate."
"I think it demonstrates a sense of weakness — not strength — that he so abhors the work of independent journalists and the coverage of the brutality and the atrocities that his troops are conducting inside Ukraine," he said.
The announcement Thursday is an expansion from previous sanctions that barred President Joe Biden, Defense Secretary Lloyd Austin, Army Gen. Mark Milley, chairman of the Joint Chiefs of Staff, National Security Adviser Jake Sullivan, CIA Director William Burns and White House press secretary Jen Psaki, according to the ministry.
At the time, Psaki downplayed the bans, saying "none of us are planning tourist trips to Russia, none of us have bank accounts that we won't be able to access, so we will forge ahead."
The U.S. and its allies previously sanctioned Putin, Russian Foreign Minister Sergey Lavrov and other Russian oligarchs in response to Russia's war on Ukraine.
The new sanctions come a day after the Treasury Department "rolled out additional measures to crack down on the entities and individuals attempting to evade our unprecedented sanctions," Biden said Thursday in a public address.
Those measures included targeting financial and operational support networks including the Russian Transkapitalbank and several Russian virtual currency mining companies, blocking their assets and banning Americans from using them, according to the Treasury Department.
In Biden's address, he also announced a new ban barring all Russian-affiliated ships from American ports.
"That means no ship that sails under the Russian flag or that is owned or operated by Russian interests will be allowed to dock in a United States port or access our shores," the president said.
---
---
---
---