Spending bill boosts funding to troops, military families and weapons
By
Stars and Stripes
March 11, 2022
---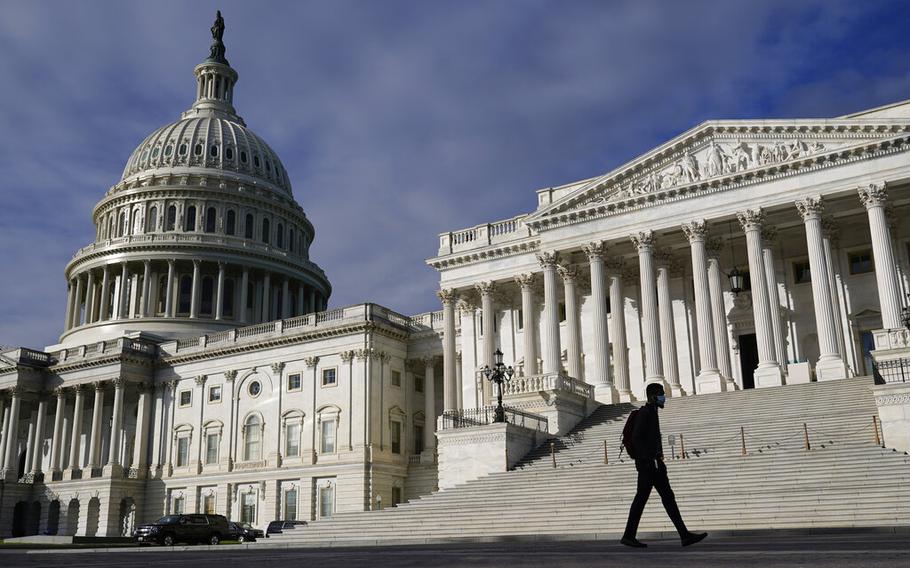 WASHINGTON — The $1.5 trillion federal spending bill on its way to President Joe Biden's desk will pour $728 billion into the military, funding pay raises for troops, assistance for military families, weapon purchases and other defense expenditures for the fiscal year.
The budget bill boosts spending for defense by $32 billion compared to last year, and it was passed by Congress this week in tandem with a $13.6 billion emergency aid package for war-torn Ukraine. The emergency aid package includes an additional $6.5 billion for the Pentagon.
"It is rare that Congress acts so decisively on such a significant issue," said Sen. Jim Inhofe of Oklahoma, the top Republican on the Senate Armed Services Committee. "[This bill] will keep us from falling even further behind China, and we will make significant progress in some areas because of it."
The bipartisan measure funds the 2.7% pay raise that all 2.1 million service members received at the beginning of the year through the remainder of fiscal year 2022, which ends Sept. 30. Those salary increases gave junior enlisted troops about $790 more per year and more senior officers an extra $2,600. An additional $167 million will fund a minimum $15 per hour wages for all Department of Defense employees, according to the House Committee on Appropriations.
Lawmakers also set aside $278 million in housing assistance for military families grappling with the lingering effects of the coronavirus pandemic on home expenses. The bill adds $516 million for the construction and improvement of schools on military bases and gives military families $24.2 million for assistance with child care costs.
The new funding plan also tackles gender-based violence in the military, appropriating $540 million for sexual assault prevention and response programs, counsel for victims and other initiatives. Cancer research by the Defense Department will receive a $578 million infusion of funding, including $150 million for a breast cancer research program, according to the House Committee on Appropriations.
Veterans will see increased investment in mental health care initiatives, women's health care and caregiver support programs as well as efforts to combat homelessness.
"This bill reflects our values," said Rep. Debbie Wasserman Schultz, D-Fla., chairwoman of the House Appropriations subcommittee on military and veterans affairs. "It will reinforce our national security infrastructure, invest in new military base child development centers and family housing and ensures veterans receive the health care they deserve."
The Pentagon is set to receive $686 million to respond to the fuel leak at the Navy's Red Hill storage facility in Hawaii last November that contaminated drinking water. Another $1.6 billion is allocated for the maintenance and modernization of military facilities.
Significant funds would also be doled out for the procurement of weapons, including $25.9 billion for 13 new Navy ships and $8.5 billion for 85 F-35 fighter jets. The Pentagon will invest some $1.4 billion into the Indo-Pacific to counter China's influence in the region, establishing defense monitoring stations in Hawaii and Guam, and funding missile-tracking systems.
The defense budget also allocates money for U.S. military allies, giving $300 million to the Baltics and other Eastern European countries shoring up defenses against Russian aggression. Lawmakers agreed to give Ukraine another $300 million on top of the $13.6 billion emergency package, which has been earmarked for humanitarian assistance, the 15,000 U.S. troops recently deployed to the region and the replenishment of weapons sent to Ukraine.
The U.S. will also spend $1 billion on restocking Israel's Iron Dome missile defense system, as well as $500 million for supporting Iraqi security forces and $165 million for security programs with African nations.
"In the face of Putin's war against Ukraine, ensuring we give our military the tools to respond to ongoing and emerging threats around the globe could not be more imperative," said Rep. Chrissy Houlahan, D-Pa., a former Air Force officer.
---
---
---
---