Spending bill adds $150 million toward draining Red Hill fuel tanks in Hawaii
By
Stars and Stripes
March 10, 2022
---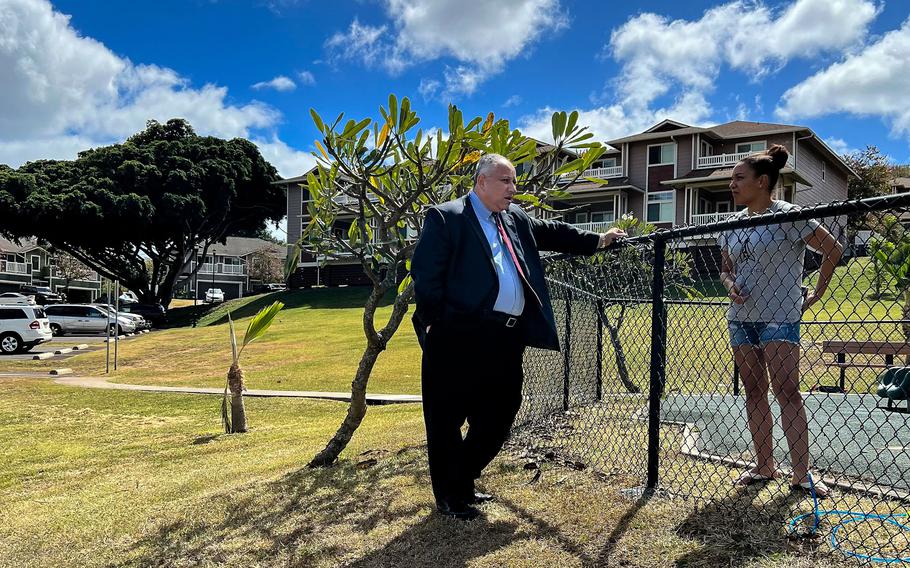 FORT SHAFTER, Hawaii — A massive $1.5 trillion omnibus spending bill debated Wednesday in the U.S. House of Representatives includes $150 million for emptying and permanently closing the Navy's Red Hill fuel storage facility in Hawaii that was the source of widespread well-water contamination.
The money comes in addition to $100 million included in a stopgap funding bill signed by President Joe Biden last month. That bill keeps the government funded until Friday, theoretically giving Congress time to pass the Fiscal Year 2022 Omnibus Appropriations Bill now in the House.
The Pentagon on Monday announced that the World War II-era underground storage tanks at Red Hill would be closed, laying out a roughly 14-month timetable to do so.
Sen. Brian Schatz, D-Hawaii, who serves on the Senate Appropriations Committee, inserted the $250 million funding into the two bills.
"We still have more work to do to make sure Red Hill is closed safely, but we now have significant resources to drain the tanks and get this right," Schatz said in a news release Wednesday.
The full cost of decommissioning the facility will likely become clearer as the Navy and Defense Logistics Agency complete an action plan by May 31 for closing it down.
Jet fuel from the tanks contaminated one of three wells used for the Navy's water distribution system, which supplies military housing communities on and near Joint Base Pearl Harbor-Hickam.
Residents began complaining of tainted water in late November, with some suffering from nausea, vomiting, headaches and rashes. Thousands of residents relocated to Waikiki Beach hotels as the Navy has worked at cleaning and flushing the system and individual homes and buildings.
The Hawaii Department of Health earlier this year ordered the fuel storage facility to be emptied, but the Department of Justice appealed that order in federal and state courts on Feb. 2. The facility contains about 150 million gallons of fuel.
The contamination led to widespread local opposition to the continued use of the facility.
News of Defense Secretary Lloyd Austin's decision to close Red Hill was lauded by many, including Hawaii's congressional delegation, but the move has its skeptics.
The closure is "extremely short-sighted," Rep. Mike Rogers, R-Ala., said Wednesday during a hearing on national security challenges in the Indo-Pacific by the House Armed Services Committee.
"Red Hill has serious problems," said Rogers, the committee's ranking member. "But the secretary closed Red Hill without laying out the resources needed to replace that capability."
Austin in his announcement said a massive and centrally located fuel depot such as Red Hill belonged to a bygone era.
"The distributed and dynamic nature of our force posture in the Indo-Pacific, the sophisticated threats we face, and the technology available to us demand an equally advanced and resilient fueling capability," Austin said in a news release Monday.
"To a large degree, we already avail ourselves of dispersed fueling at sea and ashore, permanent and rotational," he said. "We will now expand and accelerate that strategic distribution."
---
---
---
---