Battling terrorism in Afghanistan from over-the-horizon is 'extremely difficult,' says nominee to command CENTCOM
By
Stars and Stripes
February 8, 2022
---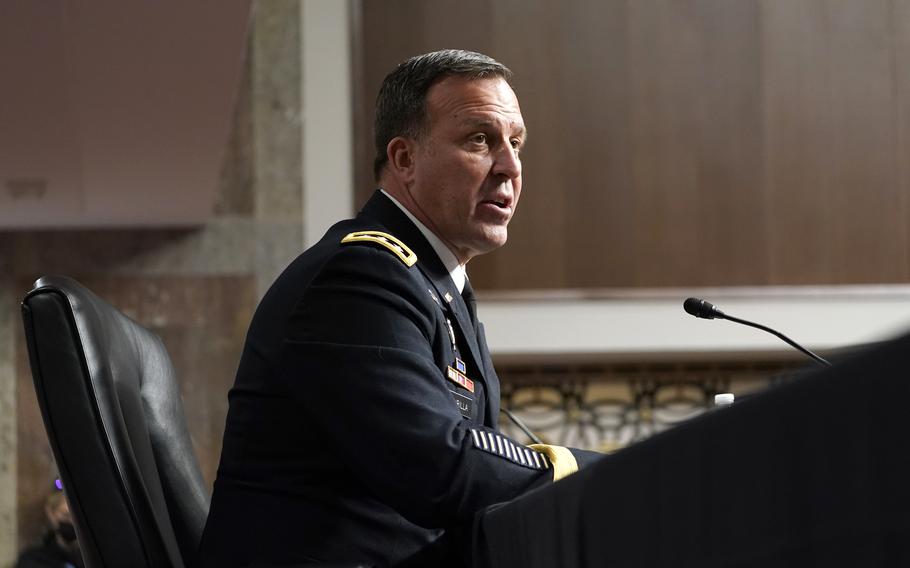 Monitoring the actions of terrorist groups in Afghanistan without U.S. forces on the ground has proven "extremely difficult," the Army general nominated to take U.S. Central Command's reins later this year told senators on Tuesday.
"Over-the-horizon capability is extremely difficult, but not impossible," Lt. Gen. Michael "Erik" Kurilla, the commander of the Army's 18th Airborne Corps at Fort Bragg, N.C., said during a Senate Armed Services Committee hearing to consider his nomination by President Joe Biden to the four-star post. "I think the biggest challenge for Afghanistan is that as a landlocked country, we rely on another nation … to enter Afghanistan, and the distances required to fly [intelligence, surveillance and reconnaissance missions] are great."
Kurilla, if confirmed by the Senate, would become the CENTCOM commander responsible for operations in 21 countries across North Africa, the Middle East and central Asia, where U.S. troops last summer left Afghanistan after two decades of war. Kurilla would oversee continuing operations against Islamic State group terrorists in Iraq and Syria, but he would also be charged with monitoring and containing the ISIS Afghan affiliate — ISIS-Khorasan — and al-Qaida in Afghanistan using the so-called "over-the-horizon" capabilities that employ military assets from afar.
Kurilla, who has vast experience fighting in the CENTCOM region as a past commander of the Army's elite 75th Ranger Regiment and 82nd Airborne Division, said intelligence-collecting drones are spending two-thirds of their time flying to and from Afghanistan, leaving little time for them to watch the actions of terrorist groups in the country governed since August by the Taliban. He told senators -- if they confirm him -- that he would look closely at best options to ensure ISIS-K and al-Qaida remain incapable of attacking the U.S. homeland from Afghanistan.
Among those options, Kurilla said he would consider some "case-by-case" intelligence sharing with the Taliban, if it proved fruitful in targeting ISIS-K, a group that is considered a common enemy. He also said the United States should look to rebuild some of the "human-intelligence capability that was lost during the withdrawal" from Afghanistan.
Kurilla also said during the Senate hearing that the United States was continuing talks with nations near Afghanistan in hopes of staging over-the-horizon capabilities, but he declined further comment because he has not yet been involved in such discussions.
Since American forces pulled out of Afghanistan on Aug. 31, the U.S. military has not conducted an airstrike in that country, said Sen. Angus King, I-Maine. Pentagon officials late last year said neither ISIS-K nor al-Qaida was yet capable of attacking the U.S. homeland from Afghanistan, but both terrorist groups strived to do so in the future.
Kurilla appeared poised for an easy nomination, garnering assurances of support Tuesday from Republican and Democratic senators, including the committee's top leaders.
"I'm very confident that you will be confirmed and confident too that you will lead with distinction," said Sen. Jack Reed, D-R.I., the committee's chairman.
Sen. Jim Inhofe of Oklahoma, the committee's top Republican, added Kurilla had "served with great honor in the CENTCOM region."
"You're the right guy to do this," Inhofe told the general.
Kurilla was scheduled to depart for a deployment to Europe on Tuesday immediately after his confirmation hearing to command 18th Airborne Corps troops sent to NATO allied countries in recent days amid heightening tensions with Russia over its buildup of more than 100,000 forces on Ukraine's borders. He told the committee that he was "very concerned" about the potential of a Russian invasion into Ukraine, but he kept his testimony largely focused on issues facing the United States in the Middle East.
Among those issues, Kurilla pledged to look closely at allegations that the U.S. military has killed thousands of civilians during years of war in Iraq, Syria and Afghanistan but has not acknowledged doing so. A report issued last month by the Rand Corp. found the Pentagon had not done enough to investigate allegations in recent years of civilian deaths in military operations, including drone strikes.
Kurilla told senators that if he was confirmed for the CENTCOM job, he would request to work closely with a Pentagon panel ordered last month by Defense Secretary Lloyd Austin to establish new guidelines by summer on mitigating harm to civilians.
The general said, "every civilian casualty is a tragedy," adding they often contribute to anti-American sentiments in areas U.S. troops operate.
Sen. Elizabeth Warren, D-Mass., told Kurilla that he would be responsible for "implementing some real changes" in the military's efforts to avoid civilian casualties.
"The system is broken," she said. "We cannot accept the deaths of innocent civilians as just an unavoidable cost of warfare… General, if confirmed, I think you're going to have an opportunity to set the standard for protecting innocent lives."
Kurilla is a 1988 graduate of the U.S. Military Academy at West Point. As an infantry officer, he has fought in Panama, Iraq, Afghanistan and Syria. He has twice received the Purple Heart for combat injuries. He was awarded a Bronze Star Medal with "V" device for valor for his life-saving actions during a 2005 firefight in Mosul, Iraq, in which he was shot multiple times, according to the Army.
He would replace Marine Gen. Kenneth McKenzie, who is slated to retire in the spring, after leading CENTCOM since 2019. McKenzie has overseen the region as the Pentagon has shifted much of its attention away from the decades-long war on terror toward the new power competitions with near-peer rivals China and Russia. He has overseen the U.S. withdrawal last year from Afghanistan and commanded two special operations raids in Syria that killed ISIS top commanders -- Abu Bakr al-Baghdadi in 2019 and Abu Ibrahim al-Hashimi al-Qurayshi last week.
McKenzie has long fingered Iran as his top issue in CENTCOM. He has cited Tehran as being behind most destabilizing activities in the region, including attacks on U.S. forces in Iraq and Syria by militia groups with ties to Iran.
Kurilla said Tuesday that Iran is a menace throughout the region and the country would be a major issue for McKenzie's successor. He endorsed working through diplomatic channels to forge an "enforceable agreement that limits Tehran's ability to gain nuclear weapons." He also committed to publicly sharing Iran's malign behavior when there is evidence that can be exposed.
The general said Iran often reacts after their behind-the-scenes actions are made public, such as their illicit weapons supplies to the insurgent Houthis group in Yemen or support for militias in Syria and Iraq.
"They try and hide their behavior and it can cause them to not take action for a period of time," he said. "That is my experience when I was at CENTCOM."
---
---
---
---