Pentagon freezes vaccine mandate for its civilian workers after judge halts Biden policy
By
Stars and Stripes
January 27, 2022
---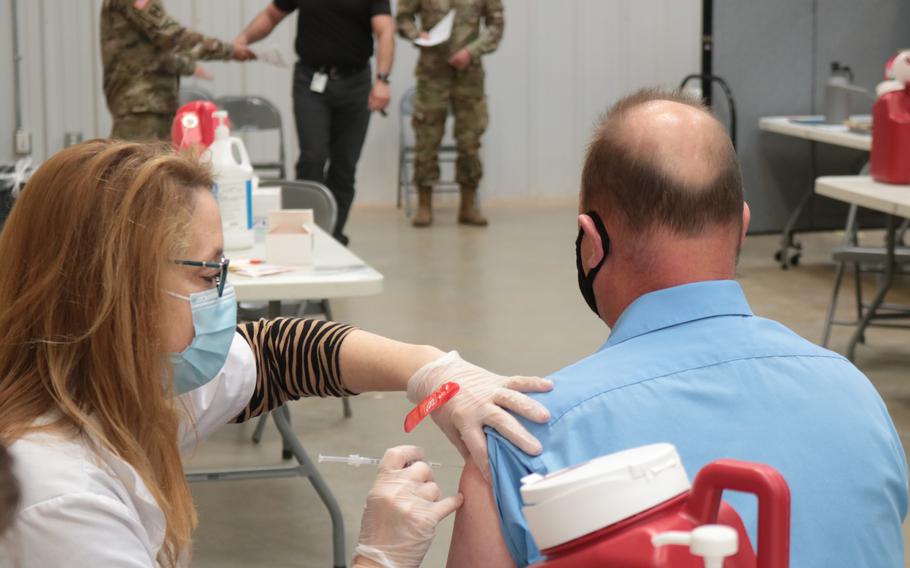 Stars and Stripes is making stories on the coronavirus pandemic available free of charge. See more stories here. Sign up for our daily coronavirus newsletter here. Please support our journalism with a subscription.
The Pentagon is no longer enforcing President Joe Biden's coronavirus vaccine mandate for its civilian workers, a Defense Department spokeswoman said Thursday, days after a federal judge ordered the U.S. government to temporarily halt the policy.
Top Pentagon leaders this week directed officials across the Defense Department, including its military services, to cease "taking any further actions to implement or enforce the civilian employee vaccination" mandate, said Lisa Lawrence, a Pentagon spokeswoman. The directive comes in response to Texas-based U.S. District Court Judge Jeffrey Brown's order on Jan. 21 to pause the policy in response to a lawsuit brought by the new Feds for Medical Freedom group, which was formed to challenge the mandate.
The Justice Department issued an appeal of the ruling shortly after Brown's temporary injunction was ordered on Friday, said Danielle Blevins, a department spokeswoman. Jen Psaki, Biden's press secretary, said the administration believes the order requiring the coronavirus vaccines for civilian federal workers was legal.
Brown's order does not impact uniformed military service members, who remain required to receive the vaccines, Pentagon officials said.
The new Pentagon guidance directs DOD officials to pause the processing of vaccination exemption requests for medical or religious reasons, Lawrence said. It also halts Pentagon officials from taking any disciplinary actions, including firings, against civilian workers who remain unvaccinated, she said.
Lawrence said she could provide no further information Thursday about the policy change, citing the ongoing litigation.
The Pentagon guidance was issued after at least some of the military services took initial steps to halt enforcement of Biden's vaccine mandate for civilians while they awaited guidance from Defense Secretary Lloyd Austin's office, military officials said this week.
The Army and Air Force issued guidance halting enforcement of the mandate shortly after Brown's ruling, officials from those services said. Like the Pentagon guidance, the services moved to shield civilians from any potential punishment and halted officials from considering civilian workers' requests for religious- or medical-based exemptions from the coronavirus inoculation, officials said.
The Navy and Marine Corps declined to comment about the issue this week.
Some 98% of federal workers were either vaccinated against the virus or had filed a request for an exemption, Psaki said Friday.
It was not clear Thursday precisely how many of the Defense Department's about 950,000 civilian workers were vaccinated against the coronavirus. DOD data shows the Pentagon had administered vaccines to some 350,000 civilian employees through November, when it stopped publicly publishing information about civilian vaccinations. That figure does not include civilian workers who were vaccinated outside of DOD facilities, officials said. As of Wednesday, 404 DOD civilians had died of coronavirus complications since the pandemic began in March 2020, Pentagon data showed.
A preliminary injunction is a temporary ruling by a judge to pause a defendant from action while a case is under consideration. The injunction is not a final order.
In Brown's 20-page ruling, he wrote he issued the injunction because he believed Biden might have overstepped his authority in ordering on Sept. 9 that all federal workers be vaccinated against the coronavirus. He cited as precedent the Supreme Court's Jan. 13 ruling striking down Biden's order directing large U.S. companies to mandate vaccination or require regular testing for their employees.
The case "is about whether the president can, with the stroke of a pen and without the input of Congress, require millions of federal employees to undergo a medical procedure as a condition of their employment," Brown wrote. "That, under the current state of the law as just recently expressed by the Supreme Court, is a bridge too far."
Brown also wrote in his ruling that the injunction's timing was necessary because Justice Department lawyers had indicated that some federal agencies planned to start disciplining some unvaccinated civilian workers who could face being fired from their jobs. To date, the federal government has not fired civilian employees for failing to comply with the vaccine mandate, those lawyers told Brown.
Pentagon spokesman John Kirby said last week that no Defense Department civilians had yet been punished for refusing the vaccine.
---
---
---
---