Pentagon surging another 100 military medical troops to coronavirus-stricken hospitals across US
By
Stars and Stripes
January 21, 2022
---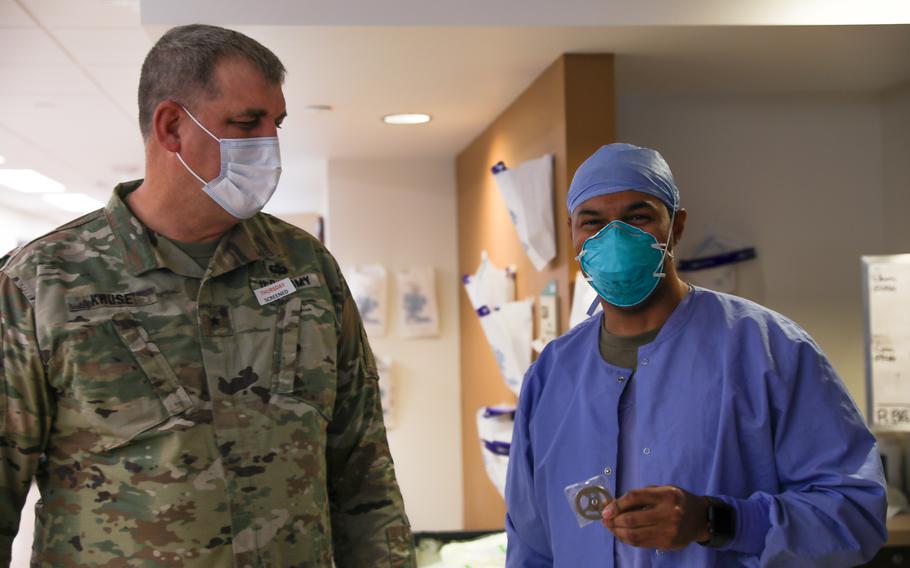 Stars and Stripes is making stories on the coronavirus pandemic available free of charge. See more stories here. Sign up for our daily coronavirus newsletter here. Please support our journalism with a subscription.
Some 220 military medical troops are set to deploy in the coming days to hospitals in eight states to aid staffs overburdened by the recent surge in coronavirus cases across the United States, military officials announced Friday.
The deployments of the military medical teams of doctors, nurses and respiratory therapists includes about 120 active-duty troops announced last week by President Joe Biden and another 100 announced Friday by U.S. Army North. The troops from the Army, Navy and Air Force will deploy to medical facilities in Michigan, Missouri, New Jersey, New Mexico, New York, Ohio, Rhode Island, and Texas, Army officials said.
The new wave of deployments will bring the number of active-duty military medical troops working to bolster coronavirus support to U.S. hospitals to about 400, according to Army North. Defense Secretary Lloyd Austin last month approved the military to deploy up to 1,000 new medical troops into U.S. hospitals, if requested by the Federal Emergency Management Agency.
"As our support to FEMA and the whole-of-government response to the pandemic expands due to a surge in hospitalizations, we are committed to working alongside our civilian medical partners to assist hard-hit states and communities in need," said Lt. Gen. John Evans, the U.S. Army North commander. "Whether military or civilian, we are in this fight together."
Biden said Jan. 13 that the deployments have been driven by the emergence of the omicron variant of the coronavirus, the most infectious version of the disease since the pandemic spread worldwide in early 2020. Coronavirus cases reported to federal health officials have fallen slightly from a pandemic high of more than 1.3 million cases on Jan. 10 to about 708,000 as of Friday. Hospitalizations in the United States have remained at pandemic-high rates with almost 160,000 Americans hospitalized as of Friday, federal health data shows. Hospitalizations peaked in 2020 at about 140,000 last January, amid the delta variant's surge.
Pentagon and state officials have provided active-duty and National Guard troops to the coronavirus response since its emergence in the United States in early 2020. Including the new deployments, active-duty medical troops will be serving in hospitals in 15 states, according to Army North. Another 6,000 Guard medical troops were deployed to hospitals, care centers and medical facilities, according to National Guard Bureau statistics.
U.S. Army North said the teams deploying include a 40-person Navy team to Christian Hospital in St. Louis; a 20-person Army team to University Hospital in Newark, N.J.; a 20-person Air Force team to the Cleveland Clinic in Ohio; a 20-person Army team to Rhode Island Hospital in Providence; a 20-person Army team to Baptist St. Anthony's Hospital in Amarillo, Texas; a 20-person Army team to Northern Navajo Medical Center in Shiprock, N.M.; a 20-person Navy team to University of New Mexico Hospital in Albuquerque; a 20-person Army team to Henry Ford Wyandotte Hospital in Wyandotte, Mich.; a 20-person Army team Coney Island Hospital in Brooklyn, N.Y.; and another 20-person Army team to North Central Bronx Hospital in Bronx, N.Y.
Pentagon officials have declined to say how long the troops were expected to deploy. John Kirby, the Defense Department's top spokesman, said last week that they would not be "open-ended" deployments but end dates have yet to be determined.
"We don't think that they will last an inordinate amount of time," Kirby told reporters Jan. 13.
---
---
---
---