Biden surging more military medical troops into U.S. hospitals amid record number of coronavirus cases
by
Corey Dickstein
Stars and Stripes
January 13, 2022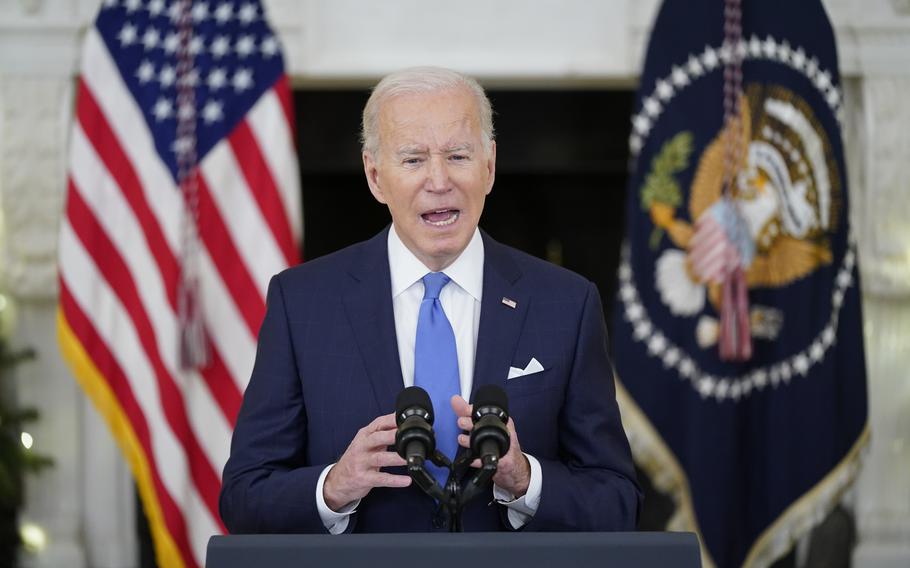 President Joe Biden announced Thursday that he has ordered a new deployment of some 120 active-duty military medical troops into hospitals overwhelmed with coronavirus patients in six states as the United States faces its highest-ever spike in cases and hospitalizations.
The deployment of mostly doctors and nurses is part of an increased federal response to the omicron variant of the coronavirus, the most infectious version of the disease since the pandemic spread worldwide in early 2020. The new military medical teams deploying will go to hospitals in Michigan, New York, New Jersey, Ohio, Rhode Island and New Mexico — joining another 350 medical troops sent into U.S. hospitals across the nation since Thanksgiving, the president said.
That effort is expected to grow to some 1,000 medical troops in the coming weeks, U.S. and defense officials have said in recent days.
"When you need something done call in the military," Biden said in his brief speech from the White House, announcing new steps that he plans to take to combat the virus surge, including an effort to make "high-quality" masks free to Americans, distribute some 500,0000 at-home test kits, and renewed messaging to encourage those who remain unvaccinated to get the vaccine shots.
Biden blamed the more than 120 million Americans who are not vaccinated for the record hospitalizations. Federal coronavirus statistics on Thursday show some 155,000 virus-related hospitalizations across the United States just higher than the about 140,000-hospitilization peak last January, amid the delta variant's surge.
"The vaccinated people [who] test positive, they overwhelmingly have either no symptoms at all or they have mild symptoms," Biden said. "And if you're unvaccinated, if you test positive, then you are 17 times more likely to get hospitalized. As a result, they're crowding our hospitals leaving little room for anyone else who might have a heart attack or an injury in an automobile accident, or any injury at all. And, yes, the unvaccinated are dying from [the coronavirus]."
The data also shows thousands more Americans tested positive for the virus in recent days than ever before. The Centers for Disease Control and Prevention reported a seven-day average of more than 782,000 positive cases as of Thursday, far surpassing last January's delta-driven spike of a seven-day average of some 250,000 cases. Deaths from coronavirus complications, meanwhile, have increased in recent days but remain lower than previous spikes. Last January, federal officials reported some 3,000 deaths per day, while the United States was averaging about 1,700 per day this week. More than 841,000 Americans have died from the virus, as of Thursday, data shows.
Biden thanked the U.S. troops and other medical workers who have helped respond to the increasing caseload at hospitals in recent weeks.
"Like all health-care workers, they are heroes, and I'm grateful for what they do," he said.
Thousands of American troops have been near-constantly deployed in support of coronavirus efforts since March 2020, including National Guard forces in all 50 states, who have run testing and vaccination centers, helped with logistics and surged emergency support into hospitals and nursing homes.
More than 15,200 National Guard members were deployed Thursday across the nation to support coronavirus operations, according to the National Guard Bureau in Arlington, Va. Among them, some 6,000 troops were working in medical facilities, Guard officials said.
The six new deployments will support Henry Ford Hospital just outside Detroit, University Hospital in Newark, the University of New Mexico hospital in Albuquerque, Coney Island Hospital in Brooklyn, Cleveland Clinic in Ohio and Rhode Island Hospital in Providence, according to the White House.
It was not immediately clear Thursday when additional military medical teams would be deployed or for how long U.S. troops would continue to support hospitals.
"While our military is stepping up, as they always do, there are others sitting on the sidelines, and standing in the way," Biden said. The coronavirus "is one of the most formidable enemies America has ever faced. We've got to work together, not against each other. We're America. We can do this."
Stars and Stripes is making stories on the coronavirus pandemic available free of charge. See more stories here. Sign up for our daily coronavirus newsletter here. Please support our journalism with a subscription.
---
---
---
---