Pentagon unveils new extremism rules, including potential punishment for social media likes or shares
by
Corey Dickstein
Stars and Stripes
December 20, 2021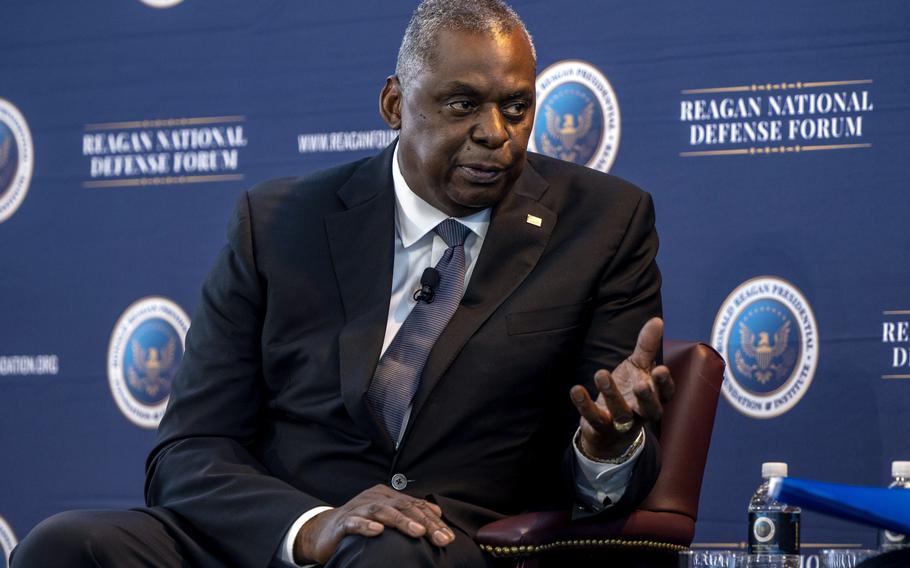 Service members who overtly support extremist groups or ideas, attempt to recruit others into such ideology, or train, organize or demonstrate in support of an extremist view are to face punishment under new guidance published by the Pentagon on Monday.
The guidance leaves entirely to commanders decisions about punishments for those found to be "actively participating" in extremist activity. Commanders may charge violators criminally, dole out a lesser administrative punishment or simply counsel them on what they did wrong, the guidance states.
Earlier this year, Defense Secretary Lloyd Austin instructed the Pentagon to better define extremism, as the Pentagon worked to understand how rampant such ideologies were in the wake of the deadly Jan. 6 attack on the U.S. Capitol by some supporters of then-President Donald Trump. Those involved included some members of the armed forces and dozens of veterans.
"The overwhelming majority of the men and women of the Department of Defense serve this country with honor and integrity," Austin wrote in a memorandum dated Monday, which was released alongside the updated rules on extremism and a new report on extremist activity in DOD. "We believe only a very few violate [their] oath by participating in extremist activities, but even the actions of a few can have an outsized impact on unit cohesion, morale and readiness — and the physical harm some of these activities can engender can undermine the safety of our people. We owe the men and women of the Department of Defense an environment free of extremist activities, and we owe our country a military that reflects the founding values of our democracy."
The Countering Extremist Activity Working Group that Austin stood up in April found fewer than 100 service members had likely "participated in some prohibited extremist activities" in the last year, John Kirby, the Pentagon's top spokesman, told reporters Monday.
Some activity barred by the new rules may be simpler to root out than others, he acknowledged. For example, the rules ban service members from sporting clothing, tattoos or other paraphernalia promoting extremism, financially supporting an extremist cause or distributing extremist literature or materials.
However, service members could also be punished for their online actions, including posting, sharing or "liking" materials that "promote or otherwise endorse extremist activities" on the internet.
That is where a commanders' discretion will be most important, Kirby said, noting that a service member, perhaps, could "like" a social media post by accident.
"Commanders ... know their units. They know their people better than anybody, so that's why it's up to them," he said. "Commanders will have to make that call on their own in terms of what they believe is the right thing to do. … You want to have a conversation here. So it's not just that a knee jerk reaction to just immediately go to punishment — each case will have to be looked at individually."
In a six-part definition, the new Pentagon guidance labels extremist activity as any advocating or committing violence against the United States or its people, including plotting for or supporting the overthrow of the government or terrorism against the nation. It also labels any advocacy for "widespread unlawful discrimination based on race, color, national origin, religion, sex (including pregnancy), gender identity, or sexual orientation" as extremist activity.
Kirby said the new definitions should be clearer for service members to understand — an issue that was often cited in the extremism stand down discussions Austin ordered across the entire armed forces this year. Service members will receive new training and education on the definitions and the rules, including on social media behaviors that could be problematic, he said Monday.
The new guidance does not include specific examples of extremist groups or organizations nor does it ban personnel from any specific groups. The guidance, Kirby said, is based solely on actual acts and not membership in a group.
Defense officials since late last year have warned that such groups actively recruit service members and veterans for their knowledge of weapons and tactics and a sense of legitimacy that is brought by including former troops, especially combat veterans. For example, the Oath Keepers and the Three Percenters — groups widely labeled extremist which were both represented in the Jan. 6 riot — often boast of the high number of veterans within their organizations.
Kirby said DOD did not seek to single out particular groups as extremist for its purposes.
"Groups can and do change their methodology, their ideals, their motivations, and they can reform themselves or they can disband and reform into something else," Kirby said. "And, so if we got into coming up with a list of extremist groups, it would be only probably as good as the day we published it, because these groups change."
Ultimately, those who belong to extremist organizations will likely break the Pentagon rules and punished, Kirby said.
"If you want to be a member of you-pick-it [extremist group] in order to prove your membership you're probably going to run afoul of one of these criteria sets," he said.
The Countering Extremist Activity Working Group also recommended the Pentagon update its training for service members departing the military and expand screening for recruits for extremist beliefs. Kirby said Monday the Pentagon was working to implement some of those recommendations.
The Austin-led efforts have been questioned by some lawmakers, especially Republicans who have claimed it was an effort to remove conservatives from the military. Kirby said Monday the Pentagon's extremism-focused efforts had nothing to do with politics.
"None of this has anything to do with who a service member votes for or doesn't vote for or their personal political views," he said. "This isn't about political leanings or partisan inclinations. It's about … prohibited extremist activity and active participation in that activity."
---
---
---
---