Lead Jan. 6 Oath Keepers trial postponed amid evidence delays, ongoing investigation
by
Spencer S. Hsu
The Washington Post
October 14, 2021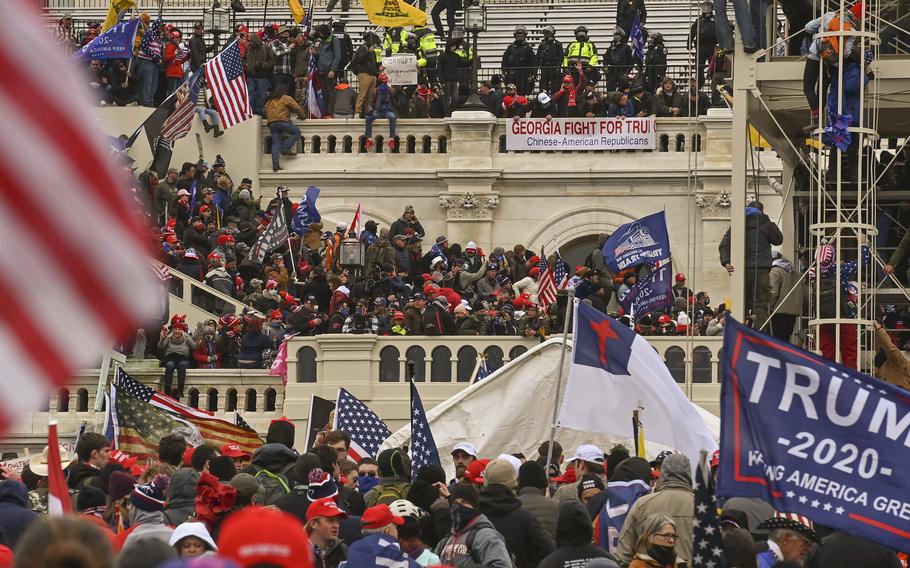 WASHINGTON — A federal judge Thursday postponed the lead trial of accused Oath Keepers associates charged in the Jan. 6 riots at the U.S. Capitol from January to April, conceding that continuing delays in the government's disclosure of a mountain of growing evidence made a trial this winter impossible.
U.S. District Judge Amit Mehta of Washington said he was "not close" to barring federal prosecutors from introducing new evidence but ordered them next week to set a self-imposed deadline for the effective end of their investigation into the case.
"I can't order the government to stop collecting relevant evidence," Mehta said, but at the same time defendants have constitutional and statutory rights to a speedy trial.
"What I really want to know is ... when is this information going to become available?" Mehta said. "And I mean all of it. Not just a small piece of it. I mean all of it. And that's something ... every judge on this court wants to know, and every defendant wants to know."
The trial delay was expected but provides the latest example of how an unprecedented amount of video and social media evidence from the Capitol breach probe, along with problems getting electronic evidence to defendants at the District of Columbia jail is blowing up trial calendars that have already been backlogged for months because of the coronavirus pandemic.
"It's not just Jan. 6 defendants subject to these conditions, it's any detainee in this jail," Mehta made clear, adding, "We are in constant communication with the [District] Department of Corrections on these issues, in particular getting access to defense counsel and access to discovery."
For example, Maryland defendants Willis Pierre Lewis and Brittany Jones were set to begin a federal trial Monday in Washington on child sex trafficking charges after being jailed since 2019.
But two weeks ago, a judge delayed the trial again to May, saying that "the total inability and incompetence of the officials of the District of Columbia Department of Corrections ... to support this Court's efforts has made it impossible."
"Time after time, counsel reported difficulty in meeting or speaking to their clients within the jail," both defendants and witnesses for federal prosecutors, U.S. District Judge Royce Lamberth wrote in granting the trial delay.
An attorney for Kenneth Harrelson, an accused Oath Keepers member from Florida set for the first trial and detained at the District jail, raised similar complaints Thursday.
"Under the conditions they're living under, it's nearly impossible to prepare for trial," attorney Bradford Geyer of New Jersey said.
One factor in the Oath Keepers case is that the investigation remains ongoing, while the first defendants were charged Jan. 18.
Carmen Hernandez, attorney for charged Ohio militia member Donovan Crowl, said at the hearing that just last week, prosecutors for the first time turned over 14 additional chats on the Signal encrypted messaging app, "which the government claims includes evidence of planning and vital information to this case."
Hernandez said the government has referred to 29 people under investigation, and that she knew the identity of eight.
"And some of the parties being investigated are key people. Person 1 is the head of the Oath Keepers," the attorney said, referring to Stewart Rhodes as he is described in court filings by prosecutors.
The government has charged 18 alleged associates of the extremist anti-government group in a single indictment on counts, including conspiracy and aiding and abetting the obstruction of Congress as it met to confirm President Biden's 2020 election win, felonies punishable by up to 20 years in prison.
Two have pleaded guilty and agreed to cooperate with investigators in prosecution deals, with the rest pleading not guilty. Other accused associates have been charged or admitted guilt in free-standing cases.
Plea papers show defendants admitting to allegations that they were among a group that forced entry through the Capitol's East Rotunda doors after marching single file in a stack up the steps wearing camouflage vests, helmets, goggles and Oath Keepers insignia. They acknowledged some brought rifles to Washington that were stashed beforehand at a Ballston hotel in case a "Quick Reaction Force" was needed.
Meanwhile, the FBI continues its work. Last month, for example, Kellye SoRelle, an attorney for the Oath Keepers who was with Rhodes outside the Capitol on Jan. 6, said the FBI seized an iPhone from her, and a related search warrant stated that investigators are continuing to probe whether Rhodes's associates conspired to subvert the election results or violate seditious-conspiracy laws.
On Sept. 30, authorities arrested a 23rd accused Oath Keepers member, former Tampa, Republican congressional candidate and Green Beret Jeremy Brown. Brown — not accused in the larger conspiracy case — was charged only with trespassing and possession of unregistered weapons, and has pleaded not guilty.
In court filings, prosecutors alleged the Oath Keepers group came to Washington at the urging of Rhodes, and asserted that Rhodes began discussing plans to keep President Donald Trump in the White House by force as early as Nov. 9. Prosecutors allege he exchanged dozens of encrypted messages, phone calls and other communications with members of the "stack" group before and during the riot.
Rhodes and SoRelle have not been charged and are not accused of wrongdoing. Rhodes has accused prosecutors of trying to manufacture a nonexistent conspiracy, saying there was no planning or direction to break into the Capitol.