Veterans increasingly targets of extremist recruiting, experts tell House panel; Republicans blast hearing as 'stigmatizing' vets
by
Corey Dickstein
Stars and Stripes
October 13, 2021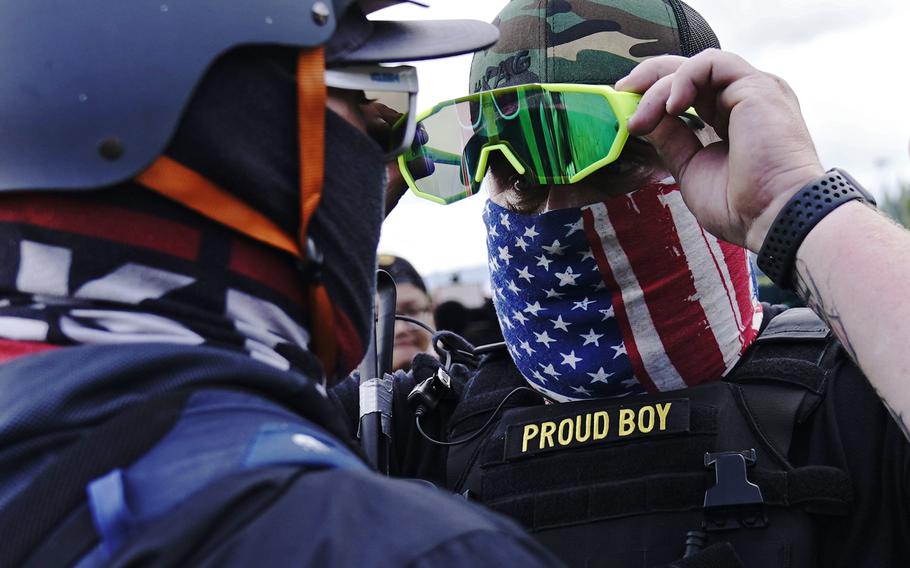 U.S. military veterans need tools to help them identify and resist increased recruiting efforts by violent extremist groups, expert witnesses told the House Veterans Affairs Committee on Wednesday. 
Violent extremist groups target military veterans because they value their training in small unit tactics, communications and weapons skills, said Seth Jones, who directs the Transnational Threats Project at Washington think tank Center for Strategic and International Studies. Extremists often target veterans online and prey on those "struggling to adapt" to civilian life and those facing economic or emotional hardships, added Joe Plenzler, a retired Marine lieutenant colonel.
"They provide them with a tribe, a simplistic view of the world and its problems, actionable solutions and a sense of purpose," said Plenzler, a former infantry and public affairs officer who retired in 2015. "Then they feed these vulnerable individuals a concoction of lies and an unrelenting narrative of political and social grievance, and they've been successful."
But the U.S. government and researchers also need more data and analysis to fully understand what drives some of those who served their country into groups that use violence against Americans, the experts said.
Republican House members, meanwhile, said they worried the committee's public examination of the issue was a political ploy by Democrats which threaten veterans' freedom of speech.
The hearing Wednesday comes in the months after the Jan. 6 attack on the U.S. Capitol by some of former President Donald Trump's backers, who sought to prevent Congress from certifying President Joe Biden's November election victory. The mob included members of several right-wing and anti-government groups, including the Proud Boys, the Oath Keepers and the Three Percenters, the Justice Department said. 
Among the more than 620 individuals who have been arrested and charged with crimes related to the Jan. 6 attack, at least 66 were military-affiliated — veterans, active-duty service members or current reservists, lawmakers said Wednesday. Plenzler called it "shocking" that veterans, who make up about 6% of the U.S. population, comprised at least 10% of those charged in the assault. 
House Veterans Affairs Committee Chairman Rep. Mark Takano, D-Calif., said the hearing was necessary to examine the issues that have drawn veterans into domestic violent extremist groups. Takano noted that FBI director Chris Wray has identified domestic extremism as the greatest threat to U.S. national security in the homeland.
Takano said he hoped the two-panel hearing would help the committee support veterans who may be targeted by violent groups. 
Data shows that domestic terrorist attacks and plots last year were at their highest levels since 1994, Jones said. The percentage of such incidents involving military veterans has increased, as well during recent years, he said. In addition to the Jan. 6 incident, he said military veterans were also involved in a plot last year to kidnap Michigan's Democratic Party Gov. Gretchen Whitmer and other incidents. 
Jones and Cynthia Miller-Idriss, the director of the Polarization and Extremism Research and Innovation Lab at American University, told lawmakers they need more data to better understand the issue and determine when service members and veterans are most vulnerable to extremist propaganda. They suggested Congress mandate the Pentagon provide service members transitioning out of the military detailed training on such groups and their recruiting tactics. They also suggested service members and veterans receive cyber training to avoid becoming a target online
"What we're seeing with veterans is a manipulation of their values, of their interests, of their loyalties to their country by persuasive extremist tactics that deliberately target them," Miller-Idriss said. "It is our obligation … to help equip them with the tools to help them recognize and resist that propaganda. We owe that to them."
Republicans attacked both Democrats on the panel and some of the expert witnesses during the hearing, repeatedly calling on them to characterize left-wing groups, such as Antifa and Black Lives Matter, as equally responsible for violence in the United States as right-wing militias. 
Rep. Jim Banks, R-Ind., called the hearing "wildly offensive and dangerous," and claimed Takano was essentially labeling veterans "stupid" because they might be vulnerable to recruitment by various extremist groups. 
"I think this hearing is offensive," Banks told Takano. "And the fact that you're going to save our veterans from becoming political terrorists is offensive to every veteran in America."
Other Republicans labeled Takano's efforts as partisan and unhelpful to veterans, who they said face certain stigmas in the civilian world.
"Our veterans are hardworking, high-skilled individuals, and leaders in our communities who have made incredible sacrifices to protect each and every one of our freedoms," Rep. Matt Rosendale, R-Mont., said. "It is an unfortunate reality that veterans have long battled stigma associated with mental health issues resulting from their service, as well as perceptions, they have a propensity to violence. I am deeply concerned that today's hearing, in the Veterans Affairs Committee, rather than empowering our veterans by dispelling these stigmas will further perpetuate these stigmas for all veterans." 
Takano pushed back, arguing that the hearing was a step toward providing veterans the means to combat savvy recruiting efforts by violent groups, which would ultimately help military veterans. 
"We're not here to condemn or vilify veterans engaged with these groups, but rather to draw attention to what these groups actually represent and to highlight the lurking threat posed by these groups," he said. "Only by understanding who these groups are, what they believe and what violent activities they encourage from their members, can we begin to assess our ability to intervene and help veterans ... reclaim their lives."