Thunderbirds fly into Central Florida this month for Orlando Air and Space Show
by
Patrick Connolly
Orlando Sentinel
October 4, 2021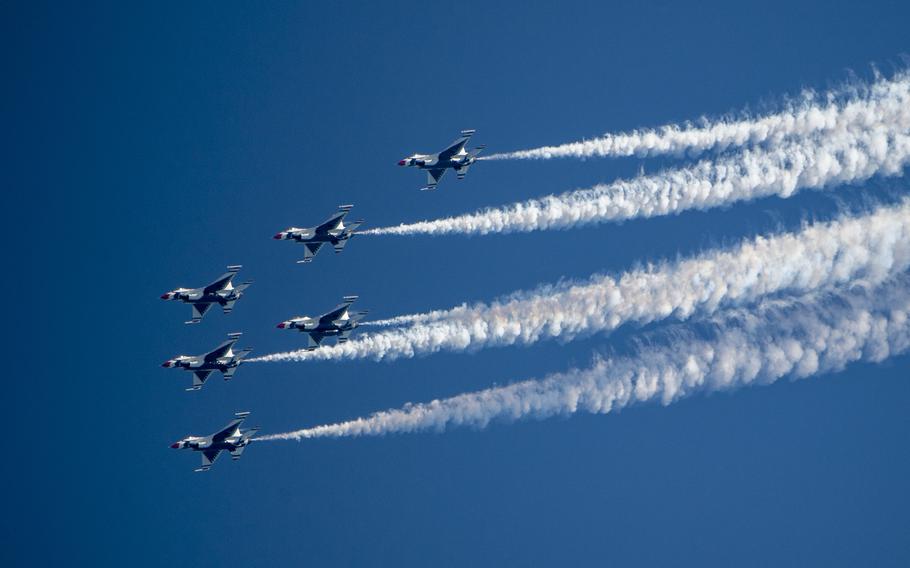 ORLANDO, Fla. (Tribune News Service) — The U.S. Air Force Thunderbirds, the F-18 Super Hornet and V-22 Osprey are among aircraft taking to the skies of Central Florida this month as the Orlando Air and Space Show returns.
Back for its second year, the show will draw thousands of aviation fans to the Orlando Sanford International Airport for a weekend of flying and static displays Oct. 16-17.
"The Thunderbirds are always a fan favorite. They're coming in with a different show than they've had in years past," said Chris Dirato, the show's director of public relations. "I think the Osprey is going to be well-received, that's not something you normally see performing at shows."
Fans can also see a P-51 Mustang and the Para-Commandos in the sky, or opt to explore static displays including a C-5M Super Galaxy, the Boeing KC-46 Pegasus and an MV-22 Osprey on the ground.
Amid the ongoing COVID-19 pandemic, the air show is implementing "stay safe and separate" initiatives including advanced ticket sales, hand sanitizer stations and spacing between parties with reserved seating.
Although such events are known to draw passionate aviation enthusiasts and photographers, Dirato said attending an air show can provide fun and education for the whole family.
"You bring your kids out to the show and explain to them what these planes are all about, how they protect our freedom every day," he said. "It's not only for the aviation enthusiasts, it's for the general public."
©2021 Orlando Sentinel.
Visit orlandosentinel.com.
Distributed by Tribune Content Agency, LLC.