Louisiana Guard readies for Tropical Storm Nicholas with nearly 8,000 troops still deployed for Hurricane Ida recovery
by
Rose L. Thayer
Stars and Stripes
September 15, 2021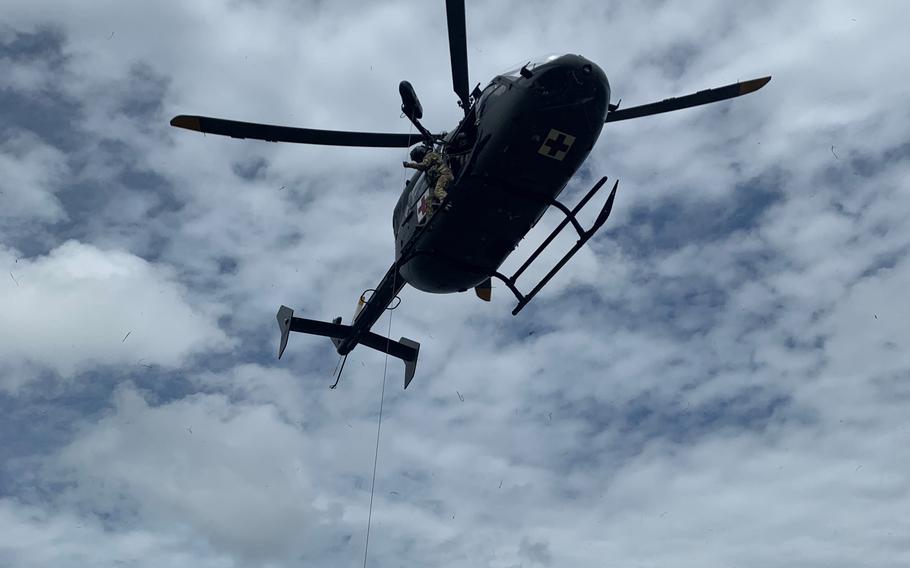 The day after Hurricane Ida made landfall was hazy and windy and far from ideal flying conditions, said Chief Warrant Officer 3 Gabriel Ruiz. But he knew he and his crew had to get their UH-72 Lakota helicopter in the air to begin looking for people in need of help.
The crew flew across southeast Louisiana for the day, but only conducted one rescue in the aftermath of Hurricane Ida — a couple stranded at a marina.
"The only way we can tell it's a marina is because of the awnings and the boat slip. Aside from that, you couldn't tell what was ground or water because everything was flooded," said Ruiz, an instructor pilot with the Louisiana National Guard based out of Hammond, La. His crew is part of the Guard's Detachment 1, D Company, 2nd Battalion, 151st Aviation Regiment.
Hurricane Ida made landfall on Aug. 29 as a Category 4 storm at Port Fourchon, about 100 miles south of New Orleans. While there was flooding across the state, the majority of damage came from winds that reached up to 150 mph in some locations.
The Louisiana Guard called on all troops available — those who were not already serving overseas or other domestic missions and not part of the first-responder community — to deploy in support of recovery efforts, said Maj. Gen. Lee W. Hopkins, the Louisiana Guard's assistant adjutant general.
They staged about 5,000 troops prior to Ida's arrival.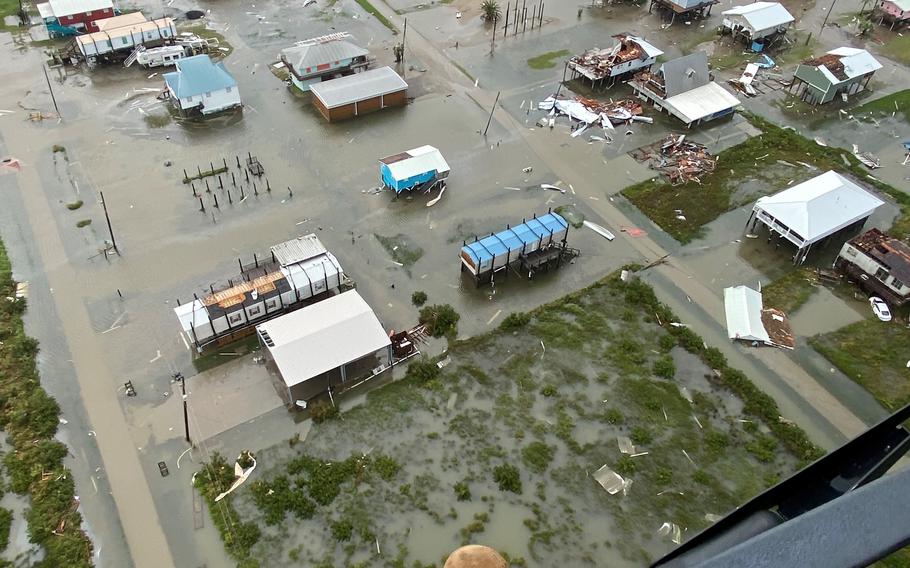 "We took the pre-storm time to get all of our trucks loaded, we got our convoys lined up, and we were fully prepared prior to the storm coming in and we hunkered down. Once the storm passed, we immediately pushed those convoys out," he said.
More than two weeks later, the state still has more than 5,000 Guard members activated for recovery efforts. Another 2,500 Guard members from 14 states also remain on duty alongside about 400 active-duty troops.
During the initial days after the storm, the state focused on search and rescue efforts. In total, the Louisiana National Guard rescued 397 people and 65 pets, with the majority of rescues conducted by high-water vehicles and boats.
On the day Ruiz, his co-pilot and the two other crew members searched for stranded people, another aircraft alerted them that a man and woman were stuck north of Grand Isle, on the porch of a small building.
The stranded woman was wearing a bright green shirt, which allowed the crew of the medevac helicopter to spot the couple, Ruiz said. The winds were so strong, he said they had to abort the rescue twice before successfully lowering the medic down to help the couple.
"It was nerve wracking just because the winds were so strong and it was so gusty," Ruiz said about how he and the co-pilot fought with the helicopter's controls to remain steady.
After getting the woman onto the roof, then secured and hoisted into the aircraft, they flew back to Hammond Northshore Regional Airport and dropped her off.
"This lady, when I turned around, she was praying hard," Ruiz said.
They returned to rescue the man. The crew got him onboard and learned he had a pet with him — a bearded dragon lizard in a little box.
In the flooding of 2016, Ruiz said he rescued all breeds of dogs, but this was his first lizard.
"For somebody who has already been through a very bad experience, it just doesn't end there. Now the rescue itself might be a pretty unique experience, because we're going to put you on the seat, you'll be raised up. You have probably never flown," he said.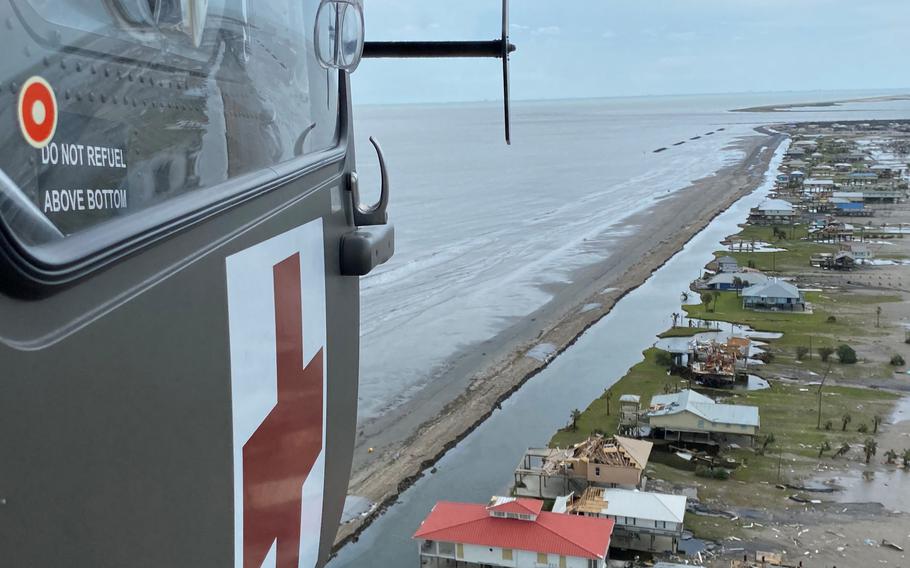 This week, the Louisiana Guard staged support further west as the state braced for another bout of heavy rains and possible flooding from Tropical Storm Nicholas. The storm made landfall in southeast Texas on Monday as a Category 1 storm and downgraded along its slow path into Louisiana, where residents remain under flood risk.
"We've been doing this for a while, so we've gotten quite used to it," Lt. Col. Chris Spurlock, commander of the Louisiana Guard's 527th Engineer Battalion, said of planning and conducting storm recovery missions. "Once we get those initial assessments, whether it's flooding, high-water rescue operations, lily pad operations, whatever the need is for the [Louisiana National Guard], we're here to support."
As of Wednesday afternoon, the Guard had not received any rescue missions as a result of Nicholas, but the storm has left more residents in the dark. Nearly 50,000 Louisiana residents remain without power from Hurricane Ida and another 17,000 lost power from Nicholas, according to Entergy, the state's electricity provider.
Hopkins said he anticipated the Guard to remain activated for storm recovery until power is restored. Entergy said it could take until Sept. 29 in some areas.
Once power and water return to most communities, the Guard can scale down its food and supply distribution, Hopkins said.
"This could go as long, with a smaller force, of another month or two months," he said.
In the last two weeks, Guard troops have assessed 3,900 miles of road with about 2,358 miles cleared, according the Louisiana National Guard. They've cleared 31,339 cubic yards of debris in 162 municipalities.
Other troops have worked security missions in 14 parishes and deployed trucks and trailers filled with food and water. Within the first week, more than 1.8 million meals were distributed.
But storm recovery isn't the only mission for the Louisiana Guard. Throughout the storms, troops have continued to support 27 coronavirus testing sites, 17 vaccination sites and seven open food banks.