Nearly 5,300 Guard troops deployed for Hurricane Ida recovery, rescue efforts
by
Rose L. Thayer
Stars and Stripes
August 30, 2021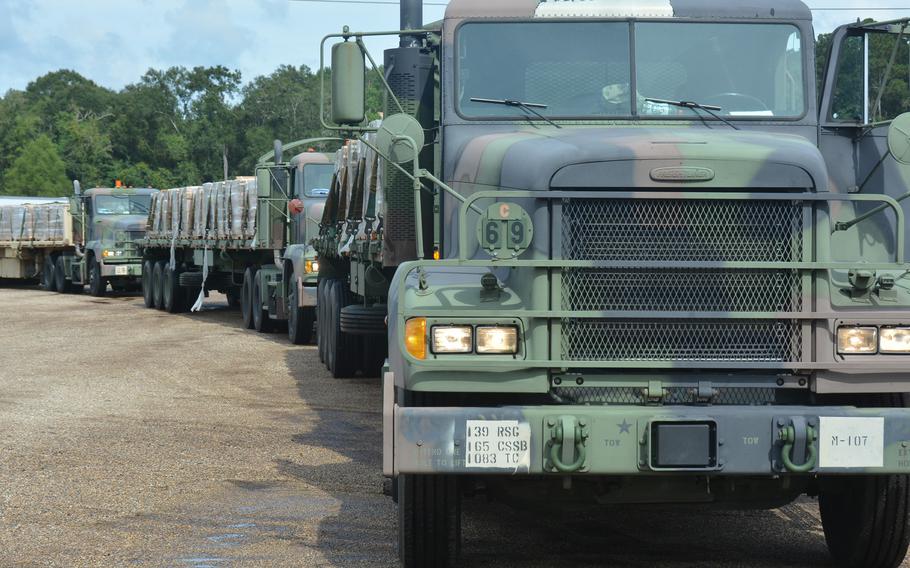 Nearly 5,300 National Guard troops from four states were activated Monday to help with rescue and relief efforts after Hurricane Ida caused power outages, flooding and wind damage across Louisiana and Mississippi.
Troops were seen arriving at areas of Louisiana where the storm had mainly passed to begin clearing roads for emergency responders to gain access, according to news reports. However, more than 888,000 power outages are reported in the state, including the entire city of New Orleans, according to Entergy, the state's power provider.
At least two people have died as a result of the storm, which made landfall as a category 4 storm with winds sustained at about 150 mph at Port Fourchon, about 100 miles south of New Orleans. Slidell, La., saw more than 15 inches of rain, and New Orleans nearly 14 inches, The Associated Press reported. Flooding closed the region's main thoroughfare, Interstate Highway 10. In one stretch between Baton Rouge and New Orleans water reached 4 feet, The AP reported.
"This is going to be a long ordeal in terms of getting every cleaned up and getting everything repaired," Louisiana Gov. John Bel Edwards said Monday. "Please understand that we are going to be in life-saving mode as a first order of priority, then we will get to all those other things."
Louisiana National Guard had staged about 5,000 troops prior to the hurricane's landfall Sunday, according to the state's Guard. Service members were prepared to protect lives and property, maintain communications and ensure operations and government continue during the storm and recovery. Other states contributing troops were Texas, Mississippi and Alabama.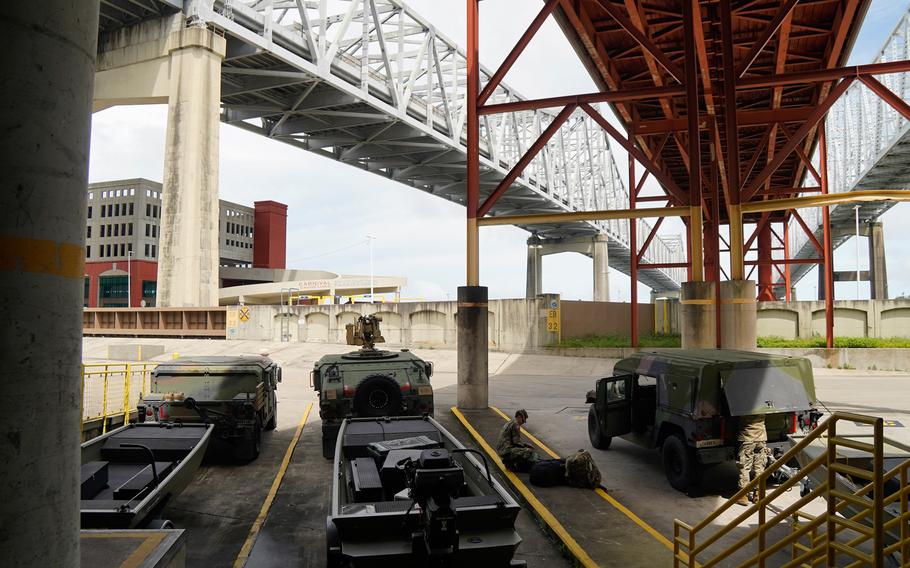 Troops staged 195 high-water vehicles and 73 rescue boats across south Louisiana, as well as 34 helicopters to support search and rescue, evacuation and reconnaissance missions as needed, according to the Guard.
"We know that individuals are out there waiting to be rescued," Edwards said. "Please know that we have thousands of people out right now."
While the storm cleared Louisiana by early Monday morning and had downgraded from hurricane strength, Mississippi remained under heavy rainfall with wind gusts up to 65 mph, according to the National Hurricane Center. Forecasts predicted Ida to move into Tennessee and Alabama by evening.
Military bases in the path of Ida reported closures, with many still buttoned up and unable to assess any potential damage. At Naval Air Station Joint Reserve Base New Orleans, officials reminded personnel of local government curfews and urged those who evacuated not to return just yet.
"There are extensive power outages, downed power lines and many hazards on the roads still," the base said.
Keesler Air Force Base located on the Gulf Coast near Biloxi, Miss., reported the base would resume normal operations Tuesday, but asked personnel to use caution when venturing outside.
"I appreciate everyone being safe and staying off the roads. Know that your airmen, soldiers and sailors are safe here on the base," said Air Force Col. William Hunter, commander of Keesler's 81st Training Wing.
About 70 miles north, Camp Shelby, a Mississippi National Guard training center, served as a staging area for rescue boats and state highway patrol vehicles to assist with storm recovery efforts, according to base.