Afghans' care overwhelms Va. hospital system; emergency aid sought
by
Antonio Olivo
The Washington Post
September 9, 2021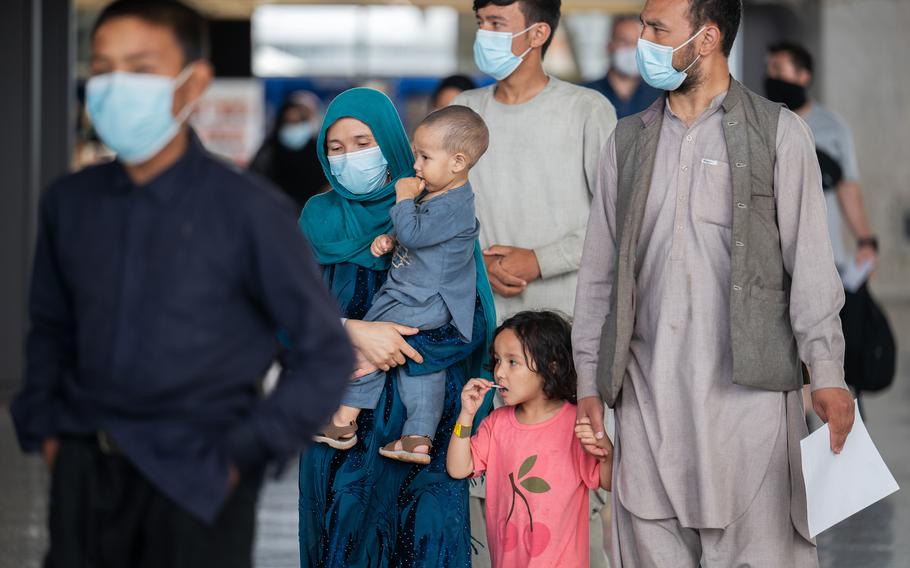 The mass arrival of Afghan evacuees last month, many in need of medical care, wreaked havoc on northern Virginia's hospital system - prompting a regional emergency response group to assume oversight after one hospital became overwhelmed with patients and federal officials lost track of where some Afghans were hospitalized, officials said.
Area leaders have been asking the Biden administration to pay for the mounting cost of keeping track of the hospitalized evacuees and for giving them rides back to the Dulles Expo Center - where they have been temporarily housed - after a federal contractor took hours to retrieve some of the evacuees who were ready to be discharged.
One of the evacuees federal officials lost track of was a month-old child with a potentially life-threatening illness, said Kristin Nickerson, the executive director of the Northern Virginia Emergency Response System, which coordinates the region's response during mass-casualty events. The infant was later found, still hospitalized, through a patient-tracking system that her group implemented, she said.
In another case, a hospital near the Dulles Expo Center that federal officials designated as a go-to spot for medical treatment began running out of available beds, forcing the hospital to turn away non-Afghan patients who weren't in need of critical care, said Nickerson, who also directs the Northern Virginia Hospital Alliance and declined to name the hospital.
"Our hospitals are already almost at capacity," she said, referring to the recent surge in coronavirus cases. "It's not like they have tons of free beds available. We are still in the middle of a pandemic."
Nickerson and other local officials said federal officials so far have not been very responsive to pleas for financial help.
On Tuesday, a spokesperson with the U.S. Department of Health and Human Services referred questions about Afghan evacuee hospitalizations to the Department of Homeland Security, which did not return several messages seeking comment.
Both of Virginia's senators -- Tim Kaine, D, and Mark Warner, D - have been monitoring the situation, their offices said.
"Senator Warner will continue to do everything he can to ensure that Virginia's hospitals - many of which are already strained with covid-19 patients - have the resources they need to care for our communities," a Warner spokeswoman said in a statement.
Nickerson said the groups she leads stepped in to oversee where Afghan evacuees were being hospitalized a few days after they began arriving at Dulles International Airport last month, when it became obvious that there was no federal system in place.
A federal contractor tasked with retrievingAfghan patients after they received hospital treatment often let them languish in those facilities, for as many as six hours, she said. The contractor - Cherokee Federal - did not respond to a message seeking comment Tuesday.
The lack of coordination, she said, has added to the trauma experienced by the evacuees who endured multiple hardships while fleeing Afghanistan, including being beaten by Taliban fighters on the way to Kabul's airport.
"This was terrible for the refugees who have already traveled for days, who have been awake for days, who have children who, often, haven't eaten in days," Nickerson said.
Among other things, the region's hospitals and emergency response departments have launched a shuttle service for the patients who are ready to be discharged and reunited with their families at the Dulles Expo Center, where their stay is often one or two days before being housed inside military installations in Virginia and elsewhere.
But with Afghan evacuees still arriving, the cost of providing such services is rising, said the region's top local administrators, who make up the board of the Northern Virginia Emergency Response System group.
In a joint Aug. 28 letter to Brian Carey, Virginia's secretary of Health and Human Resources, the officials called for federal and state dollars to go toward the effort.
"To meet the current need, we are leveraging what little resources we have to augment the existing team at the moment, but this is not sustainable with only a staff of 12," the letter said.
Nickerson said the organization - established nearly 20 years ago in the wake of the 9/11terrorist attacks - receives about $9 million in federal funds per year to coordinate a regional response to other emergencies, including the coronavirus pandemic and extreme weather events.
"We normally wouldn't be part of a refugee response effort," she said.
A top spokesperson for Virginia Gov. Ralph Northam, D, said the state anticipates more federal aid for the arriving Afghan evacuees.
"We are proud of the incredible work our localities and state agencies have done to welcome evacuees, and we look forward to continuing to coordinate with the federal government," Alena Yarmosky, the spokeswoman, said in a statement.
The financial burden has also fallen on the surrounding localities, officials said.
Fairfax County Executive Bryan Hill said his county has transported 219 Afghan patients to area hospitals as of Tuesday. County employees have also kept track of those patients and reunited them with their families - at an estimated total cost of $300,000 so far that the county plans to bill to the federal government.
"It's been very difficult to even get with the federal government on what the next steps are," Hill said. "We've just been doing the best we can with what we know."
J. Stephen Jones, chief executive of the Inova Health System, said the impacts of the Afghan crisis aren't likely to end soon for hospitals.
By the end of the week, several dozen flights carrying Afghan evacuees are scheduled to arrive at Dulles from countries where they have been living in refugee sites, Jones noted.
Many of those people will go on to other parts of the country - including the Marine Corps's Quantico, Va., military base - where they are dealing with physical ailments and psychological trauma, he said.
"These are real human beings and taking care of people is complex," Jones said. "These folks have had their lives disrupted, and everything we can do to coordinate that care will be in their interest and in our community's best interest."