Biden's pick for Navy secretary tells senators he supports modernization over more ships in 2022 budget
by
Caitlin Doornbos  
Stars and Stripes
July 13, 2021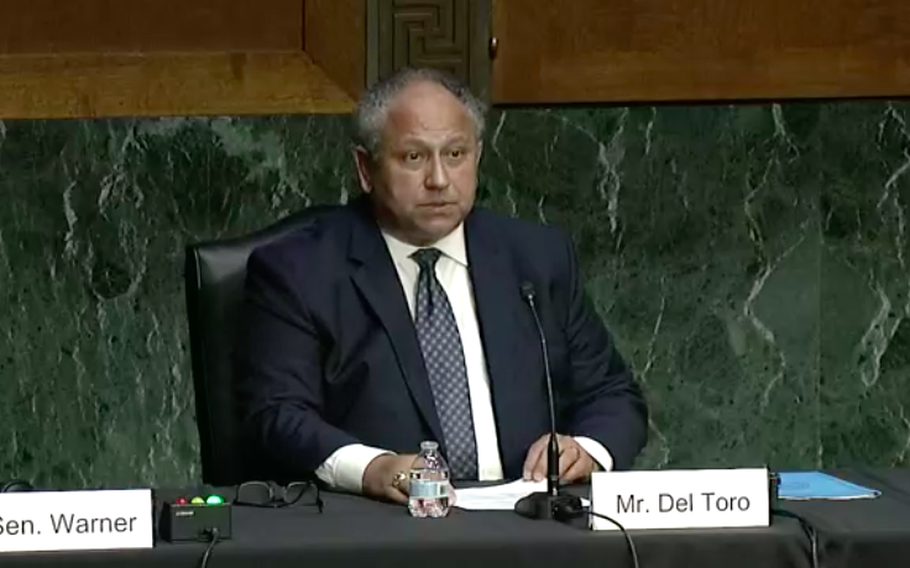 WASHINGTON — President Joe Biden's pick for Navy secretary told senators on Tuesday that he supports the emphasis on new technologies in the Defense Department's 2022 budget proposal to help challenge the expanding Chinese military.
Carlos Del Toro, a Navy veteran and a CEO for an engineering and consulting firm, told the Senate Armed Services Committee that "we can no longer take U.S. naval superiority for granted" as China continues its rapid military growth.
"I always do believe that it's incredibly important to make the right investments and modernization," he said during his first confirmation hearing. "We can't be fighting the wars of yesterday — we have to fight the new wars of tomorrow. That includes cybersecurity and space and many other challenges that are presented."
Del Toro, who joined the Navy at 17 and served for 26 years, said he was pleased with the proposed 2022 Navy budget, saying it "recognize(d) this challenge and invests billions of dollars toward improving readiness and for future capabilities."
"Access to contested waters requires more robust capabilities and capacity," Del Toro said. "This demands new thinking about how we invest our defense dollars."
But some lawmakers have criticized the proposed 2022 budget for its poor funding for shipbuilding in favor of research and development of new capabilities such as hypersonic missiles, which China has already developed and travel at five times the speed of sound.
With more than 350 ships, China has surpassed the United States and now has the world's largest naval fleet. The U.S. has about 296 ships, according to the Navy.
In the 2018 National Defense Authorization Act, an annual law that sets policy and spending for the Pentagon, Congress mandated the Navy attain a fleet of 355 ships as soon as possible. However, the 2022 budget proposal cut four littoral combat ships and pledged to build just eight ships — an amount top Navy leaders have said will not be enough to reach the 355-ship goal.
Sen. Josh Hawley, R-Mo., said during the hearing that he had "real concern" about the budget proposal's funding priorities "in terms of our ability to both maintain our readiness and ... pursue the modernization that we're going to need to outpace the growing Chinese threat."
Del Toro said the 355-ship goal would remain, but he told Hawley that it will take more than just "numbers of platforms" to maintain the Navy's "capability and lethality."
"We have to invest in missile technology, hypersonics, computing power — all the cybersecurity, all those other technologies that are going to advance our ability to deter China in the Indo-Pacific," he said. "If confirmed, I'm going to be exclusively focused on the China threat and exclusively focused on moving our maritime strategy forward in order to protect Taiwan and all of our national security interests in the Indo Pacific theater."
China, which views the self-governed Taiwan as one of its provinces, considers reunification a top priority, and the U.S. has said it would protect the island if Beijing attempted to take it by force.
Del Toro said the U.S. "should be clear about our foreign affairs intentions and our support of Taiwan in every possible way."