US troops evaluated for injuries after attack in Syria
By
Stars and Stripes
April 7, 2022
---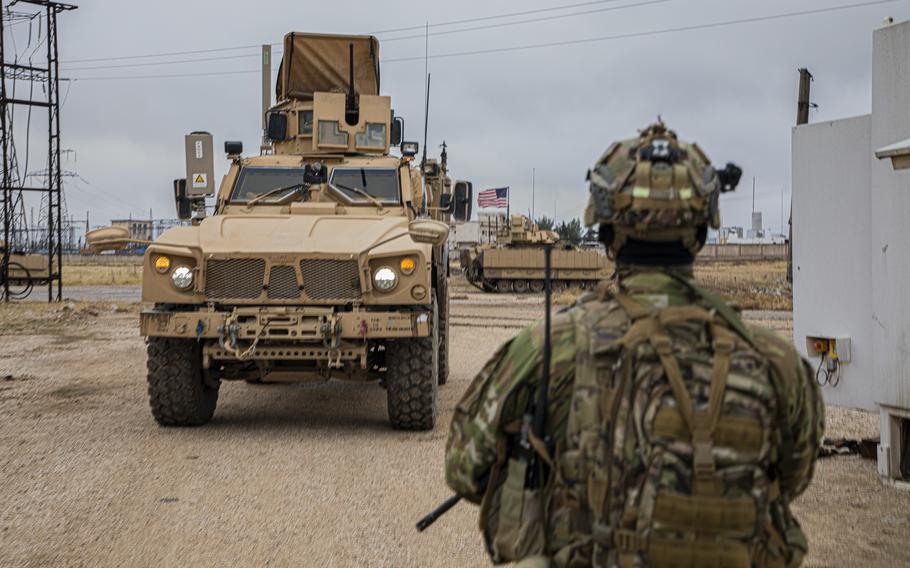 Four U.S. service members were being evaluated for injuries after their base in northeastern Syria was struck by indirect fire Thursday in the early morning hours, military officials said.
The injuries were described as minor and included "possible traumatic brain injuries," according to a brief statement released Thursday by the U.S.-led anti-Islamic State coalition known as Combined Joint Task Force-Operation Inherent Resolve. The attack on the small base known as Green Village occurred at about 1 a.m. local time and was under investigation, according to the statement.
The officials said the rounds struck two buildings in Green Village, where several hundred U.S. and coalition forces are stationed alongside the Syrian Democratic Forces they train and advise to fight remnants of ISIS. The post sits just east of the Euphrates River and adjacent to major oil fields.
Operation Inherent Resolve officials did not indicate who was likely responsible for the attack in their statement, but similar rocket and mortar attacks in recent years — including on Green Village — have been attributed to Iran-backed militia groups that have long sought to drive American forces and their partners out of the region.
OIR's top commander, U.S. Army Maj. Gen. John W. Brennan Jr., in January blamed Iran's proxy forces in Syria for a similar rocket attack in which U.S. troops launched artillery strikes in response.
About 1,000 American troops remain in Syria to train, advise and assist the SDF forces primarily to ensure the defeat of ISIS, officials have said. Another 2,500 American troops are stationed in neighboring Iraq to train Iraqi forces for the same purpose, though the United States officially ended its combat mission in Iraq last year.
---
---
---
---