British whistleblower details 'chaotic' and 'dysfunctional' Afghanistan evacuation that ignored the pleas of thousands
by
Karla Adam and Ellen Francis
The Washington Post
December 7, 2021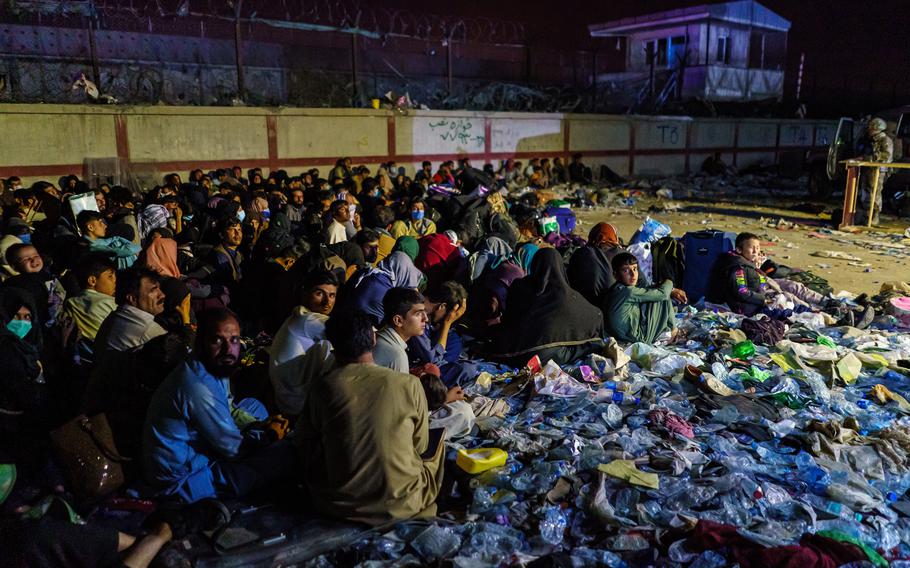 Thousands of emails from Afghans pleading for Britain's help went unread in an evacuation that was both "arbitrary and dysfunctional," according to a whistleblower who worked in the British Foreign Office during the Taliban takeover.
Raphael Marshall, a desk officer until September, was on the "Afghan Special Cases" team that fielded requests from people such as Afghan soldiers, journalists, aid workers and judges, many of whom he said faced risks because of ties to Britain or Western countries.
In a written testimony to Parliament's Foreign Affairs Committee — which will convene Tuesday as part of an inquiry into Britain's withdrawal from Afghanistan — Marshall estimated that 75,000 to 150,000 people including dependents applied for evacuation to the team, but "fewer than 5% of these people have received any assistance."
Thousands of "desperate and urgent" emails were not read, he said, describing decisions on whom to rescue as "arbitrary" in a "chaotic system" that put those left behind in danger. On one afternoon in August, "I was the only person monitoring and processing emails," he wrote. "There were usually over 5000 unread emails in the inbox at any given moment."
His 39-page statement detailed "inadequate staffing" and "lack of expertise," with staff members "asked to make hundreds of life and death decisions about which they knew nothing."
None of the team's members had "studied Afghanistan, worked on Afghanistan previously or had a detailed knowledge of Afghanistan," he wrote.
When the Taliban swept into power this past summer, U.S. troops, British forces and their allies airlifted more than 100,000 people in a massive evacuation marked by violence and harrowing images. They have acknowledged that many Afghans were left scrambling to flee as the operation ended with the withdrawal of U.S. forces after 20 years of war.
The testimony from Marshall also accused former British foreign secretary Dominic Raab, who has since been reassigned as justice secretary, of being slow to make decisions on tough cases and taking "several hours" to respond to the crisis center.
The British minister, who faced rebuke in August for vacationing on a Greek island when the Taliban marched into Kabul, rejected the criticism Tuesday and said he did not recognize the whistleblower's estimates.
"Some of the criticism seems rather dislocated from the facts on the ground, the operational pressures," Raab told the BBC. "That with the takeover of the Taliban, unexpected around the world, I do think that not enough recognition has been given to quite how difficult it was."
More than 1,000 Foreign Office staff had worked "night and day" to get 15,000 people evacuated in just two weeks, he added: "I don't think we have seen an operation on that scale in living memory."
Since the August operation ended, the British government said it has also helped more than 3,000 people leave Afghanistan and is still working to help others get out.
The latest allegations, however, painted a picture of "lack of interest, and bureaucracy over humanity," said Tom Tugendhat, a senior Conservative lawmaker and chair of the committee conducting the inquiry. "These failures betrayed our friends and allies," he added.
The testimony published Tuesday also claimed that the limited resources at Kabul's airport were used to airlift the animals of Paul Farthing, a former British soldier known as "Pen" who ran the Nowzad animal charity in Afghanistan. During the evacuation, his campaign to save his Afghan staffers and animals culminated in nearly 200 cats and dogs landing in London on a plane funded through donations.
Britain's prime minister had sent a request "to use considerable capacity to transport Nowzad's animals," Marshall said, and although the charity supplied its own plane, there was a "limited number of soldiers available to bring eligible people into the airport and limited capacity within the airport." The rescue may have come at the expense of "evacuating British nationals and Afghan evacuees, including Afghans who had served with British soldiers," he wrote.
---
---
---
---