'System totally failed him'
Afghan translators stranded as passports become casualty of US Embassy capture
by
J.P. Lawrence 
Stars and Stripes
September 17, 2021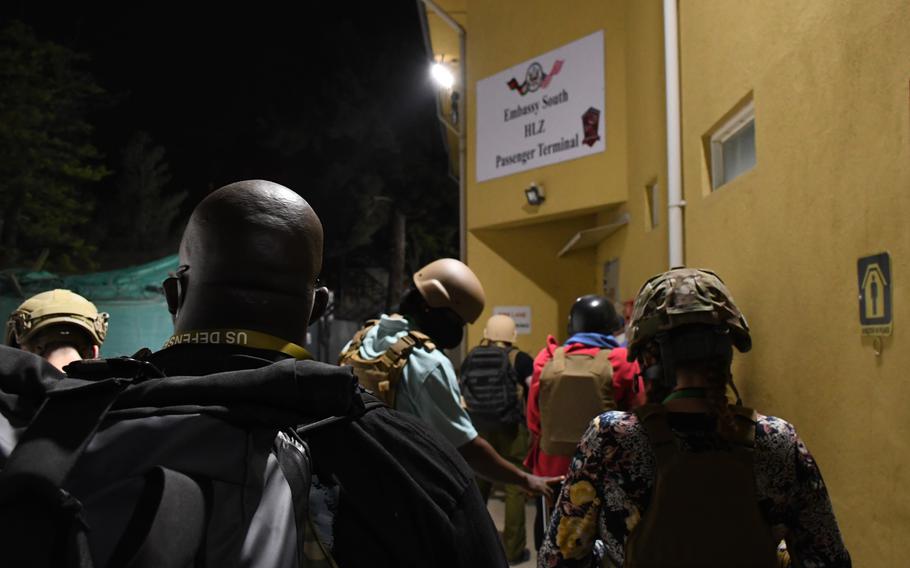 Afghans who earned American visas after working for the U.S. military had their passports destroyed or lost at the U.S. Embassy in Kabul before it was evacuated, leaving them with no clear path out of the country.
U.S. military officers who advocated for Massih, their translator on deployment, were excited when they learned he had been issued his long-awaited Special Immigrant Visa. But after his Afghan passport went missing from the embassy, he seems farther away from his goal than when he started, they say.
"It's beyond me how he has the SIV approved, all the hard work is done, and the system totally failed him," said Roger Cartwright, a retired military lawyer who worked with Massih.
Evacuating people such as Massih may require the U.S. to get permission from the new Taliban government and to provide financial aid to neighboring countries in exchange for opening their borders to people without passports, lawyers and advocates told Stars and Stripes.
Massih believes that his family's passports were destroyed sometime after he left them at the U.S. Embassy on Aug. 4 to receive their SIVs.
He received notice on Aug. 14 that his visas had been issued and would soon be available for pickup along with his passports, documentation shared with Stars and Stripes showed. But by then, most of the embassy had been evacuated. Kabul fell to the Taliban a day later.
The family hasn't been allowed to leave Afghanistan without passports, said Massih, who asked that his real name not be used out of fear of Taliban retribution.
The Taliban blocked every attempt Massih made to get to the airport during the U.S. evacuation, said an active-duty military officer who worked with him. The officer was not authorized to speak to the media and asked not to be identified.
Besides Massih, many other SIV recipients are also in dire straits after leaving their passports at the U.S. Embassy.
"Without a passport, how will I go to another country?" said Zabiullah, who asked not to be identified by his real name.
Ellen Smith, the director of the advocacy group Keeping Our Promise, is working on behalf of Zabiullah and his family.
"They are stuck in no-man's land, compliments of our government," Smith said.
In response to questions about SIV recipients who had been deprived of their passports, the State Department said it had followed procedures in closing the embassy in Kabul.
"It is standard operating procedure during a drawdown to minimize our footprint and reduce the amount of sensitive material remaining," a statement said.
A State Department spokesman declined to answer follow-up questions.
Former embassy staffers told Stars and Stripes that they recalled destroying sensitive items before their hasty withdrawal. One contractor said he received numerous calls from Afghans asking what had happened to their passports.
While more than 124,000 people were evacuated before the U.S. completed its withdrawal on Aug. 31, most who applied for visas after working with American troops remain stuck under Taliban rule, a State Department official told NBC News earlier this month.
The advocacy group No One Left Behind is tracking at least 400 Afghans who completed the arduous process to receive SIVs but cannot leave, said James Miervaldis, the organization's chairman.
Many people flew out of Afghanistan on U.S. evacuation planes without any paperwork, said Kimberly Motley, a human rights lawyer who has worked in Afghanistan for 13 years.
But now that the U.S. military has left, it will be difficult to legally evacuate people without proper documents, even if the State Department has their information on file, Motley said.
"Unfortunately, at this point it appears that anyone who flies out of Afghanistan will have to inform and/or negotiate with the Taliban for safe passage," said Motley in an email.
The U.S. should consider issuing documentation similar to Nansen passports, which were issued from 1922 to 1938 by the League of Nations to stateless refugees, Motley said. These passports could be distributed by organizations still in Afghanistan, such as the United Nations, she said.
Another option is to pursue agreements with countries such as Uzbekistan and Tajikistan, said Betsy Fisher, director of strategy at the International Refugee Assistance Project.
Western countries have started negotiations with these neighboring countries to accept Afghans, Voice of America reported in early September.
Fisher, like other advocates, noted a Catch-22: those in Afghanistan without passports can't leave, but to get the necessary documentation they may have to get to a U.S. embassy or consulate.
Adam Bates, IRAP's policy counsel, said the U.S. could offer Afghans without passports a legal option known as parole, which allows U.S. entry to pursue legal status without conferring formal rights to stay permanently. That option would still require Taliban approval for the applicants to leave.
"Nobody should be punished or have their life put in danger because their documents were destroyed in the chaos of the fall of Kabul," Bates said.