US military says troops disabled equipment before abandoning it at Kabul airport
by
Caitlin Doornbos  
Stars and Stripes
August 31, 2021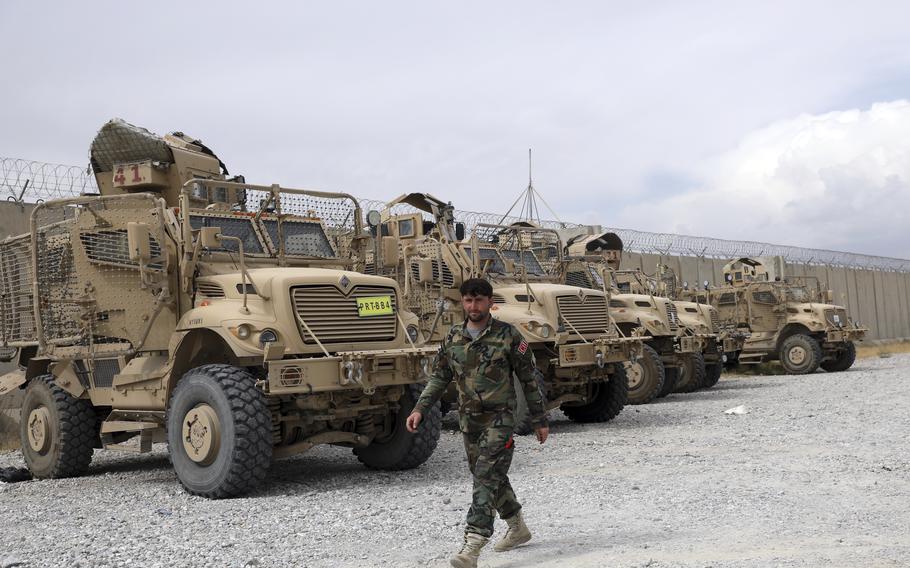 WASHINGTON — U.S. troops disabled 170 vehicles, aircraft and weapons systems that they abandoned Monday at the Kabul airport before the remaining American service members in Afghanistan boarded the last flights out of the country, the top U.S. commander in the region said.
About 70 Mine Resistant Ambush Protected vehicles, 27 Humvees and 73 aircraft were "demilitarized" by the U.S. at Hamid Karzai International Airport before they left Kabul for the last time, said Marine Gen. Frank McKenzie, commander of U.S. Central Command.
"They'll never be able to be operated by anyone," McKenzie said of the equipment. "Most of them were non-mission capable to begin with."
McKenzie did not say what kind of aircraft were among the 73 left behind at the airport, where U.S. forces helped more than 123,000 people evacuate the country since late July. Most of those evacuation flights took place after Aug. 14 when thousands of U.S. troops deployed to the Kabul airport to ramp up withdrawal efforts as the Taliban closed in on the city.
In the first hours after U.S. forces left the airport, Taliban fighters entered a hangar formerly under U.S. control to examine abandoned equipment including four Chinook helicopters, according to a video posted to Twitter by Los Angeles Times reporter Nabih Bulos.
"We're here right now with the Taliban as they enter into what was only minutes ago an American-controlled portion of the airport," Bulos said in the video. "And now, they've taken over."
Chief Pentagon spokesman John Kirby told CNN on Tuesday that the only equipment the U.S. left operable at the airport were "a couple of fire trucks and forklifts so that the airport itself can remain more operational going forward."
"[The Taliban] can inspect all they want. They can look at them, they can walk around, but they can't fly them. They can't operate them," Kirby told CNN. "We made sure to demilitarize, to make unusable, all the gear that is at the airport — all the aircraft, all the ground vehicles."
McKenzie said the U.S. also made its counter rocket, artillery and mortar system at the airport inoperable, but waited "up until the very last minute" to do so to protect the forces. That system was used Sunday to stop an Islamic State rocket fired at the airport.
"It's a complex procedure and time-intensive procedure to break down those systems," the general said. "[But] we demilitarized those systems so that they'll never be used again."