More terrorist attacks expected in Kabul as evacuations continue, Gen. McKenzie says
by
Caitlin Doornbos
Stars and Stripes
August 26, 2021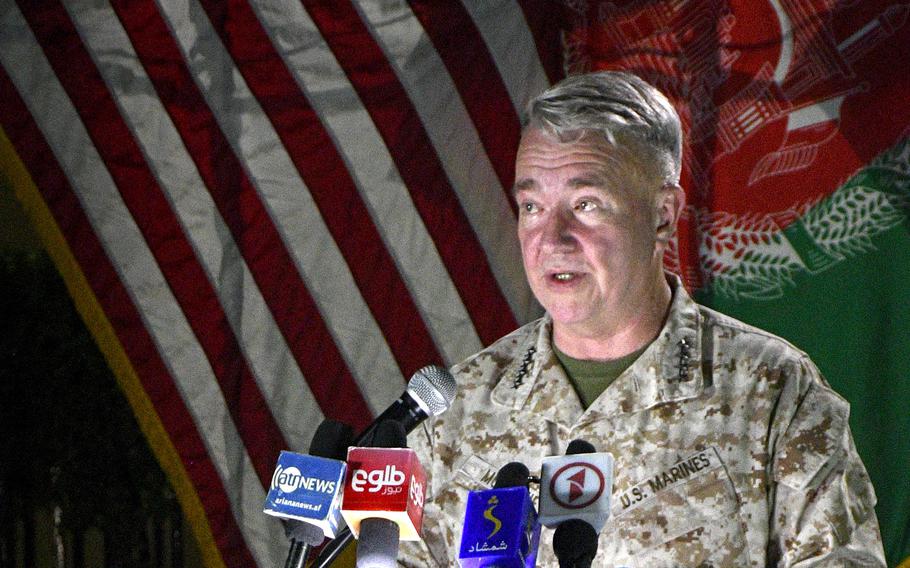 WASHINGTON — More terrorist attacks are expected after two suicide bombers and an undisclosed number of gunmen on Thursday killed 13 U.S. troops and injured 18 others near the airport in Kabul where U.S. forces have been evacuating tens of thousands of Americans and Afghans from Afghanistan, said Marine Gen. Frank McKenzie, the top U.S. commander in the region.
The Islamic State claimed responsibility for the deadly attacks that also injured and killed unknown numbers of civilians, according to the Amaq News Agency, which is affiliated with the terrorist group.
"The threat from ISIS is extremely real," McKenzie said Thursday. "We believe it is their desire to continue those attacks and we expect those attacks to continue — and we're doing everything we can to be prepared for this attack."
Attacks were expected at some point during the evacuation mission, which began Aug. 14 when the Taliban took control of Afghanistan, said McKenzie, the commander of U.S. Central Command.
"Anytime you build a noncombatant evacuation plan like this [and] you bring in forces, you expect to be attacked," he told reporters at the Pentagon. "We thought this would happen sooner or later -- it's tragic that it happened today. It's tragic there was this much loss of life."
The evacuation mission will continue until its scheduled end date of Aug. 31, McKenzie said. The U.S. has brought in busloads of evacuees to the airfield in the hours since the attacks.
To prevent more fatalities, the U.S. is coordinating with the Taliban, "who are actually providing our security cordon around the airfield," McKenzie said.
"The plan is designed to operate well under stress and under attack," he said. "We will coordinate very carefully to make sure that it's safe for American citizens to come to the airfield."
Another part of keeping operations safe are the continued security checks at the airport gates, which the troops killed and injured Thursday were conducting at the time of the attacked. McKenzie said Americans must continue these checks because "you don't want to let somebody on an airplane carrying a bomb."
"Our aircraft coming in and out is a paramount importance because obviously you have the opportunity there for 450 or more people to die if you have a significant mishap with the aircraft," he said, noting U.S. troops seemingly prevented the attackers from getting inside the airport.
The Taliban conducts its own security vetting at checkpoints outside the airport where individuals are searched for weapons including explosives, McKenzie said.
"Sometimes the searches have been good and sometimes not," he said. "I will simply note that before this attack, we had passed 104,000 people through."
The general said the U.S. is informing the Taliban of threat possibilities, "so that they can actually do some searching out there for us." He said ISIS attacks would hinder the Taliban's takeover in Kabul.
"They don't give the full range of information we have, but we give [the Taliban] enough to act in time and space to try to prevent these attacks," McKenzie said. "We believe that some attacks have been thwarted by them."
CENTCOM also has more tactical ways to stop future attacks, McKenzie said.
"We know that [ISIS] would like to lob a rocket in the air if they could," he said. "Our anti-rocket and mortar system [and] gun systems … that are pretty effective against these kinds of attacks."
The terrorist group also "aim[s] to get a vehicle-borne suicide attack in if they can — from a small vehicle to a large vehicle — they're working all those options," McKenzie said.
The general said the military is using AH-64 attack helicopters and some unmanned aircraft with thermal imaging to watch for possible threats.
The military is also using Air Force aircraft including F/A-18 fighter jets and AC-130 gunships that were already in Afghanistan to deter attacks, he said.
"The AC 130 gunship has a very highly capable targeting system and it's also very visible platform," McKenzie said. "We know from long experience that visible demonstration of these kinds of [aircraft] tends to dissuade the attacker because they know that if we can see him do it we're going to strike them immediately."