After unending conflicts, Gazans wrestle with rebuilding — and whether it's worth it
by
Loveday Morris and Hazem Balousha
The Washington Post
June 6, 2021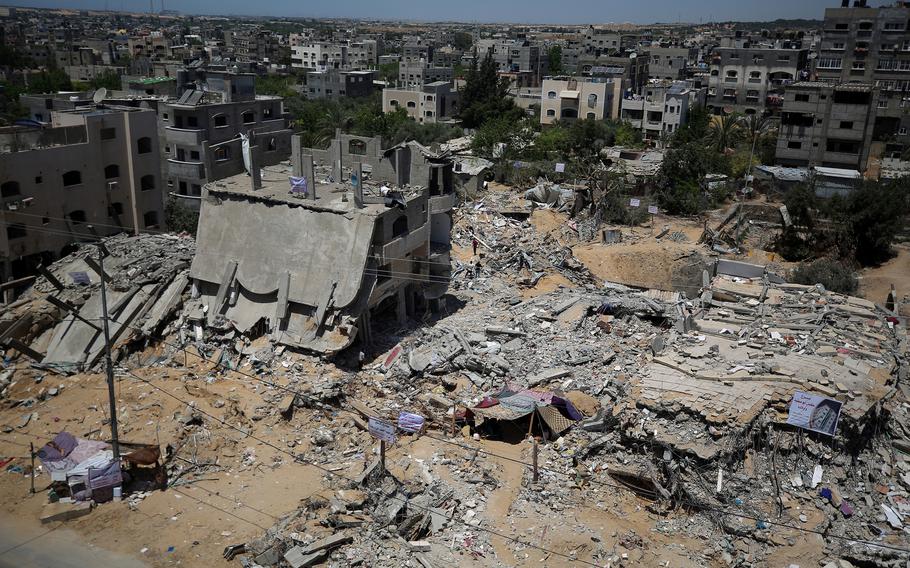 For the 2 million residents of Gaza, last month's hostilities were just the latest in an endless cycle of war, the fourth to convulse the Palestinian enclave along the Mediterranean in just 13 years.
The latest fighting was impossible to escape as Israel struck more than 1,500 targets in the Gaza Strip. Hamas and other Gaza-based militants fired more than 4,300 rockets, wreaking terror on the other side of the border.
More than two weeks after the cease-fire, life has returned; even beach cafes have reopened. But existence remains shaped by destruction and reconstruction.
Families are being forced once more to rebuild and repair their homes, their businesses and what they can of their lives — their suffering compounded by losses on top of losses, trauma on top of trauma.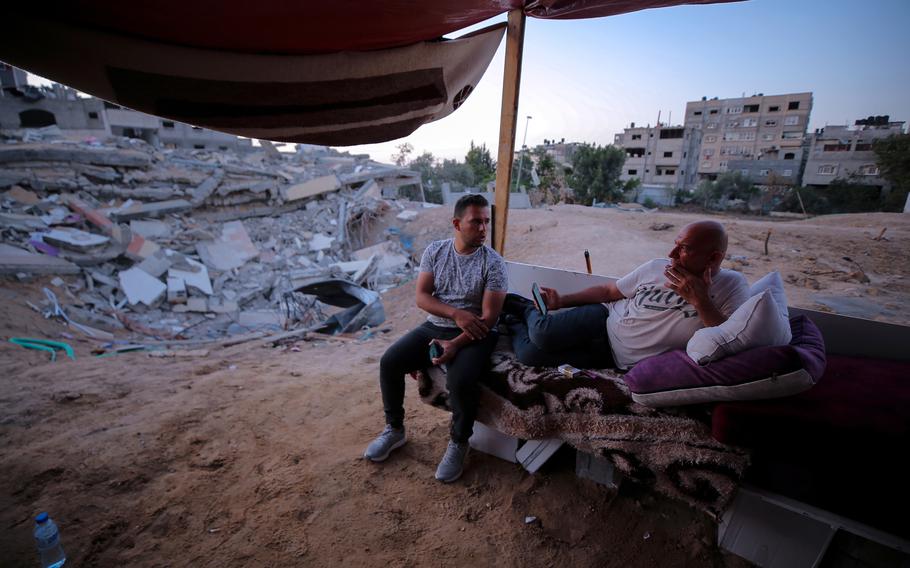 When hope is finally a casualty
BEIT LAHIA, Gaza — After significant damage to family property in three of Gaza's four conflicts since 2008, Kayan Abu Safiya is not sure it is worth rebuilding.
"Everything you build here will be destroyed," he said as he surveyed the pile of rubble that had been an apartment building he erected to house his many offspring as they grew up and got married. "Working, investing, getting money to help my children, and it all goes in one second."
Their homes were among nearly 2,100 rendered uninhabitable during the conflict, according to Hamas officials, who govern Gaza.
Abu Safiya, father of 17 children, made his money in agriculture and trading heavy machinery in Israel. But then came Hamas' 2006 election win and the subsequent blockade by Israel and Egypt, crippling business.
Then came the wars. During the initial days of the 2008 conflict between Israel and Hamas, his family fled their home in Beit Hanoun, near the northern border. It was not until after the fighting ended that they were able to assess the damage. "It was a shock," he said. "The money, the work, vanished."
Losses amounted to nearly half a million dollars, he said, and he was never compensated. Only a handful of 1,300 citrus trees were left, he said, and dozens of farm animals had died during the Israeli ground invasion.
"We planted again, but in 2014 they were bulldozed," he said, referring to clearing operations by Israeli ground forces.
The family farmland remains strewn with equipment destroyed in the wars, his barn pockmarked with bullet holes. His house was partly destroyed by tank shells in 2014, he said. He received $19,000 in compensation from international reconstruction funds, a fraction of what he says it cost to rebuild.
He had already begun moving his business to Jordan, and now his company is based there. He stays in Gaza only a few months a year. The family has given up planting fruit trees, opting instead for seasonal crops: wheat, cucumbers and watermelons.
As war approached last month for a fourth time, Abu Safiya did not want his family to all be in the same place. "If we died, all of us, who would remain?" he said. They spread out among the family's various properties. Two of his sons remained with him at the family home; a wife and her children left for her parents'.
His oldest son, Yazeed, had been at his uncle Riziq's house, a few doors down from the high-rise that his father completed in 2019, when an Israeli intelligence officer called. It was the night before the Eid al-Fitr holiday, and the family had gathered to make traditional maamoul cookies. They said an officer told them they had two minutes to leave the area before it was destroyed.
"If it's two minutes and one second, you will die," Riziq recalled the officer saying.
They panicked. One of his daughters was rooted to the spot in fear and had to be pushed along. They screamed at a neighbor on a nearby balcony to leave.
Riziq said the officer stayed on the phone line with them until they reached a bank at the corner. The first airstrike knocked them down. It obliterated the family's high-rise and Riziq's three-story home, the place where the family had sought refuge in previous conflicts.
The Israeli armed forces could not provide details about this strike but has said all its targets are military.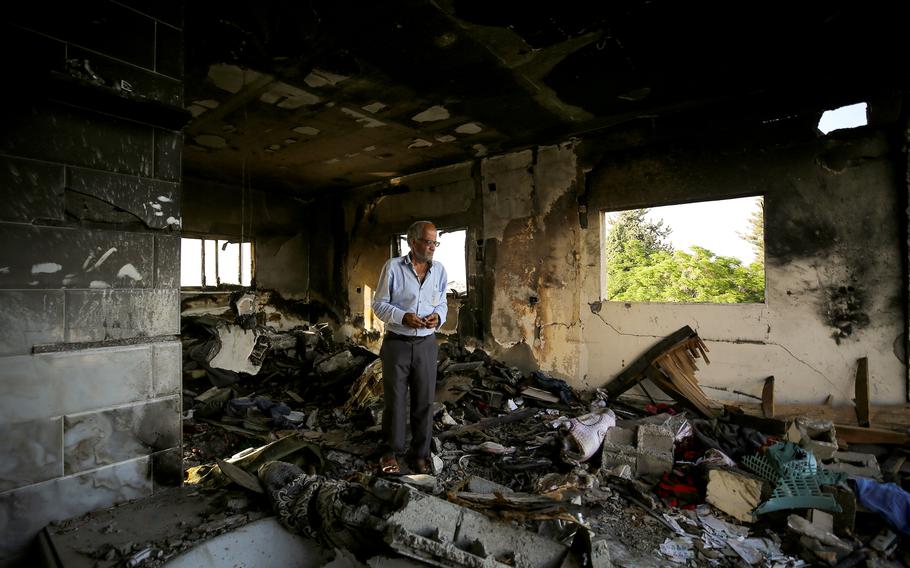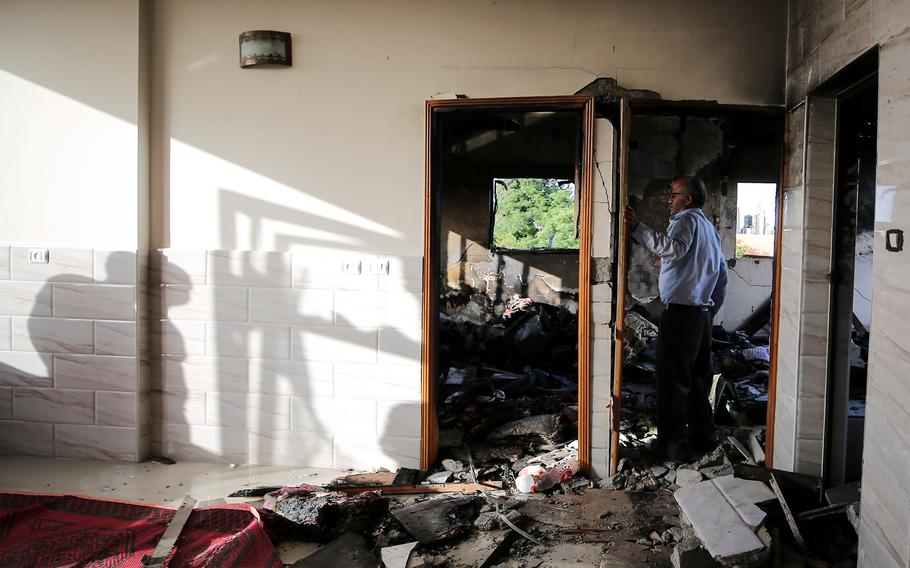 An irreplaceable loss
BEIT HANOUN, Gaza — For Zakaria Hamad, 65, the Gaza conflicts have brought escalating tragedies. First his farmland was destroyed, then in 2014 his home. But this time, there was no replacing the loss.
When war came again, his family had not yet finished rebuilding from the previous conflict. Fixtures and fittings on the lower floors were yet to be installed in the new three-story building, painted yellow and red and overlooking their land. Still, Hamad and his wife had moved in upstairs, and that is where the whole family, including his 33-year-old son Raed and five nieces and nephews, had gathered on May 19.
It had been a quiet afternoon, they said, before an explosion rocked the house.
Raed had just stepped into the bedroom when he was killed by what the Al Mezan Center for Human Rights, a Gaza-based nongovernmental organization, said was one of 10 tank shells fired by Israeli troops that morning.
The military did not respond to a request for comment.
The room was transformed into charred rubble strewn with burned mattresses, clothes and blankets. The rest of the family, in the living room, were saved by internal walls.
The sound was deafening, Hamad recalled, and he could see nothing through the smoke. "My heart was dying," he said when he realized his son had been killed.
Raed, whose family described him as generous and well-liked, was engaged to be married in the summer. The clothing store he ran provided much of the family's income after, they said, their farm was destroyed during the 2008 Israeli ground invasion. "They bulldozed the whole area," Hamad said. "Citrus, guava, goats, sheep, our beehives all gone."
Even before the latest round of violence, the United Nations estimated that the cumulative cost of Israeli military operations and the economic blockade imposed by Israel and Egypt had amounted to $16.7 billion.
Hamad had once worked in construction in Israel. "We used to be like this," he said of Israelis, holding out two fingers side by side. "I built them their homes."
He does not see a way out of the cycle of violence without international intervention but does not remain hopeful that will happen.
"We are dying here in Gaza," he said. "Who cares? Nobody cares."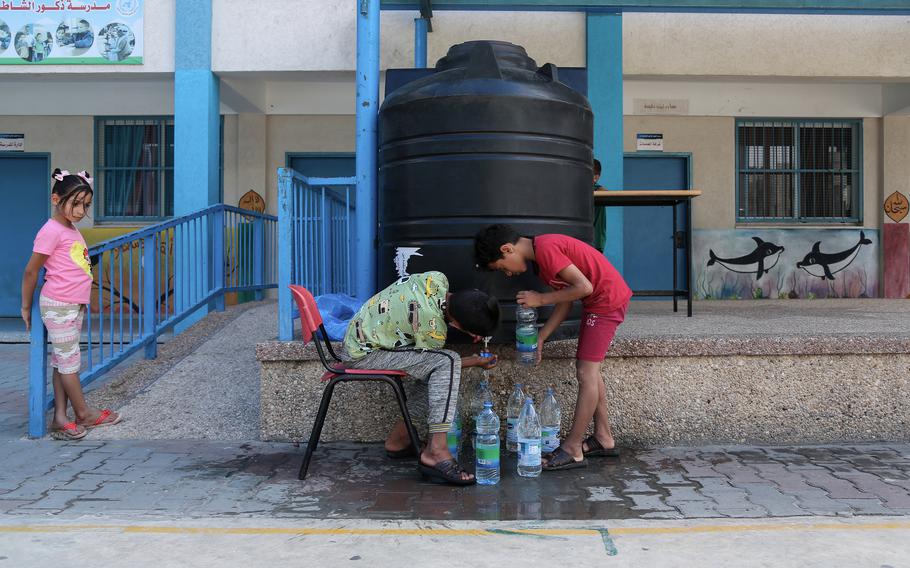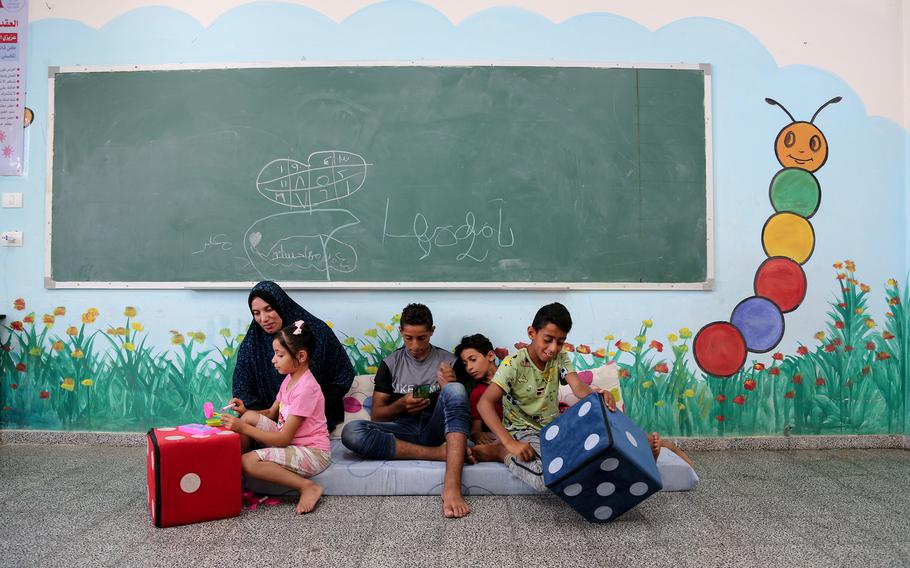 A never-ending cycle of flight
GAZA CITY — Born not long before the 2008 conflict in Gaza, 14-year-old Ahmed Hassanian has been forced to flee his home during every round of violence since.
He was still being breastfed when the family fled their home in Shejaiya, east of Gaza City, for a relative's home, his parents recalled. They lived off canned food for much of the 22-day war.
Kowkab Hassanian, 42, worries about the cumulative psychological effect on her children. Ahmed says he still remembers bodies in the street during the 2014 hostilities. He shook uncontrollably during the recent bombardment. "He's always asking if we are going to die," she said.
Another child has bed-wetting issues, and a third has problems with aggression that Hassanian links to the impact of the wars.
"It's a bad thing to get used to this," she said. "My fear is more on them than myself. I pretend that I'm strong, but we are all scared."
In 2008, they had hoped the war would be the last. Their home had escaped relatively unscathed aside from damaged water tanks. Hafez Hassanian had built the house himself, and later, when he turned to selling vegetables, he put the money he earned into improving it for his growing family. "Every time I got some income I was spending money on it," he said.
Then came the hostilities in 2012 and again in 2014, when their house was leveled along with much of the Shejaiya neighborhood, the site of particularly brutal battles between Israeli forces and Hamas militants. The family said they were displaced several times as fighting got too close. "Every time we moved there was a strike; we got to another place, there was a strike," said Hafez.
After the war, he got a grant of $43,000 to rebuild his home. His family helped with the reconstruction, but the trauma remained.
When hostilities broke out last month, they fled to Gaza City, thinking it would be less affected than areas near the Israeli border, but it came under intensive Israeli airstrikes from the outset.
This time, their home did not survive unscathed. Hafez pulls out his phone to show pictures of a damaged kitchen and bathroom and said he cannot afford to repair them. "Our life was difficult even before this happened," he said. "I was barely able to live and cover our expenses."
They are displaced again, living in a classroom in a school run by the U.N. Relief and Works Agency that has become a temporary shelter.
Now, no one is talking about long-term peace, he said. "We live in fear that we'll have a new war."
He gestured toward his children. "The generation is destroyed," he said.