Germany eases airport mask rules, distributes omicron vaccine boosters
By
Stars and Stripes
September 13, 2022
---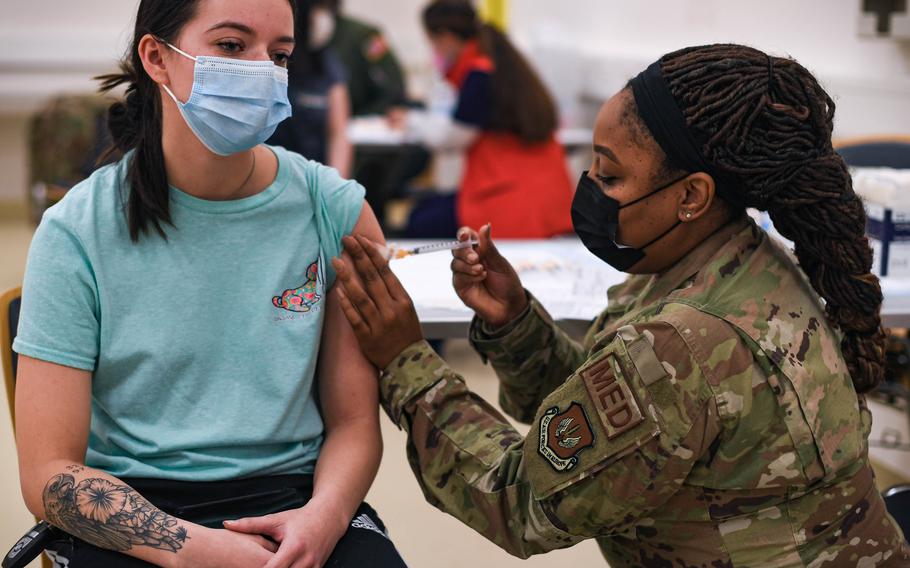 Stars and Stripes is making stories on the coronavirus pandemic available free of charge. See more stories here. Sign up for our daily coronavirus newsletter here. Please support our journalism with a subscription.
KAISERSLAUTERN, Germany — Travel without masks will be allowed out of airports in Germany beginning Oct. 1, according to an update of the nation's COVID-19 Protection Act that includes added authority for state governments to issue their own health restrictions as they see fit.
The law comes as Germany begins issuing a booster shot targeting an early omicron subvariant, though the roughly 100,000 combined U.S. military service members, civilians and their families in Germany may opt to wait for bases to receive a shot that targets the subvariants that are now most prevalent.
Mask rules on international flights will be determined by the destination country, according to European aviation security agency EASA.
FFP2 or N95 masks still will be mandatory nationwide for people 14 and older on long-distance trains and buses, and in health care settings, according to a statement Thursday by the German Health Ministry. Children ages 6 to 14 may wear simple medical masks, while children younger than 6 are exempt from mask wear.
Local policies may exempt people from having to wear masks if they have proof of a booster vaccination no older than three months or a negative test result from within the previous 24 hours.
The new law allows but does not require states to issue mask mandates on local buses and trains, as is the case now. Mandates also may be issued for restaurants and during indoor cultural events, such as concerts and athletic competitions. COVID-19 cases spiked in Germany during the coldest months of 2021 and this year as people spent more time indoors.
"We do not know how the pandemic will develop in autumn. But this time we will be well prepared and have the situation under control," German Health Minister Karl Lauterbach said in a statement last week. "With as few restrictions on people's freedom as possible — but as many as necessary — we will prevent many deaths, serious cases and long-COVID illnesses."
Throughout Europe, new COVID-19 infections have continued a downward trend. They fell 13% in the first week of September compared to the previous week, with 1.3 million reported active cases on the Continent, according to the European Center for Disease Prevention and Control.
Health Ministry figures show 34,995 active cases in Rheinland-Pfalz, home to the largest concentration of U.S. service members in Europe. About 79% of residents have received at least one shot of the vaccine, according to state data.
Meanwhile, German vaccination centers have started rolling out bivalent Moderna and Pfizer boosters designed to fight the omicron BA.1 subvariant. The first of those shots in Rheinland-Pfalz were issued Wednesday, according to a state health ministry spokeswoman.
Preliminary data indicates the vaccine targeting BA.1 — which is no longer regularly infecting people — produces an immune response against BA.5 and other subvariants. The BA.4 and BA.5 subvariants represent a 99.2% distribution among 13 European nations with an adequate volume of samples to sequence, the European CDC said last week.
European health officials are still evaluating the Pfizer and Moderna boosters designed to fight BA.4 and BA.5, which have been approved by the United States.
U.S. military community members are eligible to receive free COVID-19 inoculations at German vaccination centers. However, the boosters targeting BA.4 and BA.5 are expected to arrive at U.S. military bases in Europe in late September or early October, military officials said.
---
---
---
---