Air Force offers new COVID-19 shot in Germany, giving those with ethical qualms another option
By
Stars and Stripes
August 26, 2022
---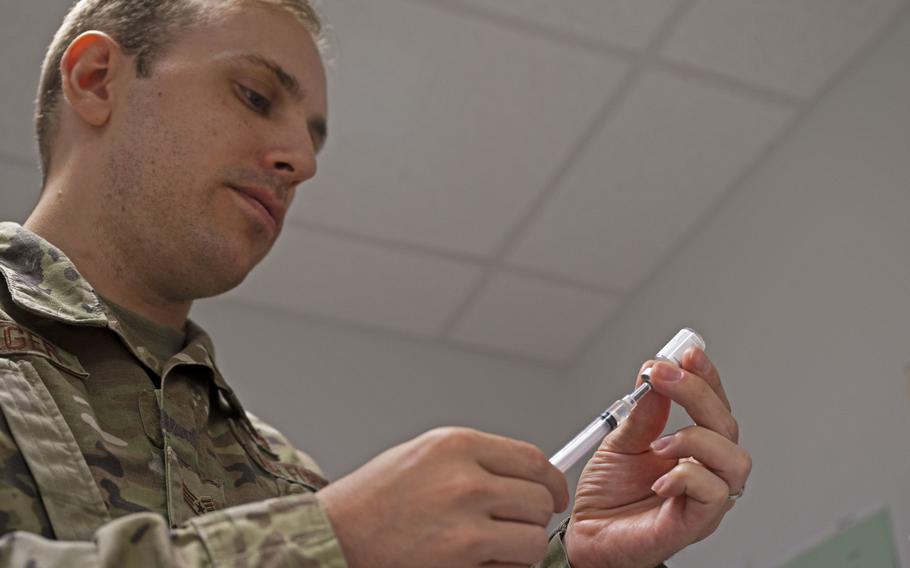 Stars and Stripes is making stories on the coronavirus pandemic available free of charge. See more stories here. Sign up for our daily coronavirus newsletter here. Please support our journalism with a subscription.
KAISERSLAUTERN, Germany ⁠— Americans stationed in Germany have a new COVID-19 immunization option: the Novavax vaccine.
The Air Force this week made the first doses of it available to unvaccinated service members and spouses in the Kaiserslautern Military Community.
Pentagon officials say they hope the new option will overcome the hesitance of some of the thousands of service members who have refused other coronavirus vaccines, citing ethical and religious concerns.
Unlike the mRNA-based vaccines from Pfizer and Moderna, the Novavax immunization works using protein-based vaccine technology that has been used for decades in flu shots and injections to fight HPV.
"This is a big deal for us. We're happy to give another option," Air Force Lt. Col. Jamie Rojas, 86th Medical Group chief of aerospace medicine, told Stars and Stripes on Friday. "For us to be able to offer something more consistent of what people are used to is great."
Supply will be tailored to demand, Rojas said. Registration for appointments to get the Novavax vaccine can be made by phone at DSN 314-479-2533.
Novavax also may appeal to those who mistrust mRNA technology, Rojas said. These vaccines deliver genetic instructions that allow the body to prep an immune response by making its own copies of the coronavirus' spike protein.
In addition, the new shot offers an alternative to people who may have an allergic reaction to other vaccines, according to the U.S. Centers for Disease Control and Prevention.
In August 2021, Defense Secretary Lloyd Austin ordered all uniformed personnel to receive an approved coronavirus shot, insisting that inoculation was critical to maintaining military readiness and the health of the force.
Unvaccinated service members must receive two doses of Novavax taken at least 21 days apart to be considered fully vaccinated and fulfill the DOD mandate.
The coronavirus vaccine grace period for active-duty airmen expired Nov. 2, 2021, while the Army allowed soldiers until Dec. 15, 2021.
Some service members asking for exemptions from the mandate have cited concerns that early-stage testing of the Pfizer and Moderna vaccines used stem cell lines from fetuses aborted in the 1970s and 1980s.
None of the vaccines ever contained actual fetal stem cells, however, according to the CDC. The Catholic Church has taken the position that it is "morally permissible" to take the vaccines, but that its followers still may object based on their consciences.
The manufacturer of Novavax says it never used "human fetal-derived cell lines or tissue" in the development, manufacture or production of its product.
As of Aug. 23, 98.7% of active-duty airmen have been fully vaccinated, according to service data. Air Force officials have said it's too early to tell how many members are going to respond to the new vaccine offer.
Novavax was authorized for emergency use by the Food and Drug Administration in July, and more than 330,000 doses have been distributed in the United States, according to CDC data. It has been available in Europe since February.
The CDC currently does not recommend mixing products for first vaccination doses, and Novavax is not cleared for use as a booster for those who have received other companies' COVID-19 vaccines.
---
---
---
---