Updated COVID-19 booster shots expected at some bases in Europe and Asia within weeks
By
Stars and Stripes
September 7, 2022
---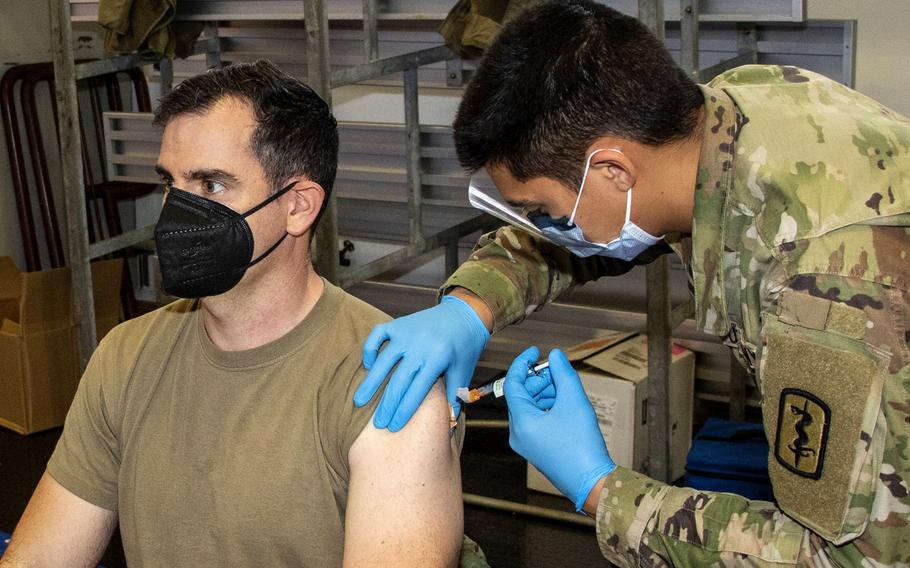 Stars and Stripes is making stories on the coronavirus pandemic available free of charge. See more stories here. Sign up for our daily coronavirus newsletter here. Please support our journalism with a subscription.
Story updated Sept. 8, 2022 at 12:03 p.m. Central European Time
KAISERSLAUTERN, Germany — Military health officials in Europe and Asia say the new COVID-19 booster shots that target the omicron variant are on order but won't be available to distribute for at least a few weeks.
The shipment of both the Moderna and Pfizer bivalent vaccine boosters is expected to arrive in late September or early October, Kirk Frady, spokesman for the Army's Regional Health Command Europe, said Tuesday. Army medical clinics should begin to give out the shots shortly afterward, he said.
The updated booster shots likely will be offered through online appointments, vaccination clinics and other means, depending on the location, Frady said.
U.S. Naval Hospital Sigonella in Sicily, Italy has ordered the Pfizer and Moderna versions of the bivalent COVID-19 booster but wasn't able to say when the shots would be available.
There isn't a timeline for when the shots will ship from the U.S., said Peter Graves, a Defense Health Agency spokesman.
Hospital officials were not concerned about vaccine availability or supply, he said.
Officials for other Navy hospitals in Italy, Spain and Greece did not say on Tuesday and Wednesday if they had ordered the vaccine or when they expected to receive supplies.
Ramstein Air Base in Germany, part of the largest U.S. military community overseas, expects its order to arrive in Europe in late September, a spokesperson said Wednesday.
At Camp Humphreys, the headquarters south of Seoul of U.S. Forces Korea, the chief medical officer said he expected the updated Moderna and Pfizer bivalent boosters by the end of this month.
The Defense Department acquired them rather quickly, Dr. Timothy Batig, an Army lieutenant colonel with the Army's 65th Medical Brigade, told Stars and Stripes by phone Thursday.
"That's incredibly fast and it's actually a good thing because this is the strain of COVID that is going through the world right now and affecting us in Korea," Batig said. "Once we can get this and we can get people boosted with the bivalent, then we should see fewer cases of the omicron [variant]."
In Japan, the Navy has ordered the updated boosters and "will provide additional details as soon as they are available," Gabriel Archer, a spokesman for the hospital at Yokosuka Naval Base, said by email Thursday.
Yokota Air Force Base, an airlift hub in western Tokyo, is preparing for mass vaccinations on Sept. 30, according to a post Thursday on the 374th Medical Group's official Facebook page.
The new shots, approved last week by the U.S. Food and Drug Administration and the U.S. Centers for Disease Control and Prevention, target the original COVID-19 strain and BA.4 and BA.5, the subvariants of omicron that the FDA says people in the U.S. are catching the most. The variants are prevalent in Europe as well and predicted to continue circulating this fall and winter.
Pfizer's updated booster is approved for people ages 12 and older, while the new Moderna shot is for people 18 and older.
People are eligible for the new booster two months after they've been fully vaccinated with either Johnson & Johnson's original one-shot regimen; Pfizer or Moderna's two-shot primary series; or taken any booster shots related to those vaccines.
The CDC says that the original Pfizer and Moderna COVID-19 vaccines are no longer authorized as booster doses for ages 12 and older.
CDC guidelines for getting the new booster if recently recovering from a COVID-19 infection vary. The agency suggests people should wait at minimum until they've recovered to receive the booster. It also says they may consider delaying any COVID-19 vaccination, including the new booster, for three months from the onset of symptoms or a positive test.
In June, unvaccinated adults in the U.S. had a 4.6 times higher rate of hospitalization compared to adults who received the vaccine and at least one booster dose, according to CDC data. Those aged 50 and over who got the vaccine and two booster doses were 14 times less likely to die from COVID-19 than unvaccinated people, and three times less likely to die than people who received only one booster dose, according to the CDC.
Stars and Stripes reporter Alison Bath contributed to this report.
---
---
---
---