Another VAT form price hike in Germany not going over well with US personnel
By
Stars and Stripes
August 29, 2022
---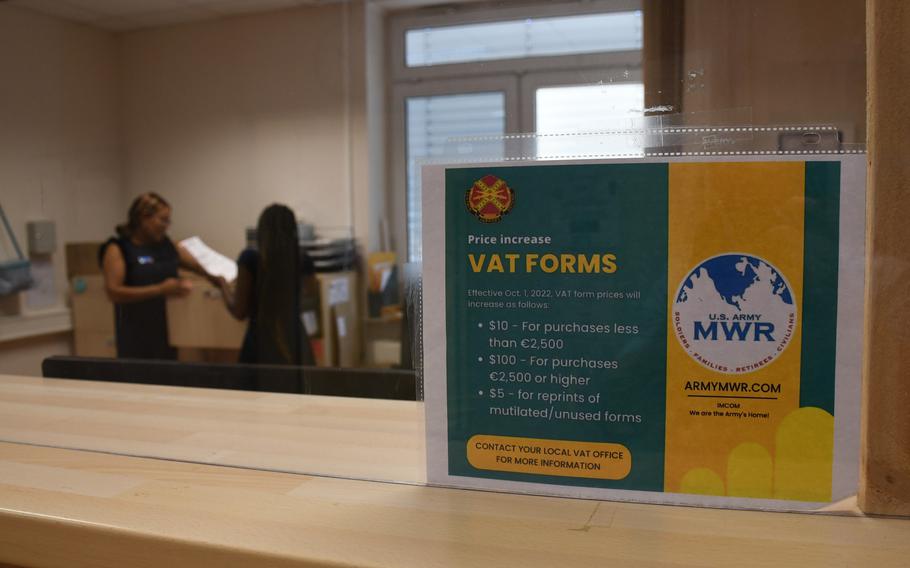 KAISERSLAUTERN, Germany — Defense Department personnel living in Germany are slamming a pending increase in the prices of documents that allow them to shop tax-free at some German stores, venting frustration over the second such price hike in six months.
Starting Oct. 1, value-added tax exemption forms for purchases less than 2,500 euros will rise from $7 to $10 each, while forms for purchases higher than 2,500 euros will jump from $90 to $100.
Before an increase in April, the first in more than five years, the forms cost $5 and $65 respectively. Eligible service members, DOD employees and family members can use forms to get a refund on the 19% value-added tax on purchases they make in Germany. Retailers are not required to accept the forms, but many do, particularly in areas with U.S. bases.
"The Oct. 1 increase for VAT (form) costs will help cover the increased minimum wage for federal workers to at least $15 per hour, which was announced by the Office of Personnel Management in January," said Anna Morelock, a spokeswoman for Installation Management Command-Europe, which runs the program. "At the time of the last increase, this was not factored into the cost."
Roughly 1,500 Americans who work for the Army's Morale, Welfare and Recreation programs in Europe need to be paid about $5 million more per year collectively, IMCOM-Europe said, adding that it had no plans to fire staff because of the wage hike.
But many Americans in Germany don't think they should be the ones made to pay for the rising wages, especially when living in the country is becoming increasingly expensive.
"Why should it come out of our pockets? It's ridiculous," said Karin Kimball, who lives in Kaiserslautern with her husband, a DOD civilian. "It's not even worth using VAT forms anymore with a lot of things. Everyone here is angry about it."
For personnel in the Kaiserslautern area, home to the largest U.S. military community overseas, the increase overlaps with a cut to their cost-of-living allowance by 10 index points, meaning many are seeing their take-home pay shrink by hundreds of dollars a month.
The payment began dropping by 2 points per month in June and the full reduction will be felt starting in October. Living allowances also were reduced in other parts of Germany. Stuttgart and Spangdahlem, for example, saw decreases of 4 points.
At the same time, the stronger U.S. dollar has been offset by inflation, has been above 7% in Germany since spring. Military housing officials are warning American residents to expect higher year-end energy bills, in part because of Russia's war in Ukraine, which likely will mean out-of-pocket expenses for personnel who are close to their housing allowance caps.
"It's just brutal at this point," said DOD civilian Jill Johnson, another Kaiserslautern resident. "The more and more they cut entitlements, the less and less likely they'll be to get people to move here, and they make it so hard to begin with."
Johnson's husband, Michael, agreed, saying the first reduction he saw since moving to Germany six years ago was implemented in 2018, when a congressional revenue act made civilian entitlements associated with moving on military orders taxable.
Michael Johnson said he'll surely buy fewer VAT forms going forward, echoing sentiment expressed by others on social media, which could hamper the Army's efforts to boost revenue it says it needs to cover rising wages.
"My pay hasn't increased since the beginning of the year," Michael Johnson said.
VAT programs are run differently across Europe depending on the host nation's tax laws. While the Army runs the program in Germany — and service members in other branches are eligible to use it — the Air Force oversees the program in the U.K. and the Navy predominantly manages the program in Italy.
Programs outside Germany will not introduce price changes in October, IMCOM-Europe said.
The command said it did not have the exact figures of how much the VAT program generates in Germany or how much it costs to maintain when asked by Stars and Stripes, although it did say the German program employs 53 people.
Holders of VAT forms bought before Oct. 1 will be able to use them after the prices go up as long as the expiration dates on them have not been reached, IMCOM-Europe said.
---
---
---
---