NATO leader calls for continued Ukraine support ahead of 'grinding' winter war
By
Stars and Stripes
August 23, 2022
---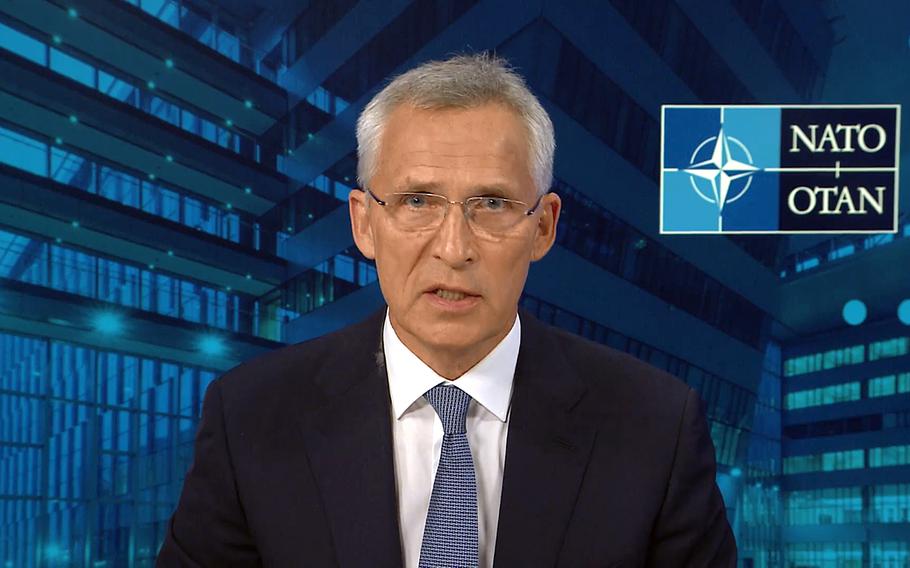 NATO's top official on Tuesday warned of harder fighting to come in Ukraine, where he said a "grinding war of attrition" with Russia means allies must sustain long-term military support for the country.
Secretary-General Jens Stoltenberg's remarks were made during a meeting of the Crimea Platform, led by Ukrainian President Volodymyr Zelenskyy, which was focused on galvanizing international support for Kyiv.
"Winter is coming, and it will be hard," Stoltenberg said. "And what we see now is a grinding war of attrition. This is a battle of wills, and a battle of logistics."
The virtual meeting, which included dozens of heads of state and European Union leaders, served almost as a political pep rally for Ukraine. Western leaders, including French President Emmanuel Macron and German Chancellor Olaf Scholz, condemned Russia's invasion and heaped praise on Ukraine's will to battle back.
Ukraine's territorial integrity, to include the return of the Crimean Peninsula, must be restored, Western leaders said.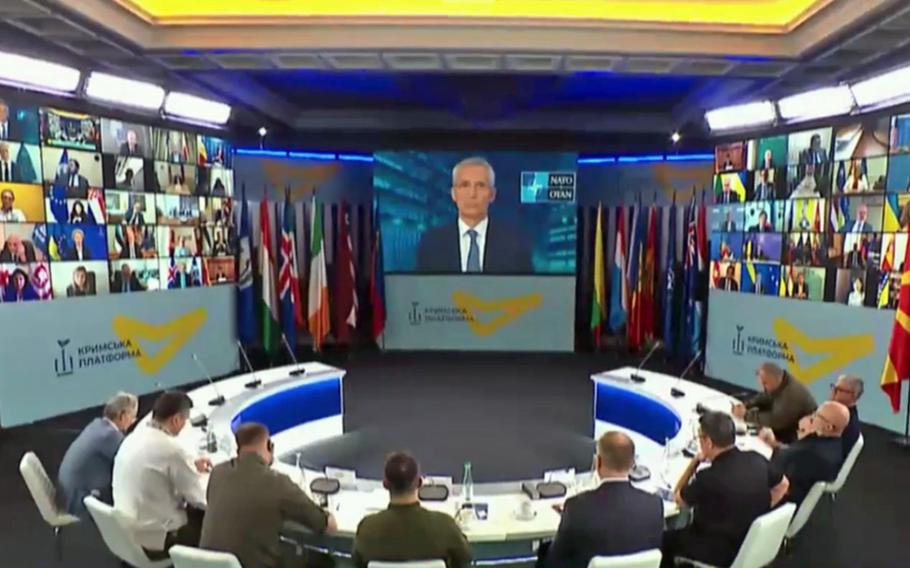 In 2014, Russia's military intervention in Ukraine resulted in the illegal annexation of Crimea. The international community hasn't recognized Russia's claim to the territory, which Zelenskyy said Ukraine was intent on getting back.
"It all began with Crimea, and it will end with Crimea," Zelenskyy said during his remarks at the forum.
In recent weeks, Ukraine has stepped up attacks inside Crimea, which serves as a military launching pad for Russia in its broader war on the country. Russian military bases and weapons depots are among the sites that have come under attack as the war enters its seventh month.
Stoltenberg said allies will continue to provide military support to Ukraine. At NATO's June summit in Madrid, allies pledged a range of supplies, including fuel, protective military gear, mine countermeasures, drones and secure communications.
"Ukraine has suffered six terrible months of war, but you have also shown your incredible ability to resist brutal aggression — to strike back, retake territory and impose major costs on Russia," Stoltenberg said.
The U.S. has been by far the largest contributor to Ukraine's war effort, sending in billions of dollars of weaponry, including advanced missile systems that have been used to target Russian command-and-control hubs and weapons depots.
---
---
---
---