American D-Day pilot missing for 70-plus years buried in Normandy
By
Stars and Stripes
July 12, 2022
---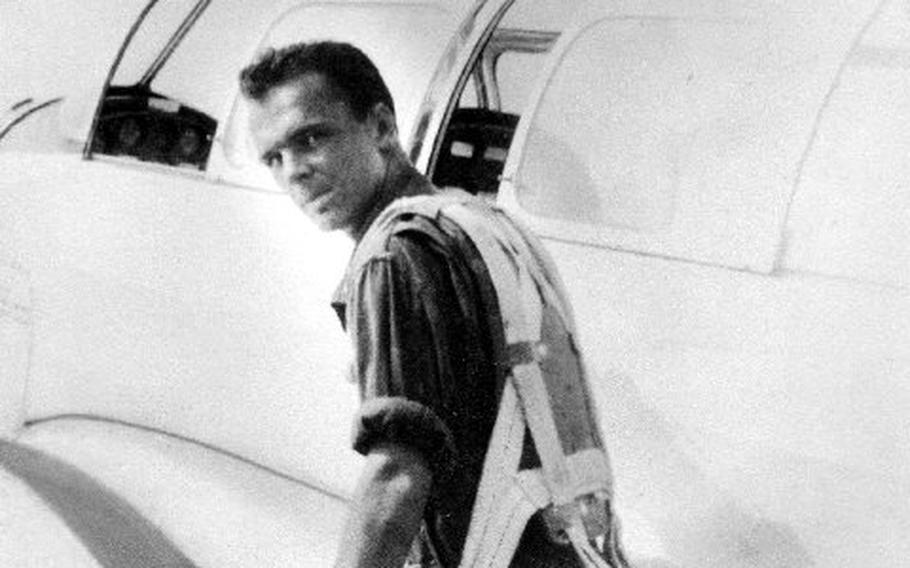 A U.S. Army Air Corps pilot who had been deemed unrecoverable decades ago after being shot down on D-Day was laid to rest this weekend at the Normandy American Cemetery in Colleville-sur-Mer, France.
Family members of William J. McGowan were present at Saturday's interment ceremony and participated in the placement of a bronze rosette on the cemetery's Walls of the Missing, indicating that he is now accounted for.
"When we were asked where we wanted the final resting place of our uncle to be, we did not hesitate," McGowan's nephew, Paul Stouffer, told the American Battle Monuments Commission regarding the choice of the American burial ground in Normandy.
On the momentous day of June 6, 1944, McGowan was a 23-year-old second lieutenant in the 391st Fighter Squadron. His P-47 Thunderbolt aircraft crashed in a field near Moon-sur-Elle, France, and burned for a full day, witnesses said subsequently.
Investigators from the American Graves Registration Command were dispatched to the area three years later and were told that the plane was embedded deep in the ground. The team removed wreckage but didn't find McGowan's remains.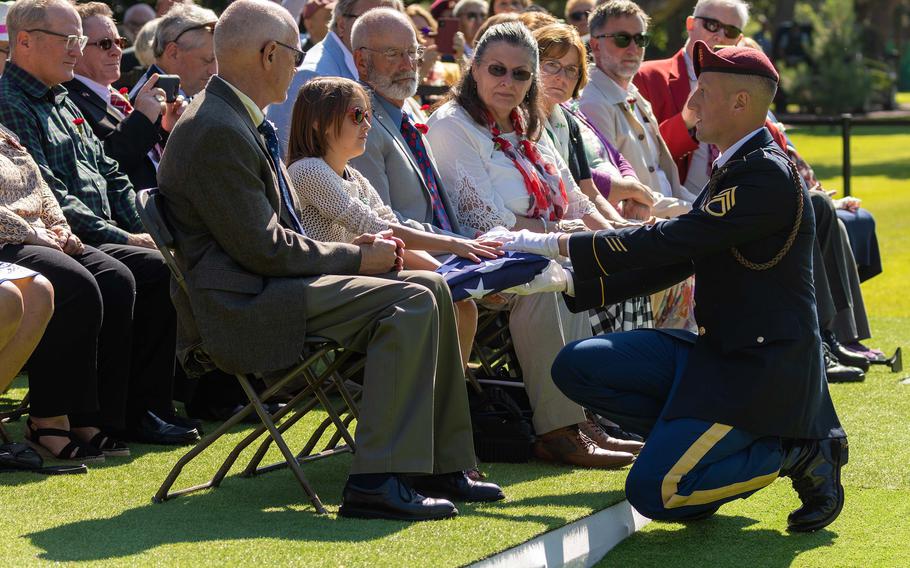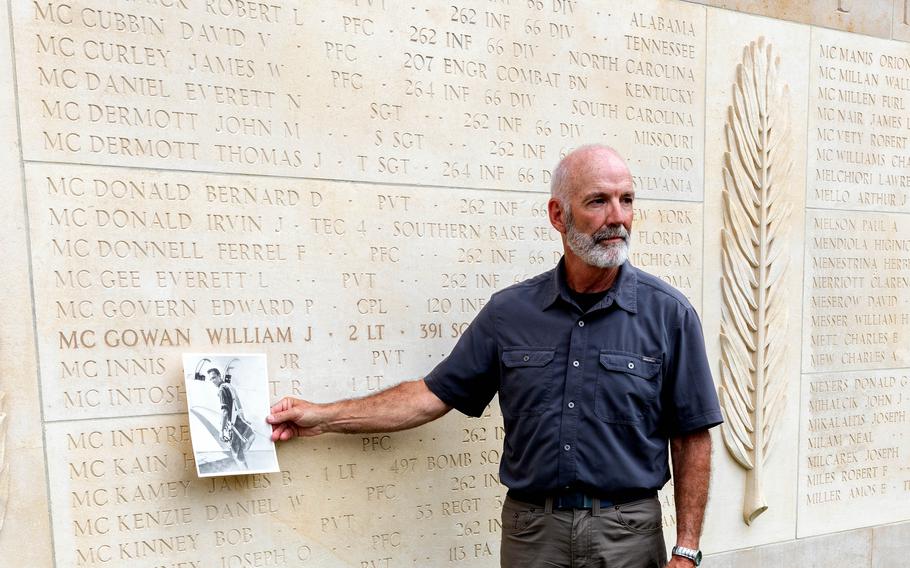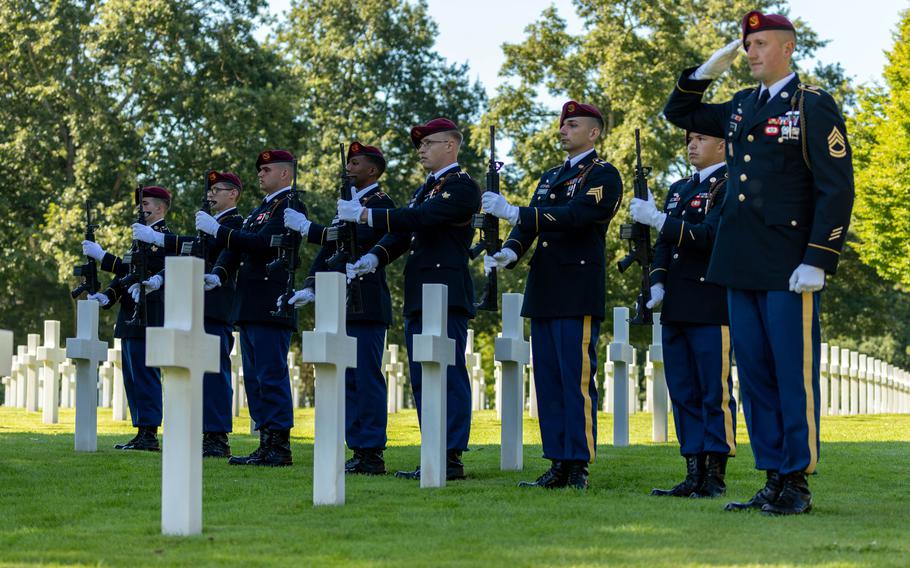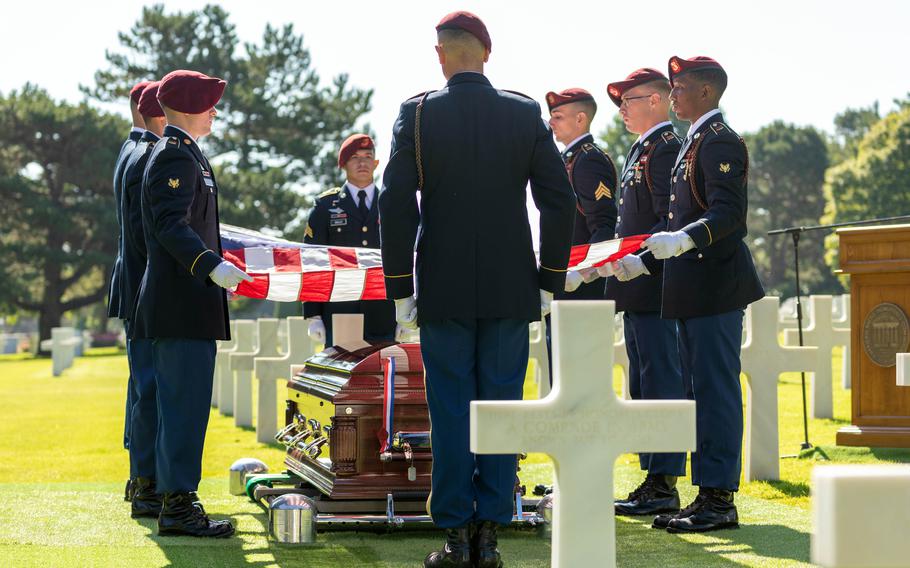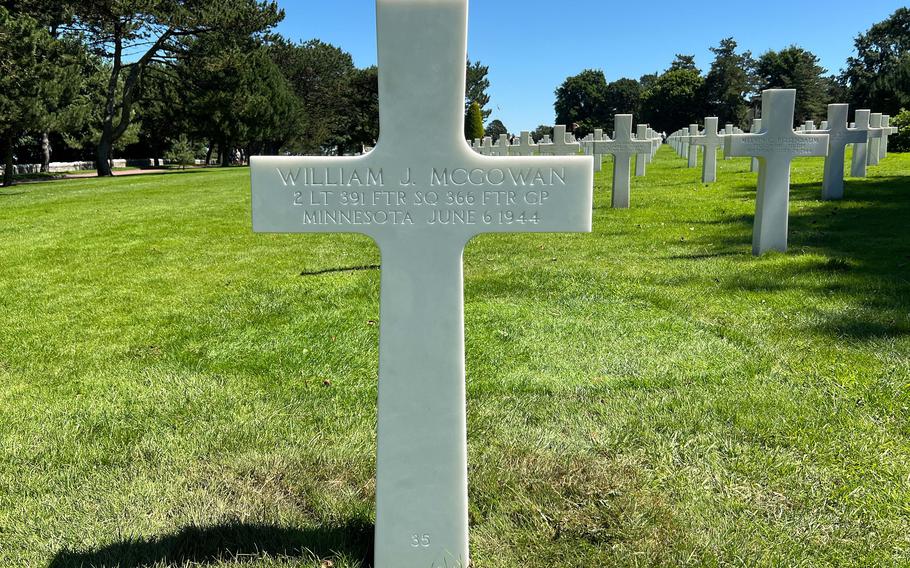 But In 2010, another investigative team traveled to Moon-sur-Elle to interview witnesses and survey the crash site. Searchers found numerous pieces of aircraft debris and recommended the site for excavation.
Eight years later, in partnership with the Defense POW/MIA Accounting Agency, the St. Mary's University forensic aviation archaeological field school in the Canadian province of Nova Scotia sent a team to excavate at Moon-sur-Elle.
Human remains uncovered by the team were sent to a lab for identification. Dental and anthropological analysis confirmed that they were McGowan's.
McGowan was a Minnesota native who studied journalism at the University of Missouri. He had worked at a news service in Madison, Wis., and served as editor of his father's newspaper before joining the military.
He was posthumously awarded the Air Medal and the Purple Heart.
"It is the American Battle Monuments Commission's mission to care for those individuals who gave their lives in service to our nation, no matter how many years have passed since they made the ultimate sacrifice," said Scott Desjardins, superintendent of the Normandy American Cemetery, said in a statement.
McGowan now joins more than 9,000 service members who are buried at the cemetery, which was dedicated in 1956.
---
---
---
---