Analysis
Ukrainian strikes against Russian vessels are more than just lucky hits
By
Stars and Stripes
May 12, 2022
---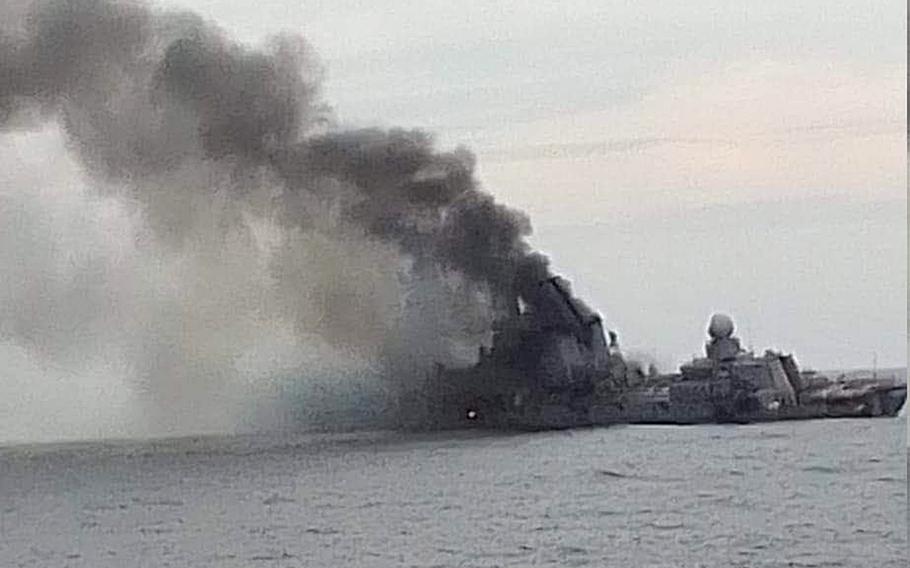 The destruction of at least eight Russian vessels in recent weeks has provided a morale boost for Ukraine, which managed to take them out despite having little naval capability of its own.
But it also points to an emerging strategic effort to break a Black Sea blockade that is strangling the Ukrainian economy.
Since March 21, Ukrainian missiles and drone attacks have damaged or sunk about four landing ships, three patrol boats and the cruiser Moskva, the Black Sea Fleet flagship, which sank in April, according to Ukrainian defense ministry announcements and data aggregated by the Istanbul-based ship blog Turkishnavy.net.
All told, Russia has lost about 13 vessels since it launched its full-scale invasion of Ukraine on Feb. 24, the Ukrainian Defense Ministry stated Thursday.
The attacks can't be attributed to dumb luck or simple and opportunistic hits, said Bryan Clark, a senior fellow and director of the Hudson Institute's Center for Defense Concepts and Technology.
The U.S. provided intelligence helpful in the sinking of the Moskva, the Washington Post reported May 5. However, some analysts say that assistance confirmed information Ukraine already had about the ship's location.
The sinking of one landing ship and the damage inflicted on two others in port at Berdyansk on the Sea of Azov in late March heightened Russia's concerns about the vulnerability of its ships and pushed them farther out to sea, Clark said.
The loss of the Moskva, which was about 60 miles offshore, reinforced those concerns. And the attacks on patrol boats, which are what is left to enforce the blockade closer to shore, may further loosen the Kremlin's grip on Ukraine's economy, he said.
"They are taking this very stepwise approach to push Russian naval forces further and further back in an attempt to get the blockade to essentially be lifted," Clark said. "Because that's the goal, to restart the economy."
On Saturday, Ukrainian attacks on Russian forces at Snake Island destroyed a landing ship, the Ukrainian Defense Ministry said.
Those strikes are likely aimed at destabilizing Moscow's control of the Black Sea outcropping near the Danube River delta, said Dmitry Gorenburg, a senior research scientist at the Arlington, Va.-based think tank CNA.
In the opening days of the war, Russian forces quickly overwhelmed Ukrainian guards to seize the now-famous island, which is about 70 miles south of Odesa. Russia also established a blockade, shutting down sea lanes to and from Ukraine.
Russia can effectively manage its blockade without Snake Island, Gorenburg said.
But in a postwar environment, the island could further Russian goals to control access to the northwestern Black Sea, protect Crimea and potentially undermine confidence in commercial shipping to and from Romania and Bulgaria, analysts say.
"If (the Russians) were to give Snake Island up, the concern would be that Ukraine puts a bunch of Neptune missiles on it and turns it into … this outpost where they can basically deny access to the parts of the Black Sea Russia cares about," Clark said. "(Ukraine) could deny access to Crimea almost if you put Neptune missile launchers on Snake Island."
Clark said Ukrainian attacks on the island appear to be an effort to isolate Russian troops and prevent the ability to sustain or resupply them. He characterized the attacks as too small to be a serious effort to reestablish control over the 42-acre island.
On Tuesday, the Russian Defense Ministry said its forces had repelled Ukraine's efforts to regain the island, the Russian state news agency Tass reported.
Gorenburg said it's important to put Ukrainian strikes on Russian ships in perspective of the Black Sea Fleet's overall size and capability.
Even though Russia has lost some vessels, about 20 of its ships and submarines remained in the Black Sea operational zone, the British Defense Ministry tweeted April 28.
"Despite the embarrassing losses of the landing ship Saratov and cruiser Moskva, Russia's Black Sea Fleet retains the ability to strike Ukrainian and coastal targets," it said.
Russia also has destroyed or seized numerous Ukrainian military vessels, including 10 taken in Berdyansk on March 14, according to Turkishnavy.net.
Those losses combined with fears of Russian submarines lurking in the Black Sea have kept what remains of the Ukrainian navy bottled up in port.
Despite the destruction of Russian ships, the Kremlin is unlikely to change its naval strategy of enforcing its blockade and launching occasional cruise missiles to threaten the parts of Ukraine its land forces can't reach, Gorenburg said.
"The main missions that the Russian navy has been performing in the war, they can continue to perform," he said. "But they have to be more careful, and there is a higher level of risk than they probably thought a month ago."
---
---
---
---