National Guard soldiers work again with Ukrainian troops they trained before Russian invasion
By
Stars and Stripes
April 29, 2022
---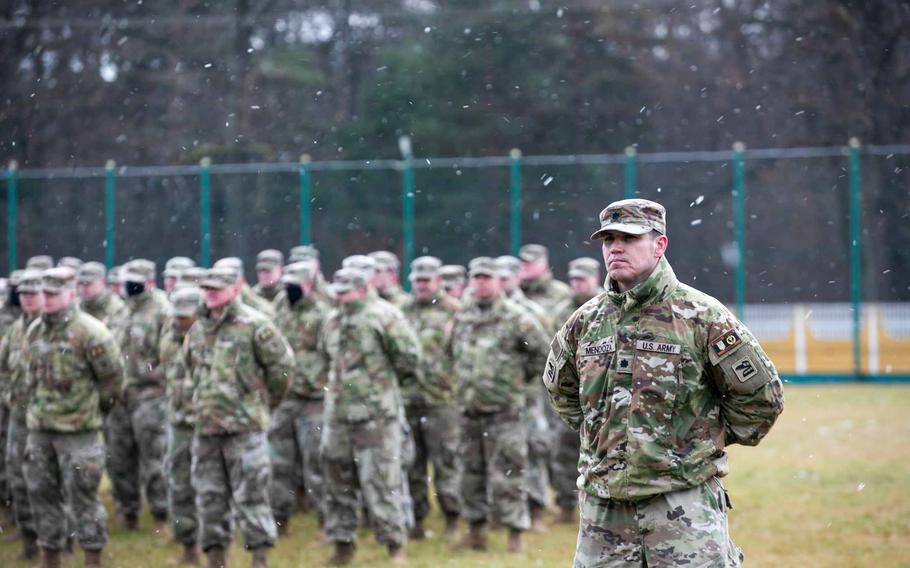 WASHINGTON – Florida National Guard soldiers who trained troops in Ukraine before Russia's invasion are now training Ukrainian forces again outside the war-torn country, chief Pentagon spokesman John Kirby said Friday.
"The United States has commenced training with the Ukrainian armed forces on key systems at U.S. military installations in Germany," Kirby said. "This new training effort … is in direct support of recent U.S. security assistance packages."
About 160 of the Army National Guard troops deployed in December to Ukraine for a training mission before they were pulled out of the country Feb. 12 as Russia prepared to launch its invasion less than two weeks later.
The U.S. troops were sent to an undisclosed location in Europe, but recently had a sentimental reunion with the Ukrainians they had once trained, Kirby told reporters at the Pentagon.
"The recent reunion now of these Florida National Guard members with their Ukrainian colleagues we are told was an emotional meeting, given the strong bonds that were formed as they were living and working together before temporarily parting ways in February," he said.
For now, there are no plans to return to training forces inside Ukraine as President Joe Biden has said he will not send U.S. troops into the country, but the Pentagon is considering remote training for Ukrainian troops there.
"The trainers would be obviously outside Ukraine, but able to communicate with Ukrainian troops inside Ukraine virtually," Kirby said. "So that's an option available to us [but it] hasn't started."
The Florida National Guard troops are still deployed on their original December orders, he said. There has been no decision made on whether their deployment will be extended.
'Useful and constructive'
Training is necessary because Ukrainian forces are unfamiliar with some of the weapons that the U.S. sent Ukraine, such as the 90 155mm howitzers included in recent back-to-back $800 million military aid packages, Kirby said.
"These efforts build on the initial artillery training that Ukraine's forces already have received elsewhere, and also includes training on the radar systems and armored vehicles that have been recently announced as part of security assistance packages," he said.
Canadian forces are also training Ukrainian troops on the M777 howitzer, Canadian Defense Minister Anita Anand confirmed during a news conference Thursday at the Pentagon with Defense Secretary Lloyd Austin.
Two groups of 50 Ukrainian troops are undergoing howitzer training – one in Germany and one in an undisclosed European country, Kirby said.
"We want to make it's not only useful and constructive for Ukrainians, but … not so time-consuming that it takes them out of their fight for too long," he said. "These soldiers are eager to learn these new skills, but they're also eager to apply those new skills in the conflict."
The U.S. earlier this year trained Ukrainian forces on Switchblade drones, commonly called "kamikaze drones" for their ability to fly into a target and launch explosives, the Pentagon has said.
Russia's assault slows
The training comes as Russia's renewed offensive in eastern Ukraine creeps along, a senior U.S. defense official said Friday.
"Because of this slow and uneven progress – again without perfect knowledge of every aspect of the Russian plan – we do believe and assess that [Russian forces] are behind schedule in what they were trying to accomplish in the Donbas [region]," said the official who spoke on condition of anonymity.
Russian forces have made "some incremental, uneven and slow advances" southeast and southwest of Izyum in eastern Ukraine, the official said. The U.S. believes Russia wants to close in on Ukrainians from the east, north and south but have failed to encircle them, so far.
"They have not been able to link the north [line of advance] with the south," the official said. "In fact, they're nowhere close to linking the north and south as the Ukrainians continue to push back."
Still, Russia continues its onslaught in eastern Ukraine, targeting most of their airstrikes on Mariupol in the south and on a Ukrainian operations area near the Donbas, the official said.
Most of those munitions have been "dumb bombs," meaning not precision-guided, which are known to cause more damage to civilian infrastructure, the official said.
Most of Russia's airstrikes are launched from outside Ukraine and the aircraft return to Russia afterward because the airspace above Ukraine remains contested, the official said Thursday.
"It's not like the Russians own every airfield in Ukraine and are using it – that's not the case," the official said. The Ukrainians still are operating their air forces and their missile defense systems inside the country."
As of Friday, Russia has launched 1,950 missiles since the start of the war, the official said.
---
---
---
---