Florida National Guard unit preps Ukraine's 'tough and skilled hombres' for Russian attack
By
McClatchy Washington Bureau
February 10, 2022
---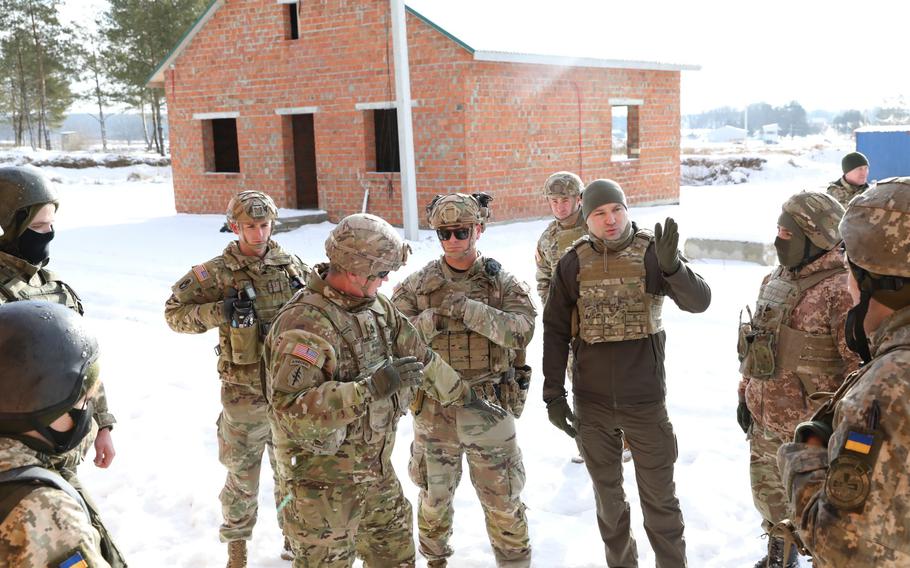 (Tribune News Service) — In far west Ukraine near the border with Poland, at an Allied training center, there is a watering hole known as the "Swamp" — a small piece of home for roughly 150 members of the Florida Army National Guard who are gearing the Ukrainian military to protect itself.
The deployment of the Guard's 53rd Infantry Brigade Combat Team, known as Task Force Gator, began in November last year with a hand-off ceremony from the Washington Guard under an early snow. As winter has deepened, Task Force Gator has adapted to the local climate with polar plunges during the Eastern Christian Epiphany last month and by training Ukrainian forces clad in their snow and dirt camouflage.
Task Force Gator is the 11th deployment of U.S. forces to this training center, called Joint Multinational Training Group-Ukraine, or JMTG-U, since then-President Barack Obama initiated the program in 2015 in the aftermath of Russia's invasion and annexation of Crimea. But the timing of the Florida deployment, as Russia amasses tens of thousands of troops on Ukraine's borders for a potential large-scale invasion, puts the troops more at risk than any task force before them.
Russia's buildup of forces encircling Ukraine to its east, north and south, including with the deployment of troops and equipment to Belarus north of western Ukraine, began in early November and has not stopped. Over 130,000 Russian troops have been forward stationed — roughly a third of all battalion tactical groups in the Russian army — and U.S. officials say they are positioned to invade at any moment now that the ground has frozen north of Kyiv.
Defense officials told McClatchy and the Miami Herald that the mission of Task Force Gator "has not changed" despite this threat. But the Pentagon has strongly indicated that the task force would be evacuated at the earliest sign of a Russian incursion.
The Florida deployment makes up the majority of U.S. forces in Ukraine, alongside an unspecified number of special forces with Special Operations Command Europe.
Their base at Yavoriv is just a half-hour drive from the Polish border.
"We are in constant communication with their chain of command, certainly with General Wolters, about his assessment of what's going on the ground," Pentagon spokesman John Kirby told reporters in January, referring to Gen. Tod D. Wolters, commander of the U.S. European Command. "Their safety and security is going to be a chief concern for [Secretary of Defense Lloyd Austin]. And we're going to take their protection and their safety very seriously."
The Pentagon in recent days deployed a "multi-mission force" of 1,700 troops to Poland that could help facilitate an evacuation of U.S. citizens from Ukraine if Russia moves in. A defense official would not say whether Task Force Gator might stay behind to help with that mission if it becomes necessary.
"The Department of Defense continues to take prudent steps to enable the secretary to provide a range of options to the president, in support of the broader U.S. approach to the security situation in Europe," said Marine Corps Lt. Col. Anton Semelroth, a Pentagon spokesman.
The Florida deployment has been training Ukrainian forces in reconnaissance, on shoulder-fired weapons systems with bunker-busting munitions that can pierce hardened structures or lightly armored vehicles, and on how to prepare their less experienced fighters who have never handled a rifle before.
"This initiative contributes to Ukraine's internal defense capabilities and training capacity while providing realistic training under a NATO interoperable framework," Semelroth said. "JMTG-U supports the long-term U.S. policy of supporting the professional development and defensive capacity of Ukraine's forces. The mission adjusts in size, scope, and scenario as the Ukrainian Armed Forces progress through the development plan."
Lacey Justinger, a deputy public affairs officer with the 7th Army Training Command based in Germany, said that Task Force Gator is also instructing Ukrainian Army leaders about the "NATO military decision-making process" and other troop leader procedures.
"The soldiers at JMTG-U partner with and mentor the Ukrainian Armed Forces cadre who lead the training of Ukrainian troops at the brigade level, assist in the development and enhancement of ranges and training areas," Justinger said. "This day-to-day mission has not changed since TF Gator's arrival in November."
The Pentagon refused to allow direct in-person or remote access to members of Task Force Gator. But social media posts by the training group offer insight into their mission and routine.
Throughout the center, flags of NATO and allied nations hang alongside military banners and maps of Europe, Ukraine and the active conflict zone in the eastern region of Donbas. Soldiers from the United States and partner armies share time at the gun range, and earlier this month launched a joint sports league that for the first time pits partner nations against one another.
On Christmas Eve, when Russia's buildup was still under 100,000 troops, the Ukrainian military band surprised its allies with a concert in the center's cafeteria. The defense secretary called in the day before to check in on the troops and wish them happy holidays.
And as U.S., NATO and European Union diplomats conducted a flurry of high-stakes negotiations with their Russian counterparts in early February, Staff Sgt. David Blackwell helped lead training sessions on the M141 bunker buster — weapons that were provided to Ukraine by the United States just last month.
Many in the Ukrainian Armed Forces that have fought Russian-backed separatists in eastern Ukraine for the past eight years were "quick studies," one Facebook post reads. They are "incredibly competent," Blackwell said, "and their previous experience enables for a smooth training experience."
One deployed soldier with Task Force Gator, who was not authorized to speak to the press, commented on Facebook on the M141 training sessions with Ukrainian forces.
"Tough and skilled hombres," he wrote. "The Armed Forces of Ukraine get a vote in the direction of their future."
©2022 McClatchy Washington Bureau.
Visit mcclatchydc.com.
Distributed by Tribune Content Agency, LLC.
---
---
---
---