Italians roll back portions of country's indoor mask wear mandate
By
Stars and Stripes
April 28, 2022
---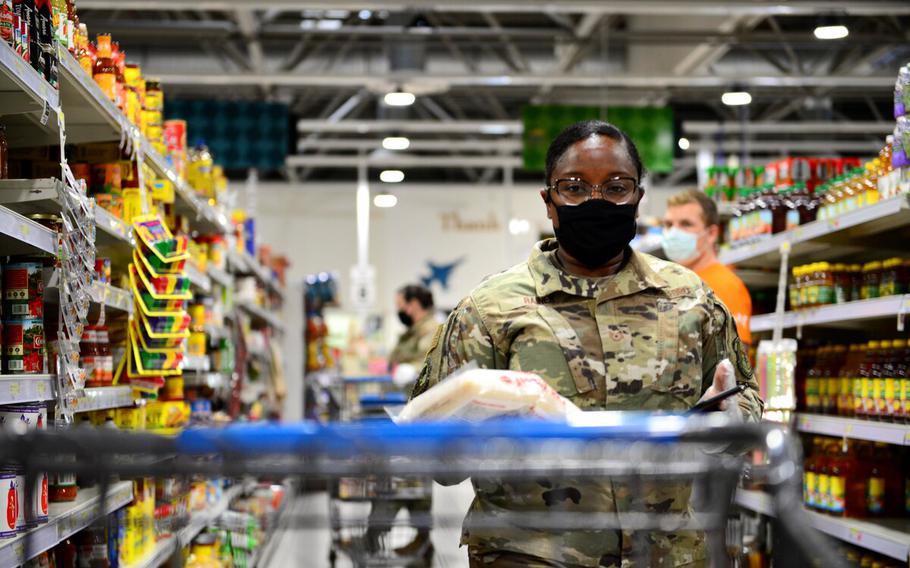 Stars and Stripes is making stories on the coronavirus pandemic available free of charge. See more stories here. Sign up for our daily coronavirus newsletter here. Please support our journalism with a subscription.
Updated at 9:26 a.m. CET, May 4, 2022
Italy will jettison its mandate on face masks in shops and the workplace starting this weekend, but it stepped back from a full cancellation of the requirement amid a rise in COVID-19 infections.
As of Sunday, people won't need a mask to visit grocery stores and other retailers. Masks also won't be required in the workplace or public offices but are recommended, the Italian newspaper Corriere della Sera reported Thursday. Companies can still mandate them, however.
On local and long-distance public transportation, such as buses and trains, masks will be required until June 15. The same rules apply for indoor entertainment venues, such as movie theaters, concert halls and enclosed sports arenas, Corriere della Sera reported.
Hospitals and health care facilities also require masks. They will be compulsory in schools until the end of the school year, according to Corriere della Sera, which cited Italian Health Ministry officials.
On Monday, Naval Support Activity Naples and Naval Air Station Sigonella in Sicily each stated on Facebook that indoor mask-wearing on base no longer was required, but still recommended in areas such as the post office, bank, the Navy Exchange, commissary, gym and barbershop. They also were no longer needed for religious services and activities, the posts stated.
However, masks still would be required at schools and on the school bus until the end the school year. A N95 mask or equivalent is necessary on public transportation and at the hospital, movie theater and similar venues, according to the posts.
They also would be required in workspaces if three feet of distance could not be maintained or a physical barrier, such as plexiglass, was not present. Supervisors could adjust the policy based on need. The bases promised to keep their communities updated of any changes.
Earlier this month and independent of Thursday's government announcement, Sigonella lowered its health protection condition levels and restored some child care services that were suspended during the pandemic.
Naval Station Rota in Spain also lowered its HPCON status following changes in Spain's mitigation requirements.
However, commands are emphasizing that COVID-19 isn't over, and they continue to point out the risk of infection. On Wednesday, the Italian Health Ministry reported 186 coronavirus deaths and 87,940 new cases of the disease.
And with an infection rate on the rise over the past few weeks, the Italian government was hesitant to completely strip away the indoor face mask requirement.
From April 20 to April 26, there were 22.7% more COVID-19 cases than during the previous week, the Italian news service Ansa reported Thursday.
Surgical masks are acceptable at schools and in hospitals. But an N95 or equivalent is needed on public transportation and at movie theaters, indoor sports arenas and similar venues, Corriere della Sera reported Tuesday.  
Furthermore, people won't need a green pass anymore to enter the workplace, public offices, restaurants, cafes, bars, gyms, movie theaters or most other places. The pass indicates vaccination status or confirms that a person has recovered from or tested negative for the virus.
Under a decree passed in March, the indoor mask mandate was slated to end May 1, but health officials in recent weeks had lobbied to keep the rule in place.
U.S. military commands in Italy are advising members of their communities to continue taking preventive measures, such as wearing a mask when needed, washing hands and getting a vaccine or a booster shot.
They also recommend that people get test kits being offered by the government and stay home if they feel sick.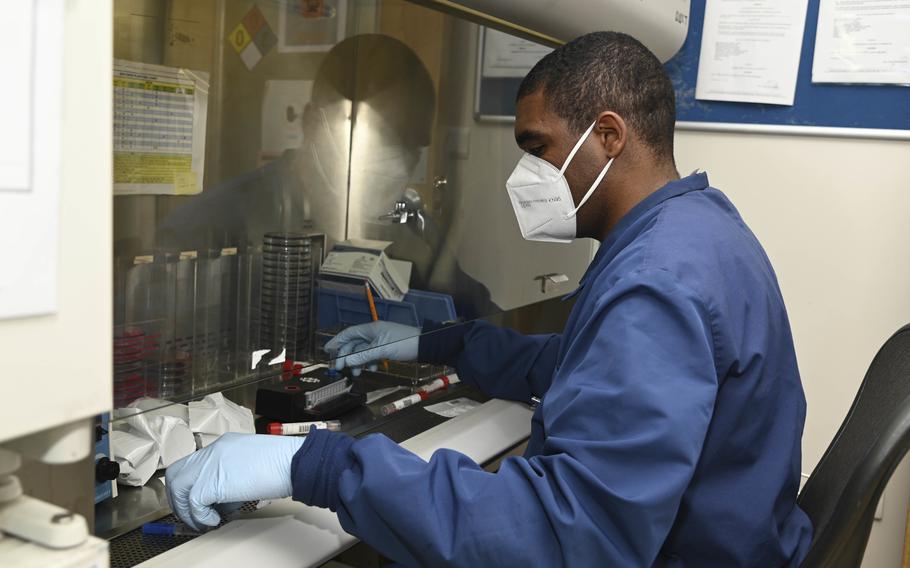 Naval hospitals at Sigonella and the U.S. installation in Naples are offering COVID-19 antiviral medications and second booster shots to people who qualify in accordance with a White House initiative, Defense Health Agency officials said earlier this month.
At Navy installations elsewhere in Europe, Naval Support Activity Souda Bay is offering second boosters to those who qualify. But because the clinic is a small, remote facility with limited capabilities, it isn't prescribing antiviral treatments.
Patients with moderate to severe COVID-19 symptoms are being directed to seek treatment at a Greek hospital, the DHA said.
It was unclear whether Naval Station Rota in Spain is offering antiviral medication, but the hospital is offering second booster shots, according to its Facebook page.
On April 20, Spain announced that masks are no longer required indoors except on public transportation and in pharmacies, hospitals and health care centers. The base quickly announced that the rule changes applied to its facilities.
But officials also cautioned people not to throw away their masks just yet.
"While I would enjoy declaring the end of 'the duration,' the fact is that the virus still could mutate into something more dangerous," Capt. David Baird, the base's commanding officer, said in an April 19 Facebook post announcing the changes. "Please enjoy this time, recharge from a long two years, and restore your resiliency in case we need to mitigate new risks in the future."
---
---
---
---