What to know about Ukraine's Lviv, the relative haven where strikes killed 7 people
By
The Washington Post
April 18, 2022
---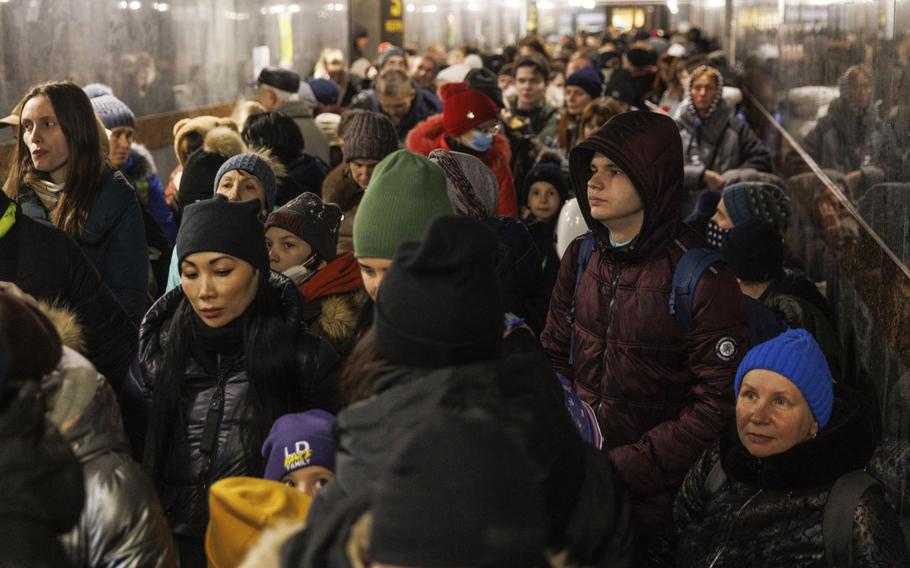 Ukrainian officials say seven people were killed Monday when apparent Russian airstrikes struck Lviv — the largest city in western Ukraine and one that has been spared the worst of the war's violence.
The attack marked the first deaths in the city itself, but in March, when two Russian missiles struck Lviv, alarm bells went off — in part because at the time, President Joe Biden was some 250 miles away on a visit to Poland.
In the nearly two months since Russia invaded Ukraine, the relatively safe city near the Polish border has been transformed into a hub for diplomats and international aid agencies. It's become a destination for many of the millions of Ukrainians displaced from their homes and a transit point for many of the roughly 4.5 million Ukrainians, mainly women and children, made refugees by the war.
Lviv Mayor Andriy Sadovyi said the March 26 strikes were Russian President Vladimir Putin's attempt "to say hello" to Biden, who hours later forcefully condemned Putin in an address from Warsaw, Poland's capital.
As the assault on Ukraine grinds on, here's what to know about Lviv, the city that's become a pillar of support and refuge for a country at war.
Q: Why is Lviv historically important to Ukraine?
A: Lviv, today some 40 miles from the Polish border, has been an epicenter of Ukrainian nationalism and culture.
"Kyiv is the heart of Ukraine and Lviv is the soul," Sadovyi told The Washington Post in mid-February.
The city was officially founded in 1256 and has changed hands many times since. Modern-day Lviv has maintained some medieval, baroque, Renaissance and classical architecture. Lviv's old town has been named a United Nations Educational, Scientific and Cultural Organization (UNESCO) World Heritage Site.
Despite its shifting rulers over the centuries, Lviv developed a reputation as a multicultural city with deep Ukrainian roots. Lviv began the 20th century in the Galicia region of Poland, which was then part of the Austro-Hungarian Empire. After World War I and the empire's dissolution, Lviv returned to Polish rule only to be incorporated into the Soviet Union during World War II, when it was also briefly conquered by Nazi Germany. Before World War II, about one-third of the city's population was Jewish, and it was also an epicenter of Orthodox churches. Throughout these periods, the city maintained ties with Ukrainian nationalist and intellectual movements.
When the Soviet Union fell in 1991, Lviv became a part of an independent Ukraine. Now western Ukraine's largest city, it also absorbed many Ukrainians displaced from their homes in the east after war broke out between Kyiv and Moscow and its allies in 2014.
Q: What happened in Lviv leading up to Russia's invasion?
A: In the weeks before Russia's invasion, Ukrainian President Volodymyr Zelensky sought to downplay the prospect of war. But some Ukrainians and international workers started relocating to Lviv anyway as a precaution.
As momentum toward war grew in February, the United States temporarily moved its embassy to Lviv for "the safety of our staff," Secretary of State Antony Blinken said in a Feb. 14 announcement. A handful of other embassies did the same.
Zelensky criticized the move as adding to the drumbeat of war. He warned, perhaps now presciently, that if war did break out, "it will be everywhere."
"You cannot be away from the escalation or problems in five, six hours," he said, referencing the time it then took to drive from Kyiv to Lviv. Now the trip, if one can make it, is hours longer and precarious.
Many countries, including the United States, have since removed diplomatic staff.
Q: What has Lviv been like since war broke out?
A: While hundreds of Russian missiles have fallen on other Ukrainian cities, Lviv has been hit just twice so far. The first time was March 18, when Russian missiles struck an area near Lviv's airport, about four miles from the city center. The second was on March 26, when Russia said it targeted military sites using both long-range and high-precision missiles. Lviv's mayor said a fuel storage facility was destroyed.
Life in Lviv has been upended in countless ways as it went from being a hub for tourism to one for the displaced.
For weeks, Lviv's train station has been filled with packed trains arriving and people looking for tickets out of Ukraine or a connection to elsewhere in the western part of the country. Hotels, restaurants and residents opened their doors to offer free rooms or food to the war-weary arrivals.
Across the city, Ukrainians have quickly mobilized, turning everything from homes to museums into humanitarian command centers for organizing evacuations, donations and emergency aid. Others have focused on connecting the displaced with food, shelter, clothes, medical care and child care. Still others have seized the opportunity to combat Russian disinformation online. Long-term accommodations in the city are full.
---
---
---
---