Civilian group with US military links raising money to supply Ukrainian fighters
By
Stars and Stripes
March 30, 2022
---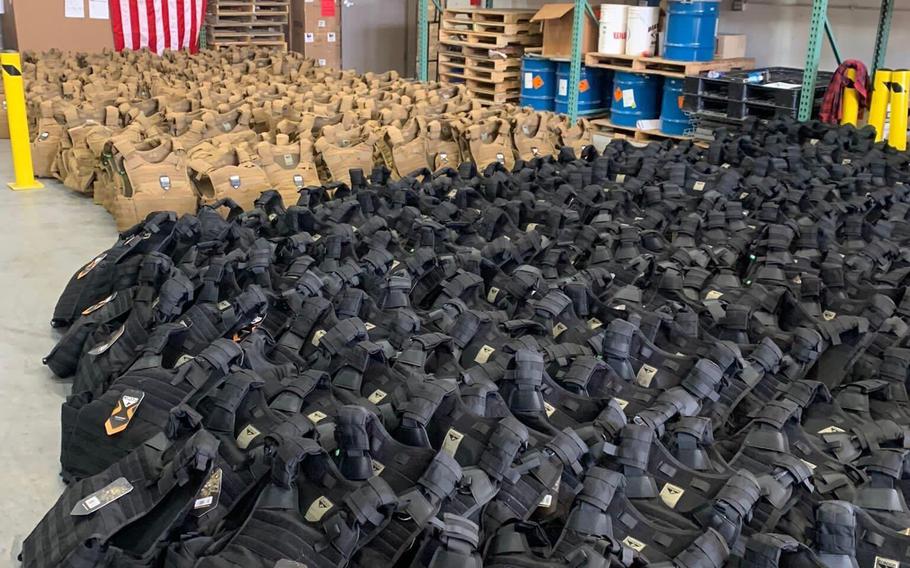 A nonprofit group with close ties to the U.S. military is seeking to raise $100 million to get life-saving equipment and supplies to the front lines in Ukraine, where body armor, helmets and food rations are in high demand.
"It is need-driven, and this is what the people on the ground are telling us they need," said Jim Hake, chief executive officer of Spirit of America, a group that works in tandem with U.S. forces on the ground in Poland.
The organization, which so far has raised $14 million to support Ukrainian fighters, has already sent in two chartered planes loaded with supplies, he said. 
So far, 33,000 meals, ready-to-eat and 3,200 sets of body armor and helmets have been flown into Poland for onward movement to Ukraine. Other gear includes satellite phones and communication equipment, first aid kits, binoculars and even earplugs.
For security reasons, Hake declined to detail the logistics of getting the supplies into Ukraine. The goal is to send in similar flights every 10 days on a continuous basis, but to make that happen, more donations will be needed, he said.
"The immediate impact of the assistance is that it is helping to save lives and help (Ukrainian troops) defend their country," he said. "To have this kind of equipment is essential."
Hake launched Spirit of America in 2003, inspired by a segment he saw on the National Geographic channel that featured U.S. special operations troops in Afghanistan who had launched their own grassroots fundraising effort to help residents of a village in which they were working.
"I was sure there were men in women in other parts of the world who wanted to do the exact same thing if there was a way for them to offer support," Hake said.
Unlike many other aid organizations, Spirit of America describes itself as "not neutral" and works in sync with the U.S. military. Hake said it is the only nonprofit authorized by Congress and the Defense Department to work alongside deployed U.S. troops.
To date, the group, which is funded through private donations, has launched about 1,500 projects in 94 countries.
The current campaign in Ukraine isn't the group's first involvement there. In 2015, Hake's team launched a radio station for Ukrainian troops facing a Russian disinformation campaign while they fought Kremlin-backed separatists in Ukraine's east.
At the time, Ukrainian troops were being bombarded with Russian propaganda, which came in many forms, including direct phone calls and text messages, Hake said.
 "They were operating in an information vacuum," Hake said. 
Meanwhile, the effort to better equip Ukrainian fighters is picking up steam, he said.
"When you can do that with the right velocity and scale, it increases the impact," Hake said. "It creates momentum for the good guys."  
Information about the Ukraine effort can be found at www.spiritofamerica.org.
---
---
---
---