Marine Corps identifies service members killed in Norway Osprey crash 
By
Stars and Stripes
March 21, 2022
---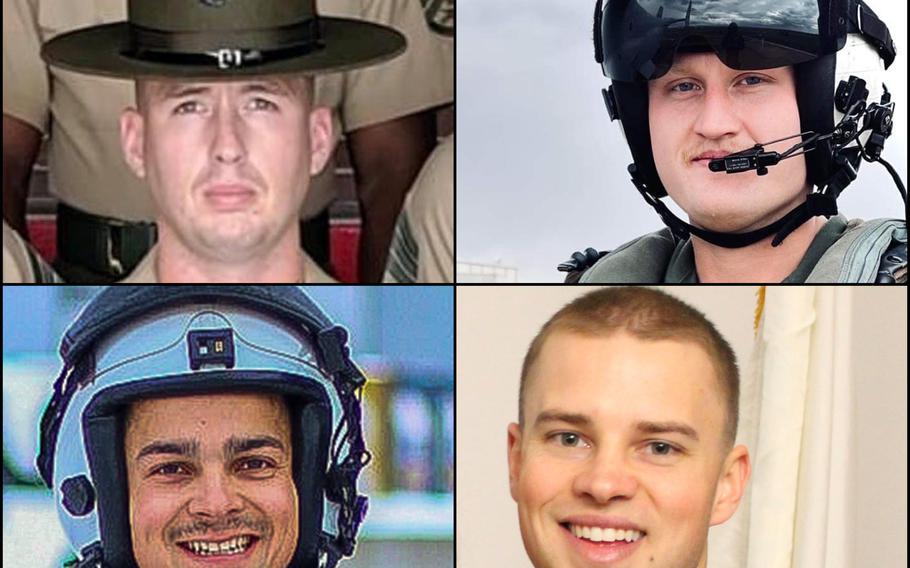 EVENES, Norway — Loved ones and leaders on Monday remembered the four Marines who died following an aircraft crash in northern Norway for their commitment to their military service and their families.
Capt. Matthew J. Tomkiewicz, 27; Capt. Ross A. Reynolds; 27, Gunnery Sgt. James W. Speedy; 30; and Cpl. Jacob M. Moore, 24, died when their MV-22B Osprey crashed south of Bodoe on Friday, the Marine Corps said in a statement Monday.
All four were assigned to Marine Medium Tiltrotor Squadron 261, Marine Aircraft Group 26, 2nd Marine Aircraft Wing at Marine Corps Air Station New River, N.C., the statement said.
U.S. and Norwegian officials are still investigating what caused the Osprey to crash. There had been severe weather warnings in the region at the time.
"The pilots and crew were committed to accomplishing their mission and serving a cause greater than themselves," Maj. Gen. Michael Cederholm, commander of the Marine Aircraft Wing, said in a letter to the Marines' families.
The deceased are expected to be flown back to their families through dignified transfer in the coming days.
"We will continue to execute the mission while keeping these Marines and their service on the forefront of our minds," Cederholm said. "We will never allow these Marines' sacrifice to go unnoticed or unappreciated."
The four Marines were among some 30,000 NATO and partner nation troops participating in Exercise Cold Response, which includes land, sea and air drills and is scheduled to run until the beginning of April.
Their Osprey was scheduled to arrive in Bodoe at 6 p.m. Friday, according to a Norwegian armed forces statement. A missing persons report was received at about 6:30 p.m. and rescue aircraft were launched shortly afterward.
The crash site was discovered by air at about 9:15 p.m. the same day, but poor weather meant it couldn't be reached until 1:30 a.m. Saturday, when police arrived and confirmed the deaths, the Norwegian military said.
Marines assisted with the Norwegian-led recovery effort, while numerous NATO allies and partner nations also offered operational support during and following the incident, the Marine Corps said Monday.
Tomkiewicz, of Fort Wayne, Ind., joined the Marine Corps in 2015 and served as an MV-22B Osprey pilot. His decorations include the National Defense Service Medal, Global War on Terrorism Service Medal and Sea Service Deployment Ribbon.
Tomkiewicz is survived by his wife, Lauren, according to the Fort Wayne, Ind. newspaper The Journal Gazette.
He attended Purdue University in West Lafayette, Ind., where he joined the Marine Corps Platoon Leaders Class hoping to go to officer candidate school, with the ultimate goal of flying for the service after graduation, according to his LinkedIn page.
"We ask all Hoosiers to surround the family with love and never-ending appreciation for all Captain Tomkiewicz gave to our state and nation," Indiana Gov. Eric Holcomb said in a statement, according to The Journal Gazette.
Reynolds, of Leominster, Mass., joined the Corps in 2017.
He was remembered Monday as an active community member who was involved in Boy Scouts of America, earning the rank of Eagle Scout, and who participated in veterans' events "with [Reynolds] usually holding the flag," according to a Facebook post by Leominster Mayor Dean Mazzarella.
Reynolds and his wife, Lana, were married Feb. 9, according to a post on Lana Reynolds' Facebook page.
In a statement sent to the Boston TV station WBTS, Reynolds' family said they were devastated by the loss and trying to come to terms with his death.
"Ross was so caring, compassionate, and committed, not only to his country, but also to being the best son, brother, husband, son-in-law, nephew, cousin, uncle, brother-in-law, friend and Marine that he could be," the family said in the statement.
Speedy, of Cambridge, Ohio, had been a Marine since 2009, and served as an administrative specialist. His decorations include the Navy and Marine Corps Achievement Medal with two gold stars, the Sea Service Deployment Ribbon and the Marine Corps Drill Instructor Ribbon.
On her Facebook page, Speedy's wife, Chyanne, posted early Monday a photo of the couple with the note: "I love you so much." The couple have a daughter.
Moore, of Catlettsburg, Ky., served as an MV-22B Osprey crew chief after joining the Corps in 2018. His decorations include the Marine Corps Good Conduct Medal, the National Defense Service Medal, and the Global War on Terrorism Service Medal.
The Cold Response exercise is continuing as scheduled.
Stars and Stripes reporter Alison Bath contributed to this report.
---
---
---
---