Marine Corps Osprey goes missing during Norway military exercise
By
Stars and Stripes
March 18, 2022
---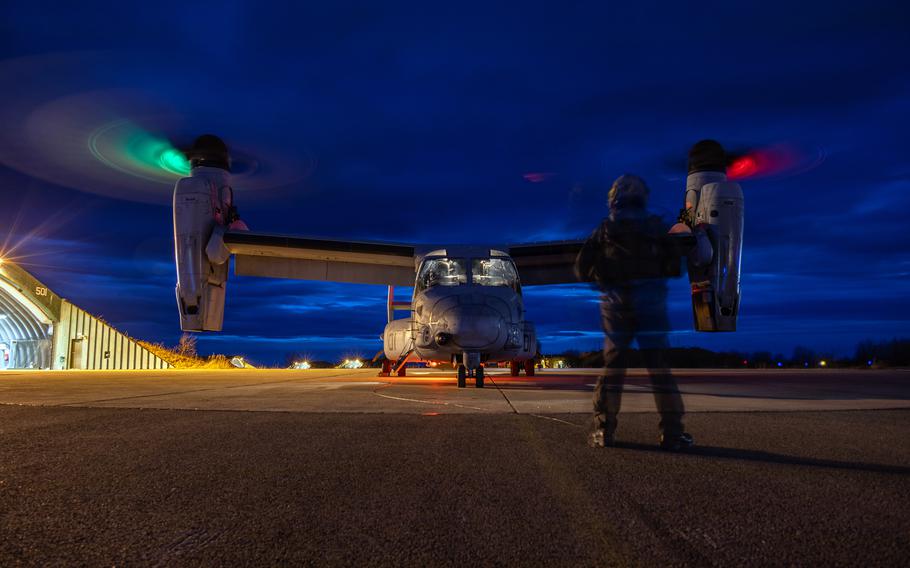 EVENES, Norway — A U.S. military plane with four people onboard went missing in northern Norway on Friday, the Norwegian military said in a statement. 
The MV-22 Osprey belongs to the Marine Corps and was participating in NATO military exercises called Cold Response, the statement said. There was bad weather at the time of the incident that was expected to get worse.
The aircraft, which was en route to Bodo Air Station, went missing shortly before 6:30 p.m. local time and a civilian rescue team immediately began a search operation, the Norwegian military said. 
"Discoveries were made from the air," just south of Bodo shortly after 9 p.m., the military said without providing more details.
The bad weather made it impossible to enter the site by air, but police and rescue crews were trying to reach the area by land, the statement said.
II Marine Expeditionary Force, the largest American military unit participating in the exercise, said it is aware of the incident and Norwegian civil authorities were leading the initial search and rescue efforts.
"We are grateful for their efforts and will assist them in the search and rescue in all manners possible," spokesman 1st Lt. Jacob M. Sugg told Stars and Stripes.
U.S. and Norwegian authorities did not reveal the nationality of those onboard the aircraft.
Several thousand Marines and sailors are among roughly 30,000 troops from 27 NATO and partner countries taking part in the Cold Response exercise, the largest of its kind since the end of the Cold War.
---
---
---
---