4 US Marines killed in Osprey crash during NATO exercise in northern Norway
By
Stars and Stripes
March 19, 2022
---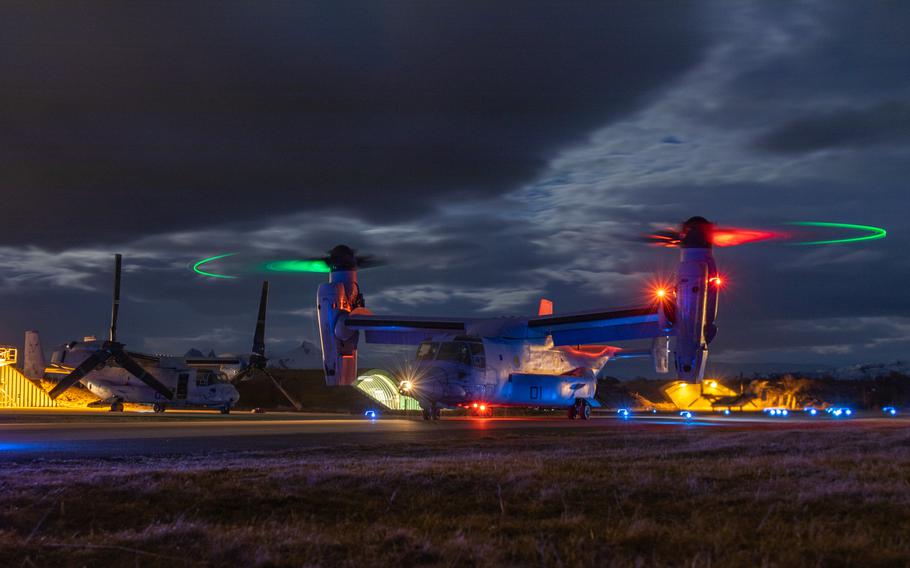 BJERKVIK, Norway — Four U.S. Marines were killed when their MV-22B Osprey crashed in northern Norway on Friday during a NATO training exercise, Norway's prime minister and Norwegian police said Saturday.
Norwegian Prime Minister Jonas Gahr Stoere posted on Twitter at about 4 a.m. Saturday that the Marines died in the crash, following initial reports of them being missing. The Marines were participating in the multinational Cold Response exercise when the Osprey crashed in Beiarn, a remote coastal area about 725 miles north of Oslo.
The four Marines were assigned to 2nd Marine Aircraft Wing, II Marine Expeditionary Force, and continue to be listed officially as missing, according to a IIMEF statement Saturday.
The Marines will not release the identities of the four service members until 24 hours after their next of kin have been notified, in keeping with Defense Department policy.
The tiltrotor Osprey aircraft was scheduled to arrive in Bodoe, about 20 miles to the north, at 6 p.m. on Friday, according to a Norwegian armed forces statement. A missing persons report was received at about 6:30 p.m. and rescue aircraft were launched shortly afterward, the Norwegian military statement said.
The crash site was discovered by air at about 9:15 p.m., but poor weather conditions initially made it impossible to reach the site, the Norwegian military said, until police arrived at 1:30 a.m. Saturday and confirmed the deaths.
The cause of the crash is under investigation by Norwegian and U.S. authorities, IIMEF said in a statement. However, there had been severe winter weather warnings throughout the region, which had caused other training events to be postponed, U.S. officials told Stars and Stripes.
"We are immensely grateful for the support of all first responders, the Norwegian Armed Forces, and Allies and partners that contributed various assets and people in the ongoing efforts," said the statement from IIMEF, which has the largest U.S. force participating in the exercise.
About 3,000 Marines and sailors are among roughly 30,000 troops from 27 NATO and partner countries taking part in Cold Response, the largest exercise of its kind held in Norway since the end of the Cold War.
The exercise, which includes land, sea and air drills, was planned several months before Russia's new invasion of Ukraine in February.
Before the exercise began Monday, Norway's military said it was important for allies to train in the Arctic should they need come to Norway's defense in any future conflict and fight in the same conditions.
The exercise will proceed despite Friday's accident, Cold Response organizers said.
"Though the nature of military service is inherently dangerous, the safety of our Marines, Sailors, Allies and partners is our top priority," the IIMEF statement said. "Our hearts go out to the families affected by these events."
---
---
---
---