Pentagon: Russia still struggles to feed troops and fuel tanks three weeks into its invasion of Ukraine
By
Stars and Stripes
March 17, 2022
---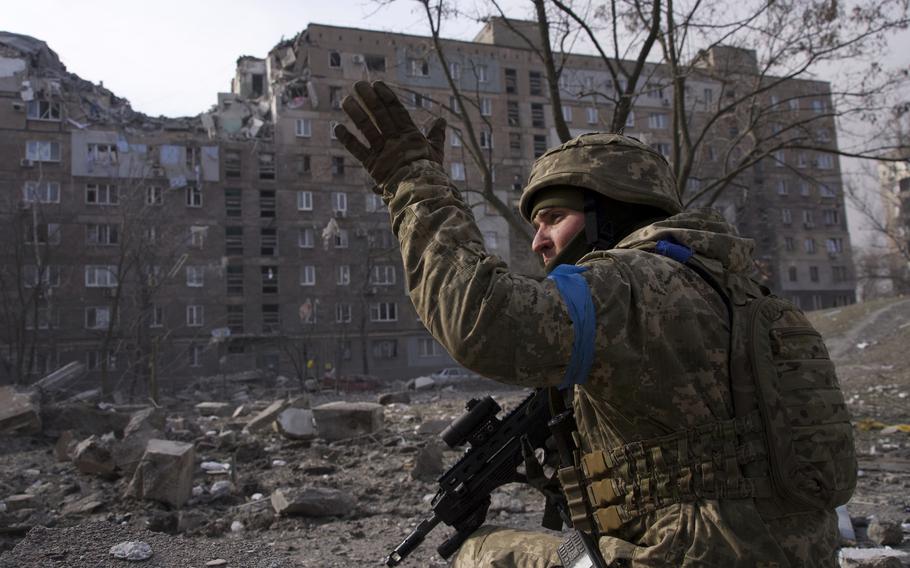 WASHINGTON — Russia is still struggling to supply its forces in Ukraine with the most basic requirements three weeks after its troops invaded the neighboring country on Feb. 24, a senior U.S. defense official said Thursday.
"They clearly were not prepared for them to be in the position they are three weeks in, basically frozen around the country on multiple lines of axes, struggling to fuel themselves and to feed their troops and to supply them with arms and ammunition [while] meeting a very determined Ukrainian resistance," the official said.
Since their war on Ukraine began, Russia's advance through the country and toward its capital city has gone slower than the U.S. believes Russian President Vladimir Putin expected, according to the official.
The initial advance of Russian forces into Ukraine was quickly stalled when they first suffered supply shortages within the invasion's first week, the official said.
"We talked back in week one about how they hadn't planned properly for logistics and sustainment, how they were struggling with fueling and even feeding their troops," the official said. "We've seen them try to overcome some of those … issues, but they're still struggling to sustain their troops in the field."
The U.S. has also seen "anecdotal indications" that Russian morale is lagging due to "poor leadership, lack of information that the troops are getting about their mission and objectives" and their surprise at "being resisted as fiercely as they have been," the official said.
The Ukraine Foreign Affairs Ministry on Thursday said Ukrainians had killed about 14,000 Russian troops and destroyed 86 jets, 108 helicopters, 444 tanks and 1,435 armored vehicles. The U.S. to date has been unable to verify the loss counts of either military.
So far, Putin has not tried to move additional supplies, equipment or forces into Ukraine since sending in the more than 170,000 troops and equipment he spent months stacking along the country's borders with Belarus and Russia, the official said.
However, the U.S. has seen some indications that Russia might be considering options to do so, the official said, calling it "noteworthy" to see a need for resupply three weeks into a war.
"We absolutely think that while [the Russians] still have the majority of their combat power available, [the fact that] they're talking about resupply and resourcing tells you that they are beginning to get concerned about longevity here," the official said.
As of Thursday, Russian forces still had not made progress toward Kyiv and remained about 18 miles east of the capital city's center, the official said. Ukrainian forces continue to control the nearby city of Brovary despite Russian assaults.
Chernihiv, about 88 miles north of Kyiv, remains isolated, as well as Mariupol in the south, where Russian forces have been launching long-range missiles for more than a week.
In southwest Ukraine, the U.S. has seen some Russian navy surface ships in the Black Sea, including a frigate, two amphibious ships and a mine-warfare ship, the official said. However, there have been no indications that an imminent amphibious assault is expected.
Though Russians remain stalled, the official said Ukraine is not a "static environment — there's a lot of fighting going on."
"The reason why they haven't been able to move forward is because [Ukrainians] are very actively resisting any movement by the Russians, so it's not like a stalemate where both sides are just going to camp out," the official said. "They are actively resisting any movement by the Russians."
Since the start of the war, Russia has launched more than 1,000 missiles at Ukraine, the official said. In recent days, the invading forces have been relying more and more on non-precision-guided munitions, known as "dumb bombs," which tend to cause more civilian casualties due to their lower target-accuracy rate.
Russia's supply problems might also have contributed to their increased use of dumb bombs, the official said.
"We think it's possible that they might be either conserving their precision-guided munitions or beginning to experience shortages," the official said.
Many civilians have already died in Ukraine as Russian forces continue to attack the country, often striking civilian infrastructure including hospitals, schools and apartment complexes.
---
---
---
---