US response to Russian invasion of Ukraine 'too timid,' former NATO commanders say, endorsing 'humanitarian no-fly zone'
By
Stars and Stripes
March 16, 2022
---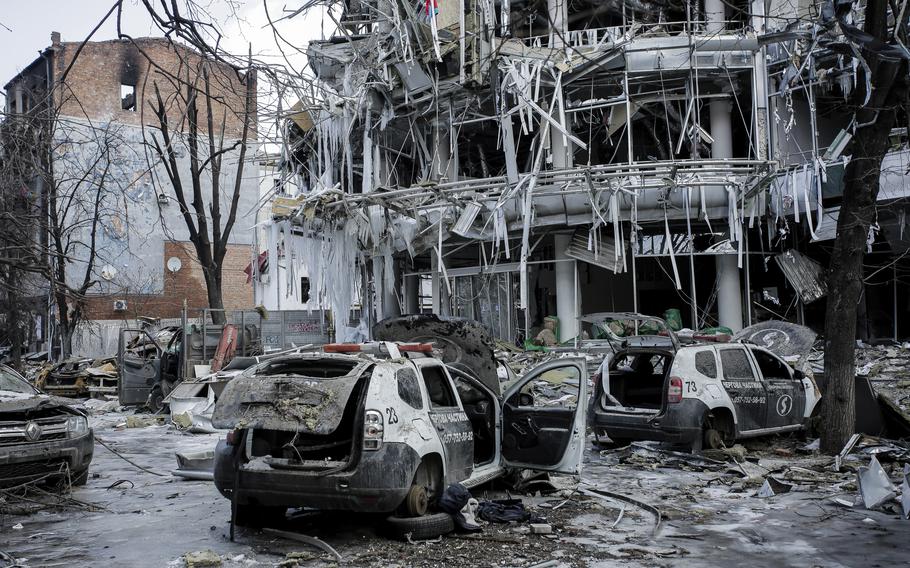 The United States should do more to support Ukraine as Russia's invasion of its western neighbor enters a fourth week, four retired U.S. generals who each served as NATO's top commander in Europe said Wednesday.
The former supreme allied commanders for Europe also endorsed the establishment of a limited airlift or no-fly zone mission over Ukraine strictly for humanitarian purposes. They warned an audience with the Washington think tank Center for Strategic and International Studies that without further American or NATO intervention in Ukraine, Russian President Vladimir Putin might be emboldened to turn his forces farther west.
"I think we've been far too timid on the support that we are giving to the Ukrainians," retired Air Force Gen. Joseph Ralston, who served as NATO's SAC-Europe from 2000 to 2003, told the think tank panel Wednesday. "If we don't stand up, [Putin] is going to get worse. This is not going to stop with Ukraine. He's going to go on to … NATO countries, and that is a problem."
Ralston spoke alongside his direct predecessor as SAC-Europe, retired Army Gen. Wesley Clark, his direct successor, retired Marine Gen. James Jones, and retired Air Force Gen. Philip Breedlove, who was SAC-Europe from 2013 to 2016, including when Russia first invaded Ukraine in 2014. The former top officers all said a limited NATO or U.S. air mission to remove endangered civilians from Ukraine — or at least to protect them from being targeted as they attempt to flee — was feasible.
President Joe Biden has vowed any incursion by Russian troops into NATO territory would be met with U.S. military power, but he has balked at sending American forces or aircraft into the war-torn country.
Biden has sent thousands of American forces toward NATO's eastern flank in recent weeks to bolster alliance defenses, and he has shipped some $2 billion in defensive weapons — including anti-aircraft and anti-tank missiles — to the Ukrainians.
On Wednesday, he approved a new $800 million package of aid including thousands of missiles, ammunition, drones and body armor and helmets for Ukrainian troops, who have mounted a strong defense of their nation against Russian forces. Biden's announcement Wednesday came shortly after Ukrainian President Volodymyr Zelenskyy addressed Congress, seeking even more aid including a full no-fly zone to close Ukrainian airspace to all Russian aircraft.
But Biden and the Pentagon have dismissed a no-fly zone over widespread fears that U.S. military clashes with Russian forces could spark a world war.
The retired generals who spoke Wednesday were critical of some of Biden's approaches, including his waiting until Russia invaded before announcing key sanctions. Breedlove labeled the administration's approach to Russia "passive in nature," saying it gave Putin the confidence to launch his unprovoked invasion.
"Our leaders told us that we explained to [Putin] what was going to happen if he invaded," Breedlove said. "He measured all that up, and he went in anyway. So, our passive deterrence statute did not deter."
"We need to be taking greater risks," added Clark, who led NATO forces in Europe from 1997 to 2000. "We've been excessively timid in this. We don't know what the red lines are [for Putin] and of course we don't want World War III. But can we do more? Absolutely."
Some 3 million refugees have already fled Ukraine as Russia has launched nearly 1,000 missiles into the country since invading Feb. 24, according to the Pentagon. Russian forces have been widely accused of striking civilian targets, and footage of the war has shown apartment buildings and homes destroyed in the fighting.
The retired generals warned such attacks could become more frequent as Putin lashes out against the strong Ukrainian defenses that have largely stalled Russian advances for days and inflicted thousands of casualties and vehicles losses on Putin's forces.
A humanitarian airlift and no-fly zone would see NATO use cargo aircraft, such as C-17s, accompanied by fighter jets to move refugees out of Ukraine, said Jones, who also served as Marine commandant and as former President Barack Obama's first National Security Advisor. The mission would require making clear to Putin and his military that the NATO forces were "not looking to engage Russians in air-to-air combat."
"But, if fired upon we'll retaliate," he said. "There is a humanitarian need and a great suffering right now among the Ukrainians that needs to be addressed. If Vladimir Putin wants to oppose that, well that just adds another nail in the coffin of his reputation."
Ralston said the limited humanitarian mission was something American service members "certainly could do," and the Biden administration "needs to be looking at."
But such an operation must be established soon, warned Breedlove, who has previously called on Biden to establish a humanitarian no-fly zone in Ukraine. He warned as fighting in Ukraine's western region ramps up — such as Russia's targeting of training bases this week miles from the Poland border — NATO could "lose the opportunity" for any humanitarian operations that do not come with a high risk of sparking a NATO-Russia conflict.
"This humanitarian no-fly zone would be completely compatible with the [limited humanitarian] airlift … and that gives us the best chance at not ending up in a bellicose situation," Breedlove said, labeling fighting in Ukraine's east "pretty hot."
"It's getting hotter in the west, and if we don't do something like [the humanitarian no-fly zone] in the west now, we're probably going to lose the opportunity to do it in the future."
---
---
---
---